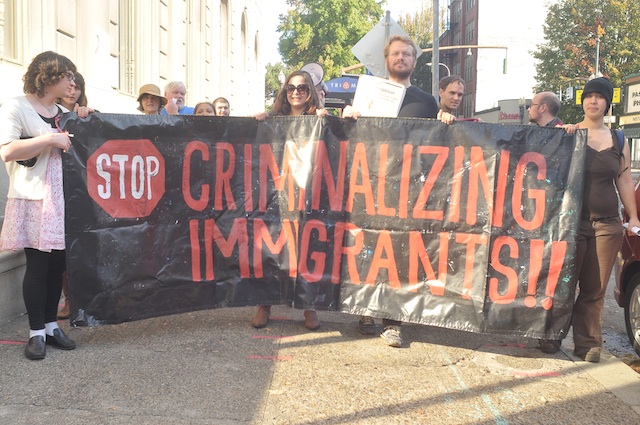 Story and photos by Pete Shaw
On Tuesday October 15th about 40 people gathered outside the Immigration and Customs Enforcement (ICE) building on NW Broadway demanding that the City of Portland divest from the for-profit prison industry, and as well that Sheriff Staton drop the ICE Hold on Oregon Dream Activist Manny Perez. The rally, organized by the Portland Private Prison Divestment Campaign (PPPDC), was one of many over the past couple of weeks that have centered upon calling for new immigration legislation that leads to citizenship instead of the current law which is tearing apart families and endangering communities by making people without documentation less likely to report crime.
Portlanders' tax dollars are currently supporting private prisons. These companies can only generate greater profits through an increase in prisoners and time served by prisoners. According to the City of Portland's Treasury Division Investment Portfolio Summary, as of September 30th, Portland held bonds in Wells Fargo with a market value of over $40 million. Wells Fargo is a large shareholder in GEO Group (GEO) and Corrections Corporation of America (CCA)–the two largest private prison companies in the US–and through its investments in Wells Fargo, Portland is providing capital for GEO and CCA to lobby for policies that result in more people being incarcerated.
According to the PPPDC, the private prison industry is a "driving force behind America's addiction to mass incarceration." With over 2.5 million people behind bars, the United States has the largest prison population in the world. And with 25% of the world's prison population, it also has the highest incarceration rate in the world. Despite the fact that crime rates are at historical lows, the number of incarcerated people is increasing. Over the past ten years, despite the number of crimes committed annually in the US decreasing by over 4% over the past ten years, the number of prisoners has grown more than 19%. During that same period, the private prison industry's share of the prisoner population increased by 24%.
In a report published in 2011 by the Justice Policy Institute, Paul Ashton noted, "While private prison companies may try to present themselves as just meeting existing demand for prison beds and responding to current market conditions, in fact they have worked hard over the past decade to create markets for their product." Indeed, since 2004, GEO and CCA have spent over $26 million lobbying the federal government, some of that for immigration policies that have now made Latinos the majority of people sent to prison. Ashton also noted that the "for-profit private prison industrial complex" also gives campaign contributions and seeks to build "relationships, networks, and associations" in order to "promote policies that lead to higher rates of incarceration and thus greater profit margins for their company." According to Ashton, private prison companies "have had either influence over or helped to draft model legislation such as 'three-strikes' and 'truth-in-sentencing' laws, both of which have driven up incarceration rates and ultimately created more opportunities for private prison companies to bid on contracts to increase revenues."
In other words, GEO and CCA have created a vicious, albeit profitable, circle. These corporations make their profits from prisoners. In order to increase profits they must have more prisoners serving longer sentences. They use some of their profits to influence politicians, pushing them to write laws that create more crimes and create lengthier sentences for existing crimes.
While getting the City of Portland to divest from Wells Fargo and its association with GEO and CCA may appear difficult, it is hardly without precedent. Portland passed a divestment resolution during the South African Anti-Apartheid movement of the 1980s, and more recently, the City Pension and Retirement Systems divested from military-run Myanmar.
With Latinos making up the majority of new prisoners, it should come as no surprise that the private prison industry has spent millions of dollars lobbying for the Secure Communities program. In 2009, Homeland Security Secretary Janet Napolitano stated that the program provided local law enforcement "with an effective tool to identify and remove dangerous criminal immigrants." In reality, over 80% of those detained through Secure Communities are taken in for crimes little or no greater than a traffic violation, and as a result immigrants, even those with documentation, but who fear being profiled and possibly erroneously detained and even deported, fear reporting crime. That does not make for a secure community.
But it does make for a secure bottom line for companies like GEO and CCA. According to its website, CCA houses 5,800 ICE detainees in 15 facilities across the United States, while in 2012 GEO managed 7 ICE detention centers with 7,183 beds. As a result, in fiscal year 2012 CCA and GEO reported annual revenues of $1.8 billion and $1.5 billion, respectively. Looking forward, President Obama recently announced that once the government shutdown was averted, he would again push for immigration reform, but it is difficult to know what that means. After all, the Obama Administration, now approaching 2 million people deported under its watch, has arrested and deported far more people than the prior Bush Administration. This has occurred despite the important role Latinos played in his 2008 and 2012 victories. Neither of the bills put forth by the Senate and the House of Representatives in 2012 offered meaningful reform, focusing more on enforcement and punishment–the result of the private prison industry's lobbying efforts. According to the Congressional Budget Office, the Senate's 2012 stab at immigration reform would "lead to an increase in incarceration costs totaling about $1.6 billion" between 2014 and 2023 and would increase the prison population by about 14,000 inmates annually by 2018. It seems legislation focused on real reform–that is, offering citizenship–will not be found during this legislative session.
But as Oregon Dream Activist Jaime Guzman said, "We can't sit back and watch as people get deported. We cannot wait for a DREAM Act. We can't wait for the politicians. We need to take action. We need to come together and say we are not afraid anymore."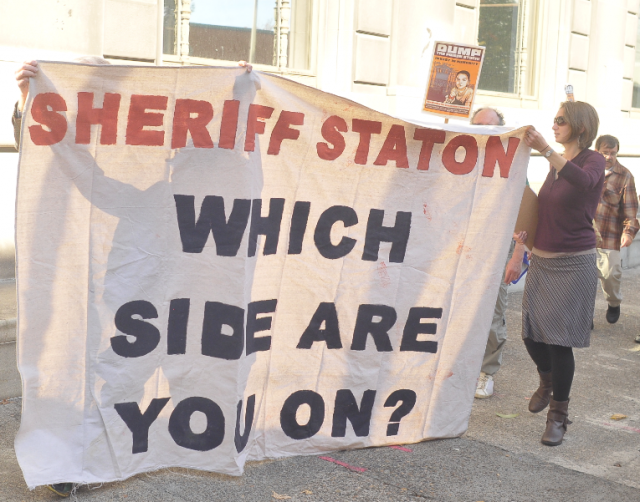 Looking at a local example of the failure of immigration policy, the rally turned toward Manny Perez who is currently being held with an ICE hold in the Multnomah County Jail. Perez came to the United States when he was 9 years old, and he has resided in Oregon since then. A student at Reynolds High School, he needs to finish two classes to be eligible for President Obama's Deferred Action for Childhood Arrivals program (DACA).
In April, Multnomah County Sheriff Daniel Staton and the Multnomah County Board reached an agreement that said Staton would only honor ICE detainers for people without documentation charged with Felonies or Class A Misdemeanors, or when ICE can prove that an undocumented person has a history that makes her a threat to public safety. Perez was charged with contempt of court, which is an unclassified misdemeanor. Staton's unwillingness to follow the agreement he helped broker has led many to question his trustworthiness and integrity. According to Jamie Trinkle of Enlace, Sheriff Staton continues to honor about 90% of ICE detainer requests.
Nicole Brown, a community organizer for the Center for Intercultural Organizing, noted how on October 5th, California Governor Jerry Brown signed the Trust Act which greatly limits the offenses for which person arrested may be turned over to ICE. "We need to do this in Multnomah County,"said Brown. "The entire state of California can do this, but we can't do this in Multnomah County?"
"We need to show Sheriff Staton that he cannot just pick and choose when he follows his own policy, tearing apart live and families in the process," said Romeo Sosa, Executive Director of the VOZ Workers' Rights Education Project. "We need to show the Sheriff once and for all that we will not accept unjust deportations, as our tax dollars go to keeping mothers, fathers, and children locked up in our county jails and private detention centers."
For more information on how to get involved with the prison divestment campaign, go to:  http://prisondivestment.wordpress.com, http://www.pcasc.net, https://www.facebook.com/pcasc.solidaridad, and http://enlaceintl.org/what-we-do/feature-campaign/
For more information on how you can help Manny Perez and the Oregon Dream Activists, go to: https://www.facebook.com/ORDreamActivist