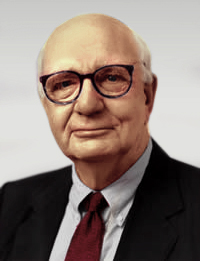 Paul Volcker, the economist after whom the rule is named.
This is a new weekly feature by Occupier staff.
Bank of America paying for the sins of its subsidiary:
The largest fair practice settlement in history is still too small if it doesn't come with a formal admission of wrongdoing. Bank of America paid $335 million this week to silence accusations that its subsidiary, Countrywide, practiced racial discrimination, charging more than 200,000 black and latino borrowers higher rates than their white credit-score-counterparts. This was, of course, before the Bank of America acquired the fraught lender. Dan Frahm, a spokesman for the bank, said in a statement: "We discontinued Countrywide products and practices that were not in keeping with our commitment and will continue to resolve and put behind us the remaining Countrywide issues."
Read more here.
Public comments deadline on the Volcker Rule pushed back yet again:
The deadline for public comments on the Volcker Rule has been pushed back from January 13th to February 13th. The Volcker Rule is a section of the Dodd-Frank Act which would prohibit or restrict banks and "nonbanking financial companies" from engaging in "proprietary trading and certain interests in, and relationships with, hedge funds and private equity funds." This is the most recent of several extensions of the limit, and it would seem the bank lobby is merely buying time indefinitely. Dennis M. Kelleher, of Better Markets, Inc., a non-profit that supports the Dodd-Frank legislation, charged those seeking the extension with working "the entire legislative process in 2009 and 2010, first to prevent the Volcker rule from being included and then to make it as weak as possible…the industry has had ample time to make their views known."
European banking rules to be enforced in America after it's too late:
On Tuesday, the Federal Reserve proposed new capital and liquidity requirements for all banks with asset holdings over $50 million. The requirements, part of the Dodd-Frank act, would be enacted in two phases and be no stricter than their counterpart in Basel III of the Basel Accords, recommendations and regulations on international banking practices issued from 1988 to 2011. One wonders if insider knowledge of this proposal caused the drop in Bank of America stock just the day before: BAC fell below $5 per share for the first time since March 2009. Reuters reports that a source claims the bank is considering selling off more assets in preparation for the new proposals, but that it will have difficulty coming up with the necessary liquid capital.