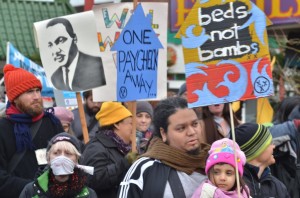 By Sarah Gallegos
An estimated 500 people marched through downtown Portland today in honor of Martin Luther King Jr. Day.  Several unions, non-profits, civil right's movements and organizations joined forces to voice their grievances against poverty.  Those present included: Sisters of the Road, Pacific Northwest Regional Council of Carpenters, The International Socialist Organization of Oregon, Jobs with Justice, Right 2 Dream Too, The International Union of Painters and Allied Trades Home, Occupy Portland, plus many more.
The march began in front of Sisters of the Road Café, at 133 NW Sixth Ave at Noon.  It lasted for 2 hours, moving past the Right 2 Dream Too rest stop to hear Mama Chewy speak, who reminded the marchers that "We're not here to argue humanity, we're here to fight for humanity."  On through the China Gate to Broadway, down Salmon and 3rd past the fenced up Lownsdale and Chapman Parks, site of the Occupy Portland Camp prior to eviction.  Marchers began to chant "Whose Parks? Our Parks?" As snow began to fall it was on to the next stop on the steps of Multnomah County Corrections building to hear Adam Carpinelli, from the Leonard Peltier Defense Offense Committee, speak.  He urged those present to support those wrongly incarcerated.  As marchers went past Wells Fargo N17 protesters hung a banner from the parking garage with the plea "WELLS FARGO DUMP PRISON STOCK."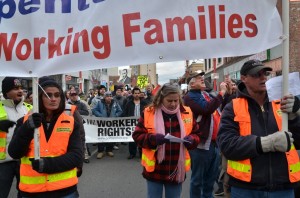 The march ended on the steps of City Hall. Those who were hungry were offered food and warm drinks.  The march was peaceful, with a range of young and old, house-full and house-less. All unified against bombs and for humanity.