Welcome to the live blog! Adam Rothstein will be posting info here as it comes in from our many correspondents. Want to help? Email your photos and CONFIRMED info to [email protected], or send a tweet to @PDXoccupier. Well be tweeting updates there as well. Our friends in the Media Coalition will be running the Livestream video feed all night as well. Text PDXOccupy to 23559 to receive emergency updates about the coming eviction.
Sunday, November 13th
7:10 AM – Mayor is done speaking. We're going to wrap up our liveblog now, and move the Occupied Media Van before we have to pay for parking. 🙂 Thanks for reading!
7:03 AM – Mayor is stressing emphasis on patience, and safety, in fulfilling his order to close the parks. "The parks will be closed when it can be done safely." "As you can see, a lot of work has been done by folks in the park, working in the park, and volunteering." He also maintains his line, about striking the balance between free speech, and the cost of free speech.
7:00 AM – Mayor Sam Adams is on scene, at 4th and Madison, speaking to media.
6:54 AM – THANK YOU SO MUCH MEDIA TEAM! From me, let me just say that I could not have done this liveblog without you all out in the street, feeding me accurate info. You people are fantastic. WE ARE THE MEDIA!
6:50 AM – Thank you Portland! We could not have done this without your support!
6:45 AM – There was one arrest that we know of. A man threw an object at an officer, and was identified and arrested almost immediately.
6:41 AM – Justin, an occupier, went down to the police line, and told each and every officer that he loved them. Some wouldn't look him in the eye. Some because they literally had tears in their eyes. He gave them each a gift of a stone, as a symbol of transition, that he placed between their feet, because they weren't allowed to take anything from him. Justin gave one to their commanding officer, so that the officer could give it to the police later. It was a beautiful moment.
6:37 AM – Protesters celebrate their victory as they open the streets.
6:31 AM – Barricades are coming down. The protesters are opening the streets, now that the police have left.
6:24 AM – Police have left the street, protesters are back in Chapman Square, and also apparently in Terry Schrunk. Bikes taking a victory lap up to Hawthorne Bridge.
6:21 AM – Recap of the night: protesters took Main Street, and then the intersection of 3rd and Main. Then they proceeded south to 3rd and Madison, and took Madison between 3rd and 4th. Both Main and Madison were occupied for most of the night, as protesters faced the police line that was generally on the East side of 3rd. Now things are thinning out.
6:20 AM – Can still see some police in the street at 3rd and Madison, but definitely less.
6:16 AM – "Who's blocking the street now?" the protesters chant.
6:09 AM – It was just mic checked: "PPB, we can't hear your warnings, please use human mic."
6:05 AM – It looks like the protesters are clearing the street and going into the parks. Protesters are in an interesting situation, where they are complying with a police order, but at the same time going against the order to vacate the parks.
6:00 AM – Lt. King is at the 3rd and Madison intersection, asking people to move INTO the parks, so that they can open the street.
5:43 AM – Trimet is closing the Eastbound bus stop on Madison and 4th.
5:27 AM – Talk of a victory march at 6AM. Police floodlights all were just turned off.
5:05 AM – Moral victory of 5AM met. But the parks are still closed by the city, so occupation continues. Police motorcycles blocking 4th and Madison have left, protesters still thick in intersection at 3rd and Madison. A barricade remains at 3rd and Main, but no police there.
4:58 AM – Two minutes left.
4:52 AM – Bikes now taking a break, on Madison, south of 4th.
4:45 AM – Protesters cheering, lining up at 3rd and Madison in front of police, who are now lined up two deep.
4:43 AM – Another video, from the Media Coalition:
4:30 AM – Protesters stay strong at 3rd and Madison, despite rumors that police "will" clear parks by 5 AM. See picture and video pan below.
4:25 AM – Reports say police are staging at Hawthorne Bridge.
4:22 AM – From where we are, 3rd and Madison looks completely filled with protesters.
4:18 AM – Hearing that fire alarm was false alarm. Just saw two police cars heading wrong way (South) on 4th. On Livestream, we see barricades being put up at 3rd and Madison. Bike brigade still rolling.
4:08 AM – Protesters are calling for reinforcements to say hello to the new shift of police coming out of the precinct at 3rd and Madison.
4:00 AM – Reinforcements coming out of the precinct. It looks like they are getting ready for another push towards the protesters. The PA truck is back.
3:59 AM – Horses are back at 3rd and Madison. Motorcycle cops have riot gear on. Tear gas launchers are present.
3:52 AM – Two drunk guys tried to start a fight and blamed it on someone else. The protesters ran them out of the protest. Protesters are now blocking Madison between 3rd and 4th.
3:42 AM – Fire alarm at Federal Courthouse. Fire Bureau responding.
3:40 AM – Main Street continues to be held. See photo below.
3:37 AM – Another report says no stun batons. Bean bags have been switched out for rubber bullet guns.
3:33 AM – Imre reports at least one protester flirting with a police officer. Says the front line is very calm and peaceful, officers and protesters talking.
3:30 AM – Ambulances are lined up in the area. Reports are coming in that police at 3rd and Madison are carrying stun batons.
3:22 AM – Mis-spelling aside, this video shows how the black bloc peacefully occupied Main Street.
3:21 AM – Things are calm, but the police are still holding their line, as are the protesters. Interview with someone who was peppersprayed: "If you had one thing to say to Mayor Adams, what would it be?" Response: "Why? Why was this necessary?"
3:00 AM – Two more hours until free speech is legal again. Clergy still in Chapman holding candles. Reports say protesters are directing traffic at 3rd and Main, because the police are not there any longer. Carrie, our social media PoC, says she was sprayed with pepper spray. She's okay enough to tweet, though. 🙂
2:47 AM – Horses are at Madison and 4th. Stand off is steady at 3rd and Madison, holding protesters to the West of the cross walk on the East side of that intersection, as if to keep protesters from going towards the Hawthrone Bridge.
Photo below from the previous stand-off at Main and 3rd.
2:37 AM – "Put your weapons down!" chants the crowd.
2:29 AM – Police blocking street at Jefferson and 3rd. News media is being evacuated. But don't worry, we are the media!
2:23 AM – Police are moving line up to 4th and Madison. Protesters are matching the line. Paul says protesters shouted, "ice cream!" at retreating PA truck, below.
2:18 AM – Police falling back again, going south on 3rd. Many people are standing, legally, on sidewalk. There is no way the gas would not affect them.
2:14 AM – Jacob says uniformed marine is in the front line of protesters.
2:13 AM – "Final warning" given: disperse, or chemical and impact weapons will be used. Crowd responds by tossing a beach ball, and starting a drum circle.
2:03 AM – Horses are now back. Protesters are at Main and 3rd. Police are shoulder to shoulder, seem to be extending the line back towards Madison. Helmet visors are down. Warning has been given that chemicals will be deployed.
1:59 AM – Someone threw a flare, a horse was spooked, and rider fell off. Police have cameras out on poles, are filming.
1:53 AM – Pepper spray coming out. "Peaceful!" is the chant. Scanner: police ordered to hold line on 3rd. Heard a report of an officer injured, and one arrest resulting from that.
1:48 AM – Horses and cops moving in. "The whole world is watching!" Now hearing that horses are pulling back, there are too many people.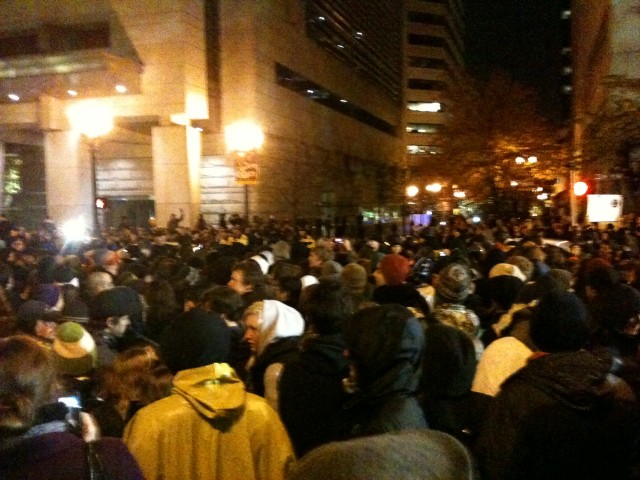 1:42 AM – "You're sexy, you're cute, take off that riot suit!" Rumor of pepper spray, goggles being passed out.
1:40 AM – Report coming that police are pushing back crowd on Main Street.
1:38 AM – Heard on scanner: police are attempting the identify members of black bloc.
1:37 AM – Protesters desperately need food and water in Chapman Square. Please bring it to where the kitchen used to be.
1:33 AM – Two empty Trimet buses waiting at College & 4th. Driver says he's waiting for word from the police.
1:25 AM – "Camping in a park is a low-level misdemeanor that wouldn't warrant police use of force." – Lt. Robert King
1:19 AM – Nice photo of the crowd, by Paul.
1:09 AM – Protester in tree.
12:59 AM – Four hours left until free speech is legal again. Chant at 3rd and Main is "Hey Sam Adams, Call off the Police!" Another bike brigade photo: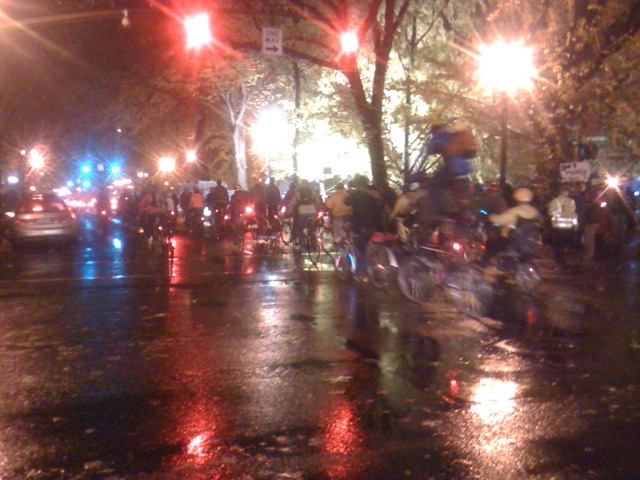 12:47 AM – Reports say Lt. King is waiting for spectators to clear out before any police action. Below, photo of bike brigade.
12:41 AM – Report of police horsies standing post at 2nd and Madison.
12:39 AM – Kendall reports "thousands of people are lined up, opposite the police. Everyone is smiling."
12:27 AM – Madison is blocked by police at 4th, diverting traffic North on 4th. One lane is open to traffic on 3rd. Main still occupied between 3rd and 4th.
12:15 AM – Light bank at Chapman has been turned off.
12:11 AM – Reports of police lining up on Main Street.
12:09 AM – Dance pary at the elk. Jacob reports chants of "We are the 99%!" are overlapping from both sides of park, so that the chant becomes simply, "We Are!!!"
12:00 AM – THIS!
Saturday, November 12th
11:52 PM – Jacob is taking a last walk through the park. People are calling out the time as the minutes tick by. "This is what democracy looks like." Tons of people in the former kitchen. 'Tax the rich' and 'Jobs not Cuts' signs seem irrelevant in this sea of people who are sick of this whole business, taxes and all. The outside of the Justice Center is packed with people. Five cops in full gear at the door. Main Street is fully packed from 3rd the 4th. Expecting a statement from Chief Reese at Midnight. Over 5000 people watching on Livestream.
11:45 PM – More photos of reoccupied Main Street.
11:30 PM – Main Street is reoccupied! Capt. Westbrook reportedly ordered police back, let people take street. Police scanner reportedly says "There aren't enough cops to hold Main Street." Jacob reports over a thousand people in park, 25 minutes to deadline.
11:29 PM – For more Twitter reports from the scene, follow Jacob at @occupy_thyself.
11:25 PM – End Capitalism banner.
11:20 PM – Chief Reese.
11:16 PM – Cops are having tactical meetings. We hear Chief Reese is in Lownsdale Square currently.
11:08 PM – Police on scene with bean bag guns. Paul reports he just had a little chat with Lt. King of PPB. "Everything is going good," King said.
11:04 PM – News helicopter is overhead. I wondered why I hadn't heard that familiar droning overhead. What is blogging about the occupation without a helicopter overhead?
11:00 PM – Jacob reports clergy convergence is singing "Amazing Grace". A beautiful scene.
10:50 PM – Reid reports that he has not personally seen any organized or cohesive counter demonstrators. Below is a photo from earlier, of clergy convergence and vigil.
10:39 PM – As is all over Twitter, police on horsies have arrived.
10:36 PM – Heard a report from someone listening to a scanner that police is withdrawing to 3rd for a tactical briefing. Also hearing 4th and Main from correspondents on the ground.
10:29 PM – Kendall spoke with an occupier named Rowen: "One of the most beautiful things about this movement is the diversity of the people that have come together. In the beginning of the safety team we had a logger who was heading it up, and he worked with two people who were tree-hugging activists. They found they had a common cause."
10:25 PM – Bikes are preparing for their rally.
10:20 PM – Clean up continues, while the rally rallies.
10:12 PM – Paul reports Chief Reese will make a call at midnight on whether or not to clear the park.
10:10 PM – Rumorz cafe in Chapman Square is serving caviar and champagne at midnight. Not a joke.
10:05 PM – Jacob reports 7-11 has security enforcing a ten person minimum in the store.
9:55 PM – Reid reports PPB has withdrawn most officers, and only has a presence on each park corner. Clergy is on Main, and will be at occupation soon.
9:51 PM – GA report: Chapman is the chosen park to hold.
9:49 PM – "Hot coffee!"
9:43 PM – Kendall reports theater at the GA: two facilitators did a presentation about crowd behavior and safety. "Walk with a buddy." "If you meet an anti-protester, surround him/her with love, do not attack or criticize."
9:32 PM – Joe reports the GA overwhelmingly reaffirms principle of non-violence. De-escalation tips being read out. Jacob reports: "two ways to relieve anger and come back to self: barbaric yawp (a Whitmanesque yell), and eye contact."
9:07 PM – Kendall spoke with an occupier named Serenity. "I think it's really important that there's a community to witness how much money is being spent to shut down people who want a voice."
9:04 PM – Fifteen additional officers arrived at 3rd and Madison.
8:54 PM – Jacob saw his first bean bag gun of the night. "It looks like something out of Duke Nukem."
8:48 PM – Legal is reviewing people's legal rights at the GA. Remember, you do not have to consent to a search, or answer any questions. As for a lawyer, call 503-902-5340.
8:37 PM – Christine reports quite a bit of support at GA for trying to hold a single park
8:26 PM – Christine reports that the GA in Lownsdale Square is discussing whether to try and hold one, two, or three parks.
Media Coalition video from earlier today.
8:10 PM – GA is moving over to Beta camp.
7:58 PM – Jacob reports a guy who was antagonizing cops vocally has been arrested.
7:53 PM – Christine reports cops with bicycles are enforcing the crosswalk signals.
7:48 PM – Jacob reports 1000 people in Terry Schrunk. Speaker at GA: "My name is Chris and I'm a union member. I'm not here because the unions support the occupy movement. I'm here because we ARE the occupy movement."
7:34 PM – Statement of solidarity from folks that came down from Occupy Seattle, at the GA.
7:00 PM – Kendall reports Jobs with Justice feeder march has just arrived at Terry Schrunk, bringing 100+ people.
6:16 PM – Gambit tells us, if you havent noticed on the livestream, that the police brought down a flatbed with generators and floodlights. Too bad we didn't have these before! Jacob has met some University of Idaho students that are documenting the whole night on film. Im riding around in the Occupied Media Van, getting ready for this evening. It looks like the police have blocked off an entire traffic lane around the parks.
5:40 PM – Update from Jacob, who is with the march heading from Pioneer Square back to the camp. Banks got bailed out, we got sold out is the chant. McDonalds customers look amused.
5:15 PM – Rally in Pioneer Square underway.
5:00 PM – The livestream is up in the DJ booth at Terry Schrunk. a href=http://www.livestream.com/occupyptownhttp://www.livestream.com/occupyptown/a The word is, that our livestream is going to be projected at Occupy Boston tonight.
4:00 PM – I forgot to put it on here before, so remember that if you plan to commit civil disobedience tonight, the NLG number is 503 902 5340.
3:30 PM – I investigated the backpack thing myself. While I know that the event reported at 2:30 PM happened, I walked in with a shoulder bag with no problem, so apparently that is not being enforced at all entrances. Inside the park, people are still packing up. Food and coffee are being served, but food is limited to pre-prepared food, as the water to the park was shut off yesterday.
3:00 PM – Live music is getting going in Terry Schrunk Plaza, rain or no rain.
2:30 PM – Hearing word that people with backpacks are being refused entry to parks by police.
12:00 PM – Live blog kicks off.