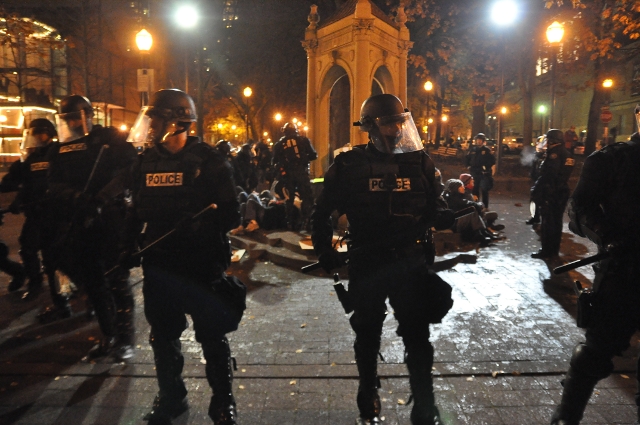 Welcome to the liveblog for D3, when Occupy Portland marches and occupies a public park for free speech. I'm Adam Rothstein, and I'll be chairing the liveblog, with help from our correspondents in the field. You can also follow us on Twitter for pertinent updates: @PDXoccupier. The Livestream is up and running.
3:10 AM – Around fifty people are staying in the park, waiting for the police to make their move. The Occupied Media Van has to turn in for the night. We're going to get some sleep, and be back tomorrow to fill you in with the details of what is next for Occupy Portland. The Livestream is still here. Thanks for reading! Check in with The Occupier tomorrow. Good night.
3:08 AM – The late night folks are still holding tough. A single police car is in the parking lot across from the park, waiting for… who knows what. Here's what the occupation looks like at 3 AM.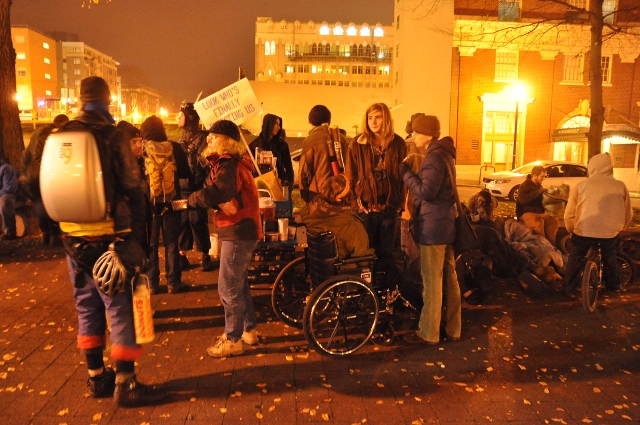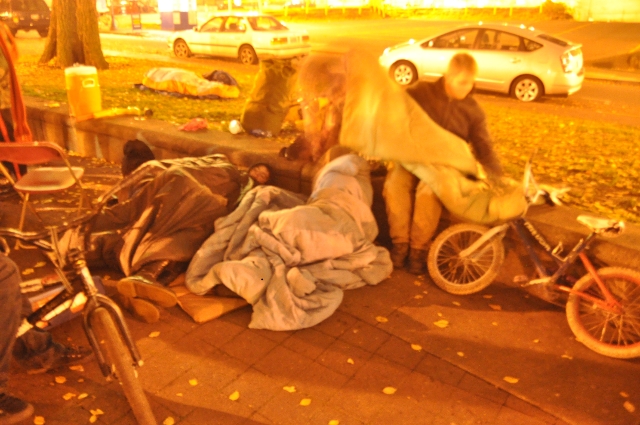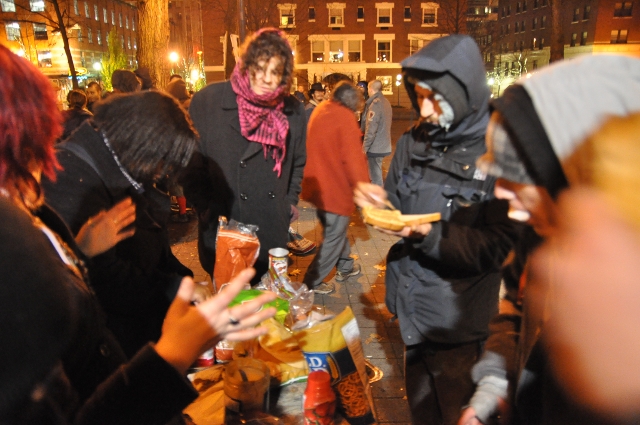 2:23 AM – The police appear to be holding off… for now. Remembering the last time they cleared a park, they waited it out until most people went to sleep, and then they moved in. In the meantime, another photo from earlier in the evening: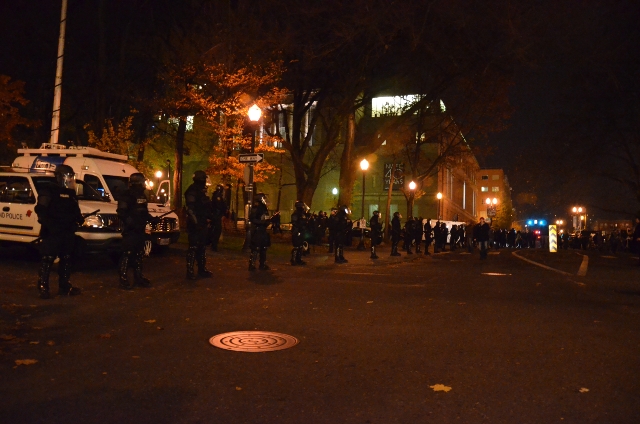 1:44 AM – Here's a picture from the first time the police cleared the park. It shows a protester in an ambulance. The circumstances under which he was injured are unknown, but he appeared to be in a significant amount of pain.
1:33 AM – The current scene in Shemanski Plaza.
And another excellent shot from earlier this evening.
1:13 AM – Stilts! From night march earlier: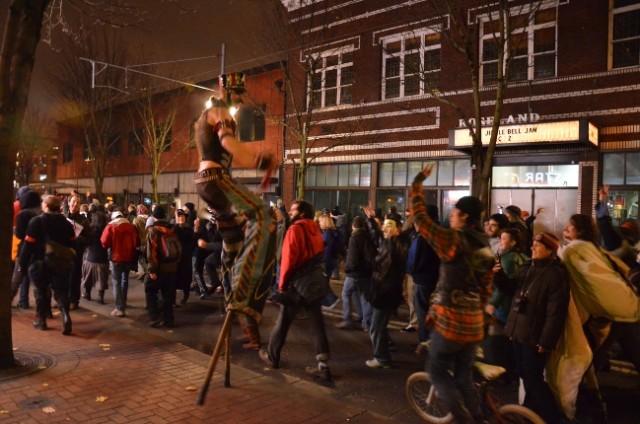 Another photo from earlier, the march on Burnside: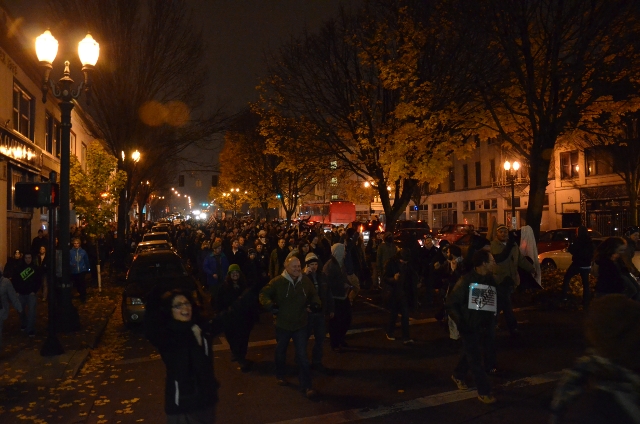 1:07 AM – Here's a photo of Rumorz cafe, on the march, earlier. This is why it is ridiculous to kick Occupiers out of the park: the protesters roll along. Photo by Lauriel or Paul: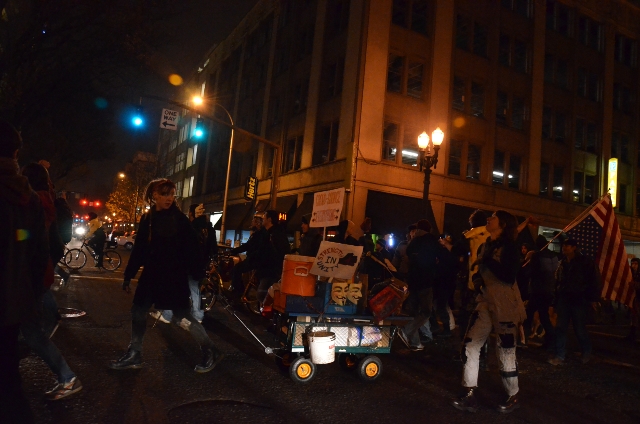 1:01 AM – Reports of police loading up at central precinct and coming back towards the park.
12:52 AM – Hearing a report that the riot police are on their way. Unconfirmed at this point. We did just see an officer drive by, and check on the scene at the park. Another excellent photo from earlier, by Paul or Lauriel: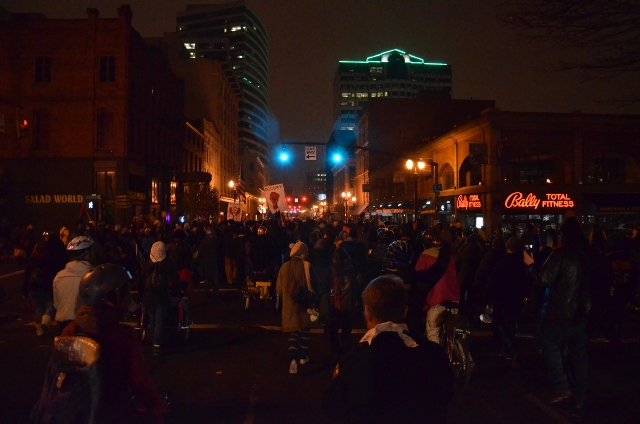 12:43 AM – Things still status quo at the park. Hearing police sirens, but no sign of more cops forming up. Here's another pic from the earlier raid. In case you wanted to know, the PPB overtime budget is going to support combat units like this, to counter all of the "danger":
12:24 AM – Confirmed that police are back at the precinct, but who knows for how long. Here's another pic from earlier in the evening, by Lauriel. In case there was any question who started blocking the streets: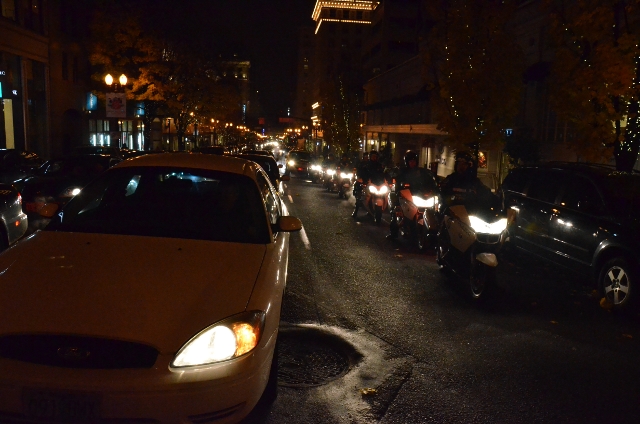 12:08 AM – Here are two current pics, from Megan at the park.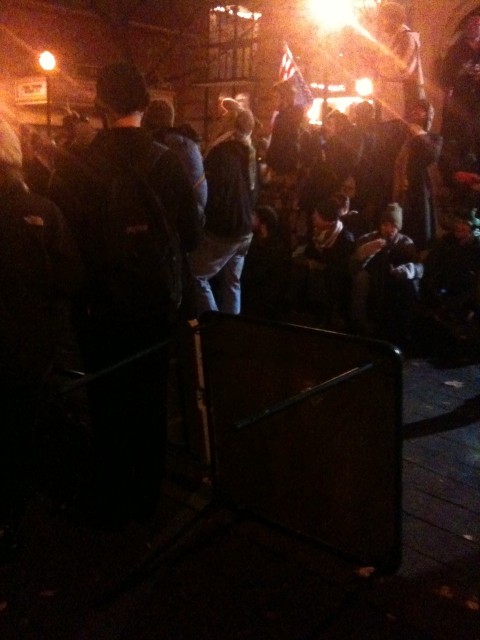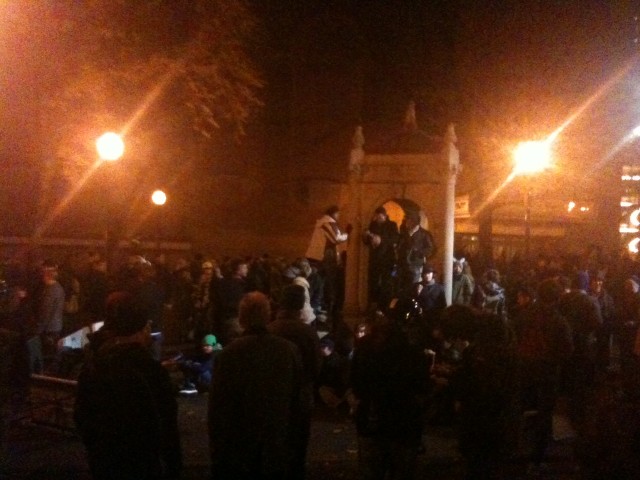 12:06 AM – Police are pulling back to central precinct. Protesters standing strong for now. Here's another photo, but note this is from the first assault on the park, around 9 PM.
11:46 PM – Riot cops are gearing up for raid number two. Entire block of Main and Sixth is lined with riot cops. It's coming right now. Another picture from the march earlier (sorry for the delay on the visuals, but Livestream is up).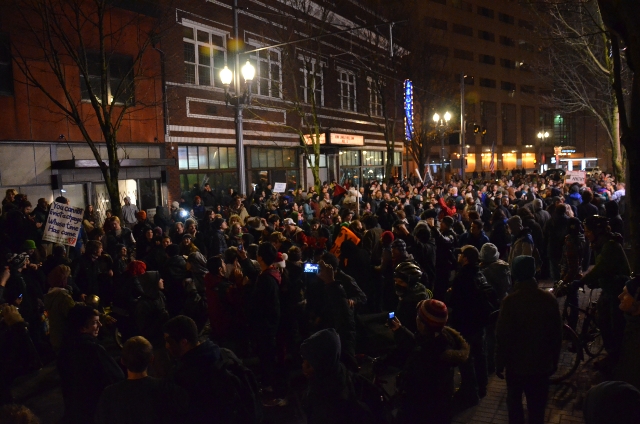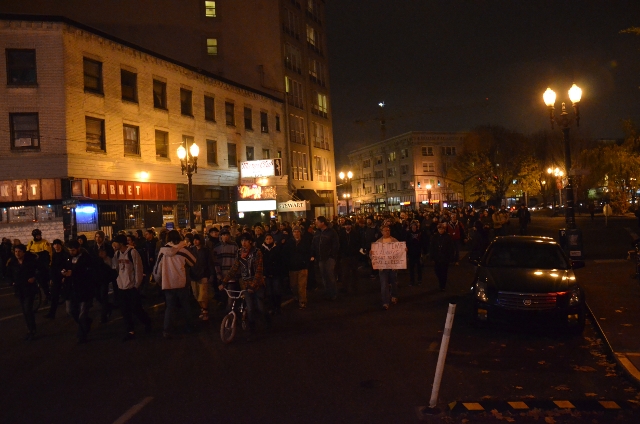 11:39 PM – A person with a holiday tree was removed from the second floor of City Hall by the Portland Fire and Rescue. Meanwhile, a large number of police cars with lights and siren rushed west on Jefferson towards the re-occupied park. Here is a picture of the march from before.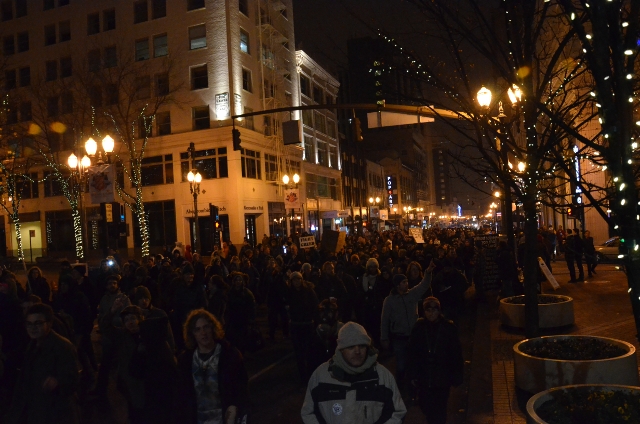 11:19 PM – Riot police now forming on the south side of the park. Here is a picture from the march on Broadway earlier.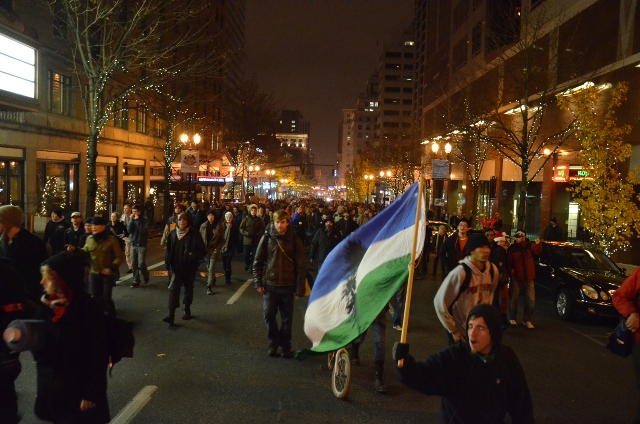 11:08 PM – After marching down Broadway, protesters start yelling, "Take back the park!" Full on running, hundreds of protesters take back Shemanski park. Dancing to Thriller. Pictures soon.
10:50 PM – March is at 6th and Burnside, heading North on sixth. Here's an earlier dance party. One would expect there to be more.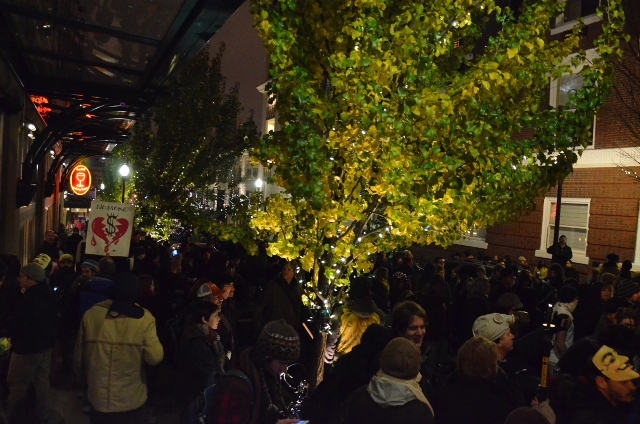 10:42 PM – The police succeeded in clearing the park, but by doing so they have unleashed a march with no goal, other than to parade through downtown. "All day, all night, we will not give up the fight" is the chant. Every time the police set up, the march turns down another street. People are apparently leaving the bars and clubs and dancing in the streets with the protesters.
10:19 PM – Protesters are northbound on 4th at Washington. Still in the streets, but obeying traffic signals and letting the MAX train pass.
Here's a video of the gathering in front of City Hall, about twenty minutes old. Another photo from about twenty minute ago as well.
10:08 PM – Protesters are marching towards the waterfront, followed by riot cops. The police are trying to clear the street, but there are too many people. Protesters are letting the MAX trains through. Another picture from the park. We don't know how many of these protesters were arrested in the park, because media was removed from the park area under threat of arrest.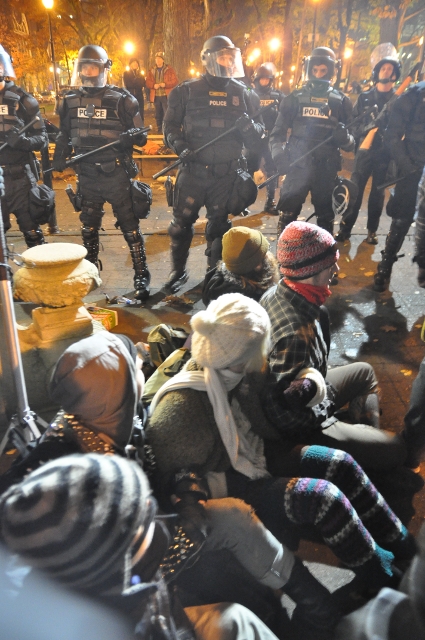 9:53 PM – Protesters are gathering in front of City Hall, not blocking the streets. Protesters are having an open forum. Police have moved back a bit, but they are still on Jefferson and in front of the park across the street. A seargant's SUV is behind the media van, shining their light on us. Bike swarm is back. Some more photos, first of the charge through the park, second of the standoff at Park and Salmon: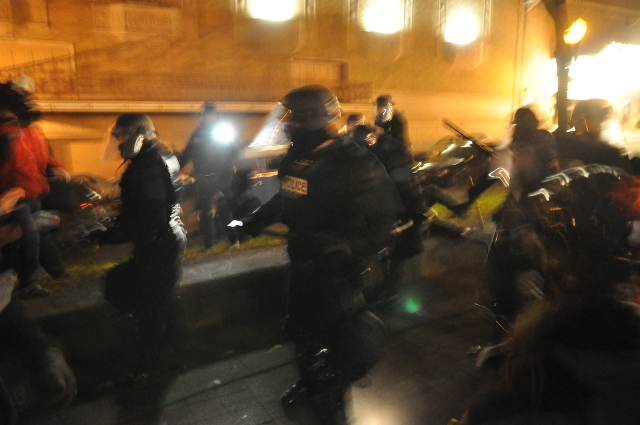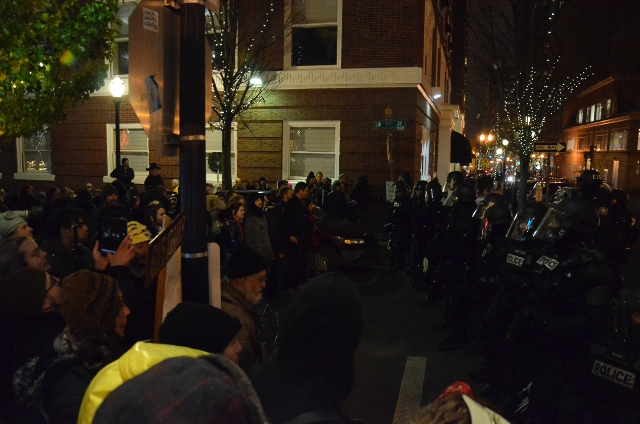 9:46 PM – Thank goodness, the holiday tree wasn't seized by the police!
9:43 PM – Protesters are in front of city hall. About 25 riot police are behind the media van at Jefferson and 4th. Another photo from the park, at 9th and Salmon from about 30 minute ago.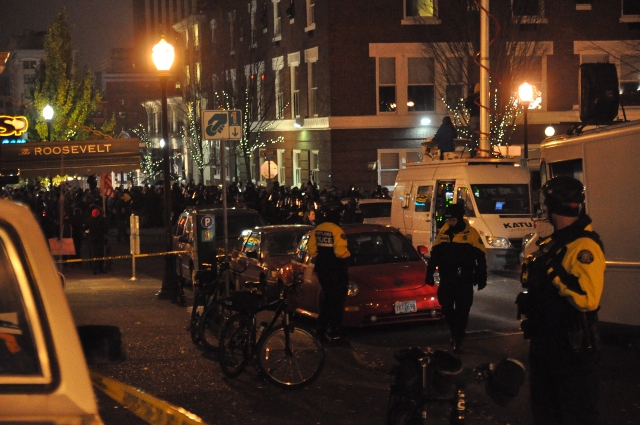 9:40 PM – Media van moved again, and riot police are behind us again! This time South of Jefferson on SW 4th. Protesters are marching to City Hall. Here's a pic from before, in the park.
9:21 PM – Holy crap. Sorry for the break. The police line surpassed our van. The cops shouted, "hold this van!" We stayed quiet, inside. Then they asked us to either get out of the van, and leave the area, or move the van. We moved. After bumping around for fifteen minutes, we're at a new location. We know protesters were kettled at SW Salmon and Park, and at least one protester was taken away in an ambulance. Also heard reports of protesters being beaten with batons. Sorting photos now.
8:52 PM – Protesters still in park, though the police line has backed them halfway out, towards the south. The entire area north of the line is blocked off. There has been at least one arrest, here is a photo.
8:47 PM – Police line is on Park, 20 feet to the South of us. We are legally parked on the street.
8:45 PM – Riot police coming into the park NOW. I can hear the people chanting, "The whole world is watching."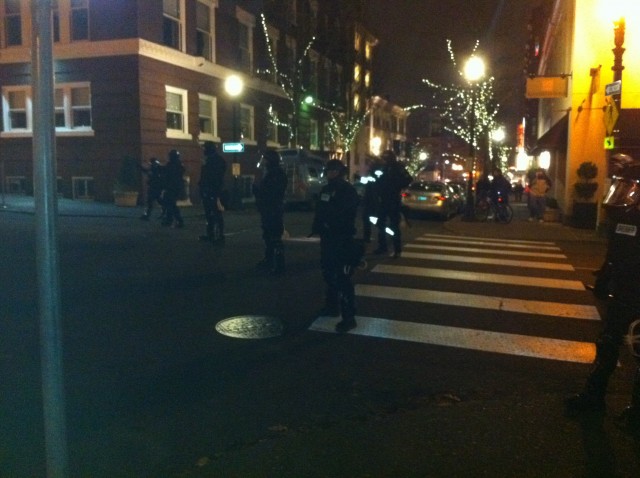 8:33 PM – Police are saying those who do not vacate are subject to arrest. Riot police are now also at SW Salmon and Park.
8:28 PM – Police are now making an announcement that the park is closed. They are ordering people to vacate the park.
8:23 PM – Reports of cops in riot gear at SW Main St and Park. Also bicycle cops around the Schnitzer. Photos of cops and trucks near Chapman.
8:16 PM – A dozen cops are coming out of the precinct in riot gear at 3rd and Madison. 4 Parks and Recreation dump trucks are also ready, stationed near Chapman Square.
8:13 PM – Denis Theriault reports that riot police in SUVs with a paddy wagon are heading towards the occupation, coming across the Hawthrone Bridge.
8:07 PM – A photo of the cops by the Performing Arts Center, that is at the NE corner opposite the occupied block.
8:02 PM – The Bat Signal has shut down for the evening. Thanks, @MungenCakes!
7:52 PM – GA has moved a bit south, but still in the block. This way they are closer to the tents, if the police come back. Here's what the GA looks like now:
7:44 PM – Some more pictures from today's events so far.
7:34 PM – Reports of Park Rangers issuing some sort of written warnings or exclusions. They are no longer in the park, and the facilitators are trying to get the GA started again.
7:29 PM – Police came into the park, and were "poking" into tents. They were met by protesters, chanting "Whose park? Our park!" There are about a dozen cops, now back across the street near the Performing Arts Center.
7:17 PM – GA getting started. More new camp photos below.
7:03 PM – We sent correspondents to go find the cops assembling, and so far, haven't found them. If you have seen police assembling and have photo documentation (or anything else newsworthy for that matter) you can either email us at [email protected] or get in touch over Twitter @PDXoccupier.
6:58 PM – The Bat Signal is up on the wall of the Schnitzer. Text @opdxBatSignal and your message to 23559 to get your words up. Free speech at the speed of light.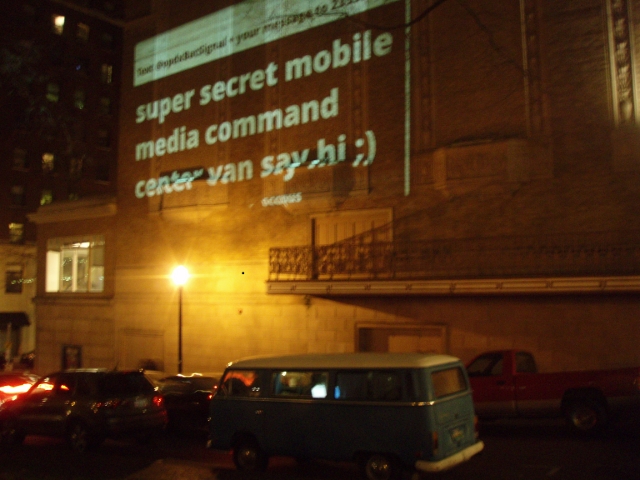 6:48 PM – Rumors of 40 cops in riot gear at SW 4th and Main.
6:45 PM – The GA is starting in fifteen minutes. Get your proposals in now! Some more photos from the new occupation camp.
6:28 PM – Denis Theriault (who you should totally follow on Twitter, by the way, for excellent on-the-ground coverage) is reporting the Tent Count is now at 21.
6:14 PM – Remember, that while setting up tents in the park is technically illegal, the park is open until 9 PM. We might not expect any police activity until that time, if past experience is any indication. In the meantime, here are some photos of new home.
6:00 PM – Here's a bit of background on Shemanski Park. To tell the truth, it's not called Shemanski Park: but the fountain is Shemanski Fountain, so we're calling it that for now. Here's what Portland Parks & Recreation has to say about it:
Located between Main and Salmon is the Shemanski Fountain, given to the city by Joseph Shemanski in 1926 to "express in small measure gratitude for what the city has done for me." Shemanski (1869-1951) was a Polish immigrant who started out as a traveling clock salesman before he founded the Eastern Outfitting Co. and became an extremely successful businessman. The triangular structure of cast Oregon sandstone was designed by Carl L. Linde, a local architect whose work included many fine homes, hotels, and apartments. The fountain includes three small, low drinking basins for dogs.
The original design included a large central planter, but after the fountain was erected, Shemanski felt that a sculpture would better complete the graceful cupola. He commissioned Oliver Laurence Barrett, an art professor at the University of Oregon, to create a bronze statue of Rebecca at the Well. It is not clear why Rebecca was chosen, but as the wife of Isaac in the Old Testament known for her hospitality to strangers and kindness to animals, she was a fitting choice.
5:53 PM – Personal tents up in the park.
5:44 PM – Going through some photos of the march that are just coming in. Here's a good one.
5:31 PM – Pop up pavilions, food, and soft music is what is going on right now. Heard a report that police attempted to take down one tent, but were cheered out of the park. The Occupied Media van is now a van again, and we're set up with the media committee. If you have any good photos or confirmed info, drop by.
5:06 PM – Eight tents. Music performance underway. Jacob has been recording video snapshots of occupiers. Here are a few.
5:02 PM – Seven tents up, reports @occupyoregon. Also PA and stage.
5:00 PM – Bike swarm keeps going past me, bringing the funk. Here's what the new occupation looks like so far:
4:49 PM – Kitchen is being set up around the fountain.
4:44 PM – The Occupied Media Volvo has moved again. As I drove past Shemanski Plaza (the park block between SW Main and Salmon) I saw the park filled with occupiers. The camp is already taking shape. Little police presence as yet. I can hear "Whose park? Our park!" from where I am now a block away.
4:33 PM – The new location is the Park Blocks, it seems. Denis Theriault reports that tents are already up at 9th and Salmon.
4:29 PM – March is at SW 6th and Main.
4:24 PM – Jacob reports that the protesters are moving themselves out of the way of buses and MAX trains.
4:19 PM – "Peace".
4:15 PM – "Banks got bailed out, we got sold out" is the chant, reports Jacob. March still on SW 5th, heading South. Protesters are currently in the street, and on MAX tracks.
4:09 PM – March now on Oak St, moving to South on SW 5th. Denis Theriault reports that the march was supposed to stay on the sidewalk but has followed the bike swarm into the street.
3:43 PM – March is getting started, heading North along Waterfront Park. Bike Swarm is in the lead, reports Jacob.
3:35 PM – "The 1st Amendment is our permit."
3:30 PM – One of the feeder/solidarity marches today was a March in Solidarity with the People of Egypt.
3:25 PM – More people coming in. Right now everyone is waiting to find out the "Big Info".
3:15 PM – Photo of the bike swarm.
3:11 PM – Here's the march route, in case you have not seen it. The confusion at the end is where we decide to head towards as-yet-unannounced-occupation-site.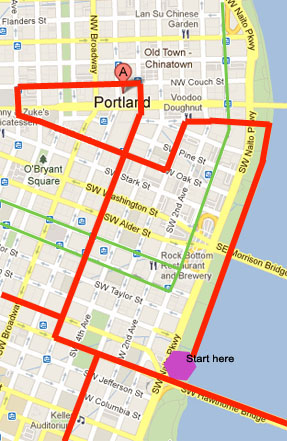 3:07 PM – Small but vibrant Bike Swarm has arrived, bringing the funk (literally). You can follow their own Twitter stream for updates: @PDXbikeswarm.
3:04 PM – Photo of the rally getting underway, by Jacob. Also reports that coffee has arrived.
2:45 PM – Fox 12 is currently parking their news van next to us.
2:39 PM – Media van up and running. And I'm sorry about the "N3" mis-title. Now I know what month it is! 🙂
1:45 PM – Im at the fountain at Salmon Street and Waterfront park. People are gathering on this chilly day, getting signs together. Livestream is on scene and broadcasting.