If nothing else, it should probably at least be free to be poor
A California resident has recently filed a lawsuit against Umpqua Bank over its assessment of overdraft fees. The lawsuit claims that the practice violates the contract between the bank and its customers. It alleges that the bank reordered debits to the plaintiff's account, with largest amounts being debited first, so that the account would be depleted quickly and each following overdrawing debit would incur a fee. The lawyer representing the plaintiff had this to say: "Banks should not be allowed to gouge customers by unfairly manipulating the manner in which transactions are posted and overdraft fees are charged. It's hard enough for families to make ends meet. It is shocking that a bank like Umpqua, which claims to be community focused, would engage in these abusive practices."
More here: http://www.sacbee.com/2011/12/29/4151457/lawsuit-filed-against-umpqua-bank.html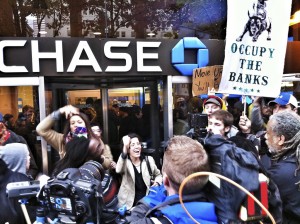 HSBC wrist-slapped for robo-signing
HSBC Bank USA has been fined $10,000 dollars for an instance of illegal home seizure. The law firm handling the foreclosure was fine $5,000. The word "robo-signing" abounded in the judge's decision, as did, according to news sources, references to Pontius Pilate, Sgt. Schutz of "Hogan's Heroes", Gertrude Stein, and William Shakespeare. The fines in total are .0000000006% of HSBC's total assets, valued at $2.454 trillion.
More here: http://www.buffalonews.com/business/article687860.ece
Minneapolis bank cuts off money transfer to all of Somalia
In Minneapolis, Sunrise Community Banks has stopped allowing money transfers from its customers to recipients in Somalia, where remittances are the only source of income for millions of people. US law and banking regulations make it a crime to aid suspects of terrorism in any way, so, to play it safe, Sunrise Community Banks has jeopardized the lives of millions of innocents.
More here: http://www.independent.co.uk/news/world/politics/somalians-caught-in-the-crossfire-as-bank-cuts-off-vital-cash-lifeline-6283342.html