Welcome to the
Portland Occupier
Live Blog for the February 29th, Shutdown the Corporations action! Adam Rothstein here, editing the live blog, taking reports from our correspondents. Our partners for today's media cover include OPDXLive, one of the Livestream groups hosting a dedicated page, and Portland Action Lab, organizers of the call for the day of action. This liveblog is in coordination and affinity with the F29 Global Coverage Live Blog. We'll be reporting both global and local coverage of the F29 events right here all day, so check back frequently to get all the up-to-the-minute news and photos. Also, stay in touch with
The Occupier
on Twitter, for updates during the actions.

We're also premiering our new Live Report Hotline for this action. See some breaking news? Call 22-42-PO-NEWS or (224) 276-6397 to leave a voice mail message for our news desk. This number will also accept SMS messages. Be sure to report where and when the events happened. Additionally, you can email photos or news to us at [email protected].

All times in PST.
5:00 PM – Technical issues with uploading are going to close the blog for today. We'll have a follow-up post in the next few days to publish many of the great photos and video that still remain. Thanks for reading!
4:25 PM – We'll follow up with some more pictures from the day that are trickling in. Here's one from the end of the march.
4:15 PM – The march is back at the waterfront. Folks are hanging out, but the march is over.
4:01 PM – Peace House activists are handing out leaflets at a Bank of America branch, and being arrested 2 arrests so far.
3:53 PM – Protest is moving back towards the waterfront. Riot police shadowing them. A photo from the march, below. Note the G4S private security truck in the background. G4S is an ALEC corporation.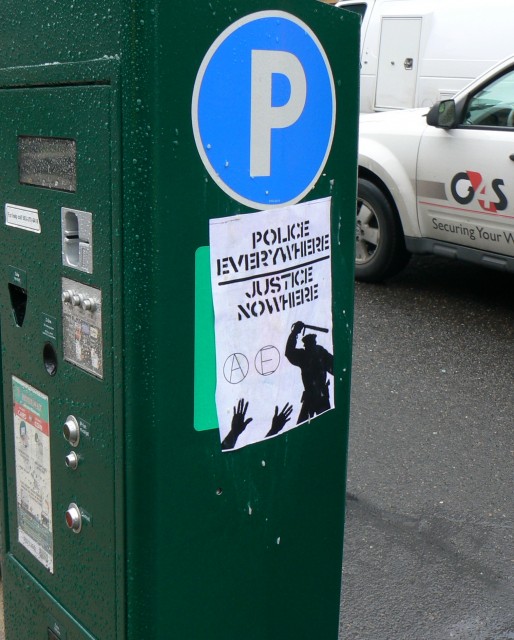 3:43 PM – Our correspondents say that one of the US Department of Justice personnel that was at the hearing last night about police brutality is on the scene now, observing events.
3:35 PM – Paul live reports an altercation between police and black bloc: A police car pulled out, and the Black Bloc wouldn't let it through. Police horses came up to support, pushing into the black bloc, attempting to trample the protesters. They couldn't do much, and so backed off. The riot cops came up next. Horses retreated, riot cops came up. There is a state trooper, armed with a bean bag gun. Now the protesters are trying to move on, to keep marching. The riot cops are now retreating. A lot of the riot cops look like State Police.
3:24 PM – The three protesters locked down are animal rights activists, and they are in the office of Paul Cosgrove, the regional ALEC head. Here is a photo of the protest currently in front of Wells Fargo:
3:21 PM – Phone "flash mob" underway at Wells Fargo. People are encouraged to call the corporate offices to voice their displeasure.
3:15 PM – Three protesters have chained themselves to the Wells Fargo building. More photos from earlir: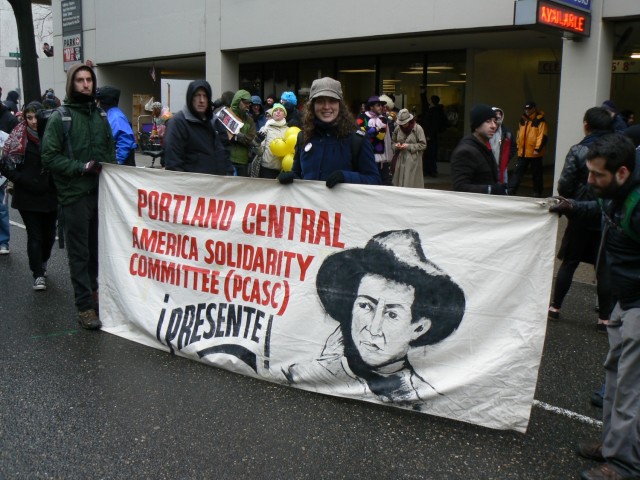 2:56 PM – A supposed PR person made an announcement that Blue Cross Blue Shield is pulling out of ALEC because of their legislation. As Ciara puts it, "Twitter is stumped" as to whether or not this was a real PR person, or a prank. Here are some photos from earlier: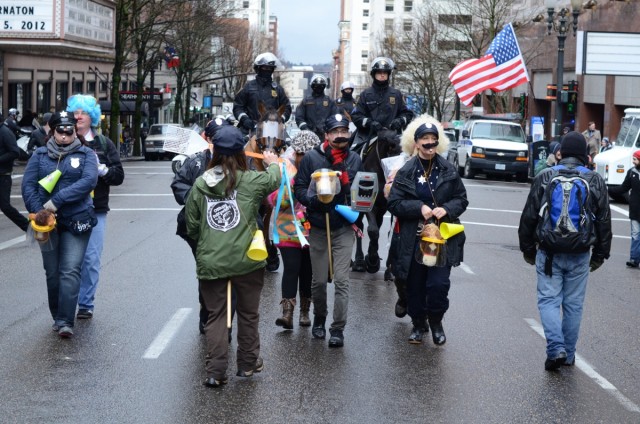 2:48 PM – March now at Blue Cross Blue Shield, at 1st and Market. "People over Profits!" is the chant. A nice photo of the front of the march from earlier:
2:27 PM – Protest stopped in front of Oregonian. "Tell the Truth!" Our correspondent Paul reports that the Oregonian photographers covering the march look unsure of what to do.
2:18 PM – Protest stopped in front of McDonalds, where a banner was dropped and then immediately confiscated. A soup kitchen is set up in front of McDonalds, serving healthier food.
2:13 PM – The march is preparing to move on, west on Main Street. Rapid Response Team (riot police) reported in the area. Below, a photo of the arrest near the Justice Center.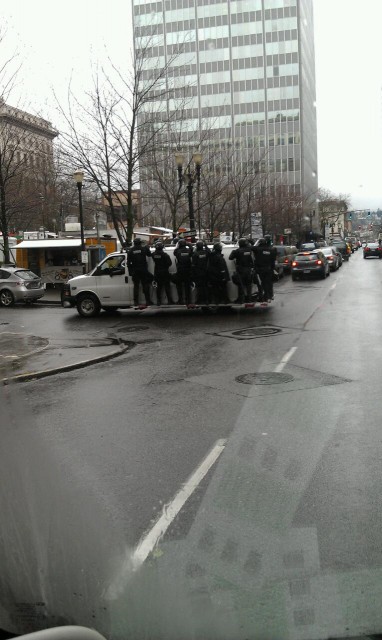 2:09 PM – Report that one of the arrests was because the protester allegedly jumped on top of a van near the Verizon store.
2:04 PM – Two arrests by the Justice Center. Lauriel reports that one of them, was just standing there. Unsure of what the cause was, but the march is pausing, and reforming.
1:59 PM – The March swung around Lownsdale Park, and West on Main, past the Elk statue.
1:49 PM – "Police Clowns" perform for the march.
1:46 PM – March moving towards Pioneer Square.
1:41 PM – Protesters chant, "Get up, get down, we're fighting ALEC in this town." Currently in front of Verizon store, which has been shuttered before protesters even arrived.
1:35 PM – More police arriving on horseback and motorcycle, reports Shawn. The march is staying dense, so as not to be moved. The umbrellas, covered in eyes, are flooding the street.
1:32 PM – Our correspondent Vargus reports the police seem to have given up on the idea of the sidewalk for now, as protest heads south on Broadway through downtown.
1:24 PM – March stopped at 76 Gas Station. Conoco-Philips is an ALEC corporation. March is now heading West on Burnside. Bike police trying to force march on sidewalk, but not very successfully. See photos below.
1:16 PM – There is a defensive black bloc at the front of the march, that has pushed through a police line. Police are not happy.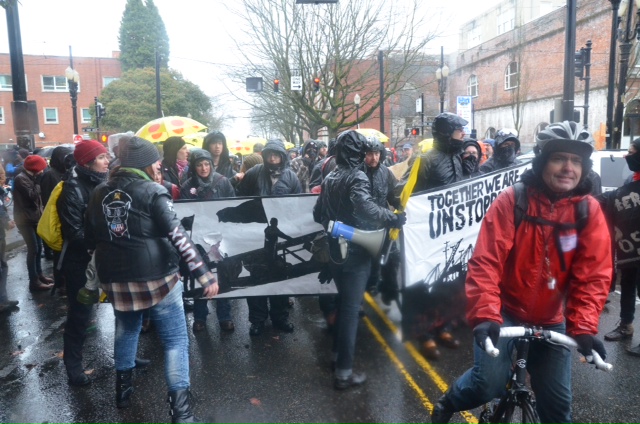 1:09 PM – Police trying to push protest in the street, but there are too many protesters. Protesters have taken the street. Police bikes are trying to push them back onto the sidewalk.
Bikeswarm in effect: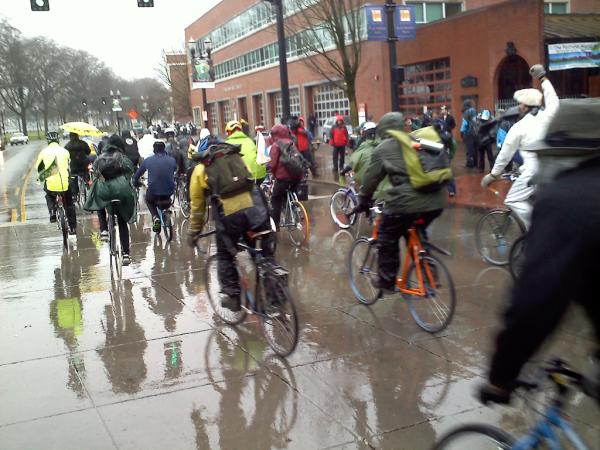 1:01 PM – Protest is interrupting traffic on Naito at Ash. Bikeswarm preparing to move out.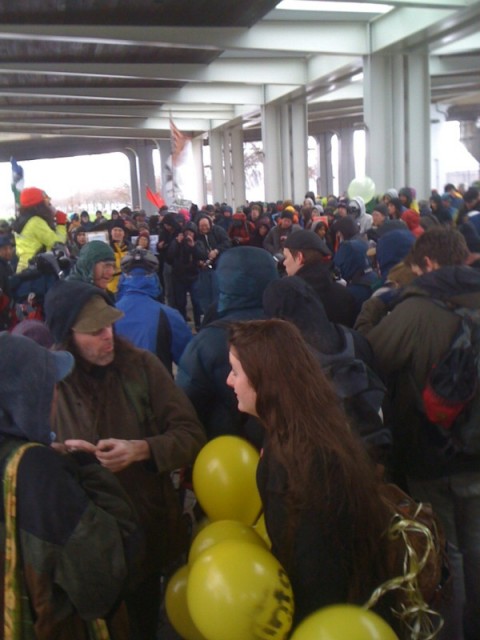 12:54 PM – The march is starting.
12:44 PM – Correspondents report the rally is now up to 350 people. The police have asked the march to apply for an on the spot permit, and the organizers have turned them down. The police claim they have not been in contact with organizers, but organizers have been talking to City Hall for weeks.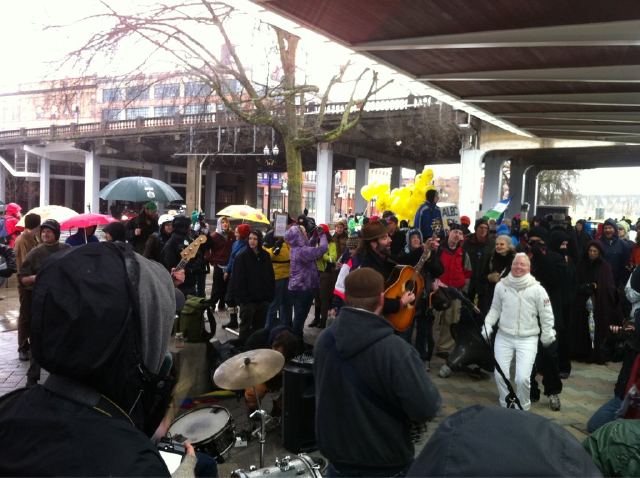 12:41 PM – Police horses reported at SW 2nd and Ash.
12:28 PM – The Peace House activists are currently in a McDonald's but are being refused service. The police have been called.
12:25 PM – Via Shawn: Activist Kathleen Sadaat addresses the crowd: "We must address the inequalities of race, class, gender, income, education, and we must do it all at the same damn time."
12:18 PM – Our correspondent Shawn spoke with the Climate Justice bloc. Said Isobel: "We're here to turn the tide of these corporate criminals." Their banner says "Rising Tide" and they have briefcases as well, emblazoned with corporate logos. They are here to call attention to ALEC supporting anti-EPA regulation bills that passed in 14 states, as well as supporting climate denial in schools.
Rumorz cafe is on the scene, serving coffee in true Portland fashion.
12:12 PM – Bike cops just arrived under the Burnside Bridge. Police estimate 200 people there now.
12:08 PM – Bucket brigade taking volunteers, at rally.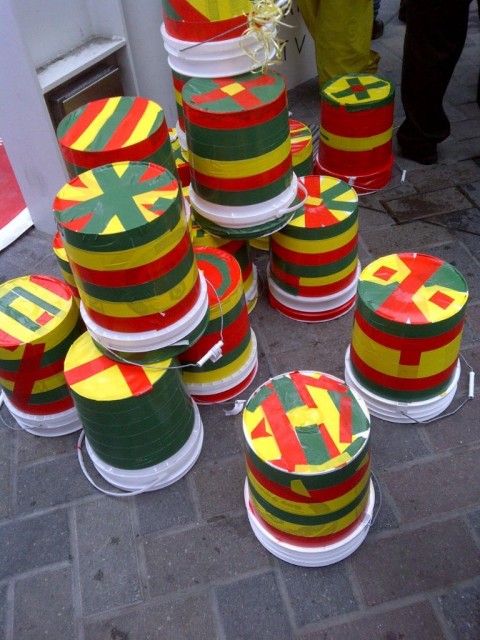 12:01 PM – Cascadian flag at the rally under the Burnside Bridge.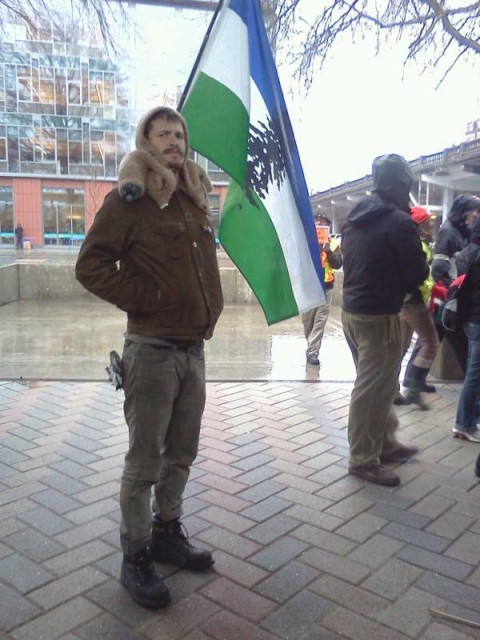 11:49 AM – Peace House activists are inside a Taco Bell. They've brought mops and brooms and are cleaning "ALEC Activity". Here's a photo of the gathering rally under the Burnside Bridge.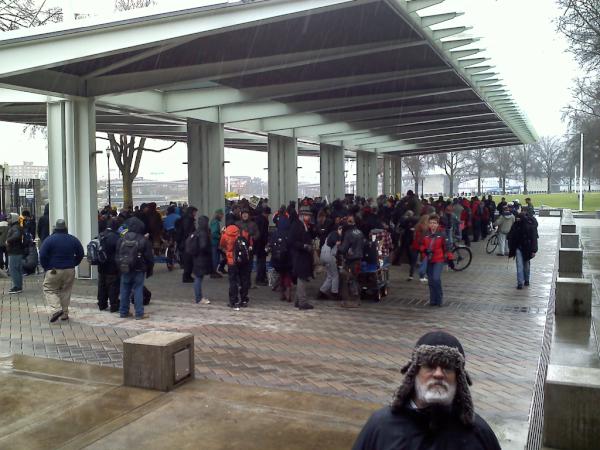 11:44 AM – Rising Tide activists prepare their banner under the Burnside Bridge.
11:31 AM – A few hundred people are at the rally point in downtown Portland. Activists from Peace House have entered a AT&T store on Portland's East side.
11:20 AM – Portland protesters are heading towards an action on the East Side. Watch it on OPDXlive, now.
11:03 AM – Mainstream Media lining up for the spectacle:
10:57 AM – Sorry there's no embed, but here is a video of the bike swarm banner over I-84 earlier this morning.
9:58 AM – Bikeswarm is riding from gas station to gas station, buying a single gallon of gas so they can occupy the pumps legally. The police are tailing them, but right now just warning them to obey traffic laws. Here they are in traffic:
9:43 AM – Current photo: Bank of America protest in NYC.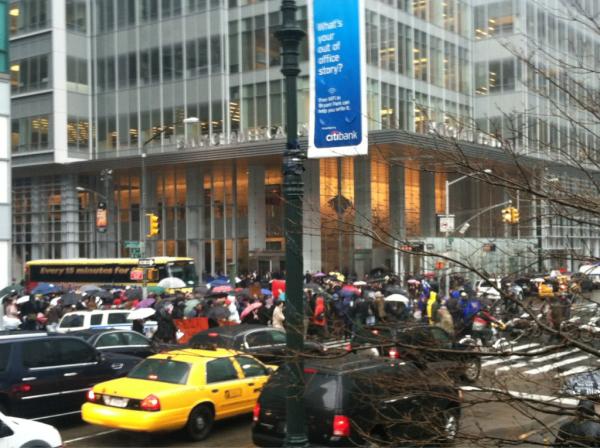 9:32 AM – There was a brief spat of property destruction last night, targeting a couple of banks on the east side, and a Starbucks.
This press release was posted on Portland Indymedia, claiming responsibility for some of the damage:
About an hour and a half ago (around ten pm, Tuesday night) a group of anticapitalists rolled up on the US Bank at SE 39th and Main and smashed out its windows and ATMs.

This was done in preparation for February 29th's Shut Down The Corporations Day. We chose a bank because banks have upheld the sanctity of capitalism, making it possible for a few people to accrue