By Occupier Staff
The legal battle continues for three Occupy Portland activists arrested at a February 6 Occupy Oakland Solidarity and Anti-Police Brutality March. Emmalyn Garrett, Taylor Sharpe and Nefi Bravo are seeking evidence and witnesses to aid them in the fight to uphold their constitutional rights. The trio have joined the mass defense for Occupy-related arrests taking place with the help of the Elk Law Krewe and the National Lawyers Guild.
Occupier Emmalyn Garrett reports being pulled off the sidewalk and tackled by police, and enduring broken glasses and multiple cuts on her face and leg. "From what I can tell, the night ended poorly for everyone, but probably ended the worst for the seven people arrested that night who face months of court, potentially jail, fines, or community service, and who were brutalized that night," said Garrett
All three arrests took place on sidewalks after the police rushed protesters to disperse the crowd. Taylor Sharpe believes that deliberately selecting a few individuals for arrest in a crowd is a law enforcement intimidation technique.  "The snatch-and-grab tactics used by the Portland Police Department echo tactics used by Peace Officers in occupied territories to discourage violent uprising," said Sharpe, who was targeted by two riot police when his back was turned. "It's extremely worrying."
Upon arriving at the march, Nefi Bravo said that multiple bike police charged him as he stood on the sidewalk and threw him down. KOIN Local 6 TV news aired clear footage of an officer approaching Bravo as he lay on the ground. In the video, the officer picks up a glass bottle, approaches Bravo and gestures at him, before another officer takes the bottle out of his hands. The officer then shouted at and shook Bravo, who reports that he continues to suffer shoulder pain from his arrest. The footage is part of a growing collection of video that has been amassed to document escalation of force techniques being deployed by police during demonstrations.
Though Garrett, Sharpe and Bravo originally were charged with misdemeanors that carry potential jail time, their charges were later reduced to simple violations like "Improperly Proceeding Along a Highway," and in some cases "Disobeying a Police Officer".  Lesser charges impede the ability of Occupy protesters to exercise their Constitutional rights to receive a jury trial, or guaranteed legal representation.  Like others, the trio have filed a motion to join the State vs. Keller Dean Henry ruling that upholds the Constitutional rights of arrested and jailed protesters. They joined thirty-seven other individuals (arrested during at least six different events) for a pretrial hearing on Monday, April 2, and face an additional pretrial court date on April 30.
In contemplating his post-march experience, Sharpe said, "The next morning, I called my father to tell him I had been arrested. He asked what had happened. When I said I had been tackled by riot police at an Anti-Police Brutality March, he just started laughing. The irony is clear, but the months we will be spending working to clear our names is anything but funny."
The next mass pretrial court date is Monday, April 30 at 1:30 p.m. in Judge Cheryl Albrecht's court at the Multnomah County Courthouse at 1021 SW Fourth Ave., Room 602.
Garrett, Sharpe and Bravo welcome additional witnesses and/or video footage of their arrests, as well as any and all accounts of police misconduct. They encourage those with information to contact them via email at [email protected].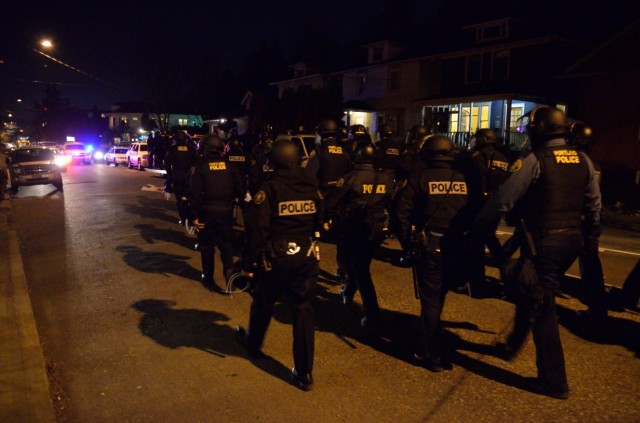 Riot police at the February 6 Anti-Police Brutality March. Photo by Paul.