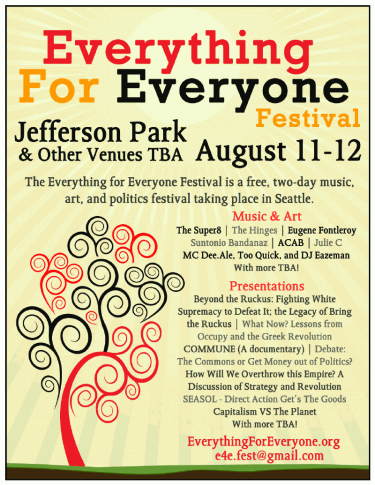 Seattle, WA – Seattle organizers announce a free, two-day, political and cultural festival called Everything for Everyone meant to connect people from around the country interested in taking the spirit of Occupy to a new level, aimed at changing everything.
Everything for Everyone will be fertile ground for developing a new political and cultural ecosystem where radical ideas, analysis and strategy are shared, debated, challenged, and advanced.
It begins outdoors on Saturday August 11 in Jefferson Park's Northwest corner on Beacon Hill with a program running from 11am to 7pm, featuring guests from around the country. People will be participating in debates, workshops, panels, live music, and the arts.
On Sunday, August 12, a plenary discussion will take place at the First Baptist Church on Capitol Hill from 4 pm to 7 pm. The Festival comes to a close with a live concert and dance party at 9 pm at the nearby Highline Bar.
Organizer Carol Isaac says, "Occupy's explosion in the streets exposed the smoldering discontent of millions here and all around the globe. From shutting down banks and the West Coast Ports to directly meeting the daily needs of the suffering, a new force has awakened to challenge the fundamentals of this system. We aim to provide a national meeting toward that end."
Endorsers of #e4e include the General Assemblies of Occupy Wall Street, Occupy Seattle and Occupy Portland, as well as local and national organizations such as the Black Orchid Collective, Red Spark, Advance the Struggle and the Malcolm X Grassroots Movement. A few of the performers over the two days will be: The Super 8, Suntonio Bandanaz, DJ Eazeman, and JulieC.
A variety of panels, workshops and debates will focus on issues ranging from student and worker organizing, foreclosure defense, revolutionary strategy, and capitalism's threats to our environment. Other activities will include a film screening, a self-defense class and arts and theatre workshops.
A full schedule of events and more information can be found at everythingforeveryone.org.
For more information, contact [email protected], Twitter: @e4efestival