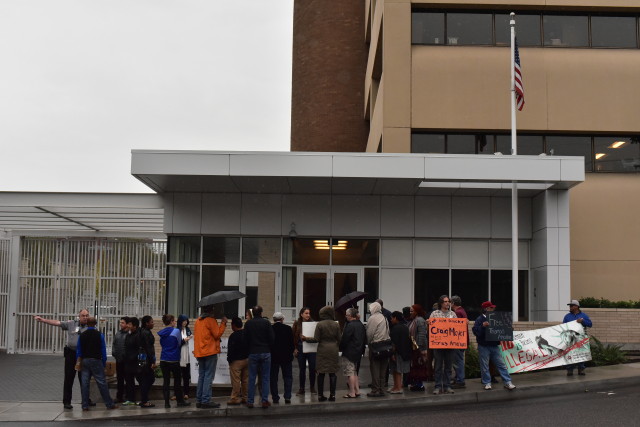 Story and photos by Pete Shaw
The Center for Intercultural Organizing (CIO) and the Portland Immigrant Rights Coalition held a rally in front of Portland's Immigration and Customs Enforcement (ICE) prison on Wednesday October 7 calling for the release of Thomas Amanuel, an Eritrean refugee. Amanuel, 38, has lived in Portland for 33 years. He left Eritrea when he was one year old and has almost four years in prison for refusing to sign travel documents that could lead to his deportation back to Eritrea.
"We have one goal," said Kayse Jama, Executive Director of the CIO. "We want to make sure Thomas comes home to his family. It is completely inhumane to hold someone in indefinite detention and threaten to deport them back to a country with no regard for human rights."
Eritrea is in the Horn of Africa, bordering the Red Sea. Its people have long been subject to European and US imperialism, including support for Ethiopia's annexation of the country in 1962. After a protracted war that included US support for Ethiopia's war against Eritrean nationalists, Eritrea declared its independence in 1993, but very quickly fell under the control of an authoritarian government that since then has not allowed national elections.
A United Nations Human Rights Council report found "systemic, widespread and gross human rights violations have been and are being committed in Eritrea under the authority of the Government" and that "some of these violations may constitute crimes against humanity." The report cited cases of people being "routinely arbitrarily arrested and detained, tortured, disappeared, or extrajudicially executed."
Amanuel and his mother, Elsa Mengis, fled Eritrea during the war for independence. While Mengis is a US citizen, according to #Not1More, she did not apply for her son to be a citizen due to bad legal advice she received when they first came to the country. "Now," reads a statement from #Not1More, "a simple theft conviction has not allowed him to naturalize. The charge was a result of a plea bargain that Thomas agreed to, even though he had no appropriate legal representation and little understanding of his options. This charge, and a DUI conviction from almost 10 years ago, are the factors ICE has relied on to detain and place Thomas in deportation proceedings."
If Amanuel is deported he will be returning to a country to which he as no connection beyond it being his place of birth. The US State Department, which has maintained an embassy in Eritrea since 1993, considers relations with the country "strained."
"He poses no threat to our community," said Jama, "and deportation back to Eritrea–a country he does not even know–is a threat to his life an his human dignity."
Amanuel is currently being held at the Mesa Verde Detention Center, a 400-bed jail in Bakersfield, California, operated by the private prison company GEO Group. Jama said that $200,000 a year in taxpayer funds was being given to GEO Group so they could profit from keeping Amanuel in jail.
"This is part of a larger issue," Jama said. "We have a broken system and we need to fix that. We want to make sure this is a movement that encompasses all our community."
It is difficult to understand why the US would deport Amanuel to Eritrea. That possibility–along with his lengthy detention–becomes even more problematic when one considers that that Amanuel is Mengis's only son and provides her support she needs due to her being disabled.
"I struggled to raise him all by myself," Mengis told the 30 people who had gathered outside the ICE prison on SW Macadam. "I've worked my whole life. I'm disabled. He's my only support. I have no one in Eritrea. I don't have family. If you take my son, I will die. If they take him there, he will die, and I will die too because I have no other choice."
Amanuel's case not only highlights the broken immigration system in the US, but also the plight of refugees that has been splashed across the news in recent weeks. Most of those refugees come from Africa and the Middle east, regions whose crises have direct links to European and US interventions and incursions. According to the BBC "at least 350,000 migrants crossed the European Union's borders in January-August 2015," a figure that does not include those who "crossed a border undetected." The BBC goes on to add that 62% of those refugees come from Syria, Afghanistan, and Eritrea.
Speakers at Wednesday's rally noted the US responsibility to welcome refugees it has helped create. Baher Butti of the Iraqi Society who came to the US in 2007 and works with refugees, spoke of the "slow procession" from refugee to citizen. "I wonder when they (refugees) are going to develop the sense that this is their home. So much money and process is spent to deport and jail, but not to bring them in." He urged those in attendance to hold the government accountable to be "accepting, welcoming, and helpful to people."
Reverend Cecil Prescod of the Ainsworth United Church of Christ talked about how when he was in college, his roommate Ephraim, who was from Eritrea, helped him pass calculus. Prescod said that while he only got a C+ in the class, he "learned about terror in Eritrea." He asked Ephraim how he could help, to which Ephraim replied, "Just let people know what is happening in my country."
After Prescod spoke, a small group attempted to deliver a petition signed by over 5,500 people demanding Amanuel's release to Elizabeth Godfrey, the Assistant Field Office Director for ICE. Nicole Brown, Leadership Director for the CIO said the group reached Godfrey by phone, but she would not meet with them. Brown said Godfrey also refused to meet with or have anyone in her office meet with Mengis.
Earlier, Jama had said, "We want to make sure this is a movement that encompasses all our community." Fittingly, the people gathered outside the gates came from a wide swathe of Portland. People from Jobs with Justice, VOZ, Enlace, and the All-African People's Revolutionary Party showed up, as did people from various faith groups. Francisco Aguirre, who also is being persecuted by ICE as well as the Department of Justice came out. They were there to open those gates, as Prescod said, "to welcome the stranger, to welcome the immigrant, to welcome the refugee…to build a society where all can be reunited."
Amanuel's godson, Michael also attended the rally. He seemed overwhelmed by the turnout, grateful for the support for a man whom he described as "more of a big brother to me." Michael said he found it "kind of ironic" that the US wants to send Amanuel to a place "they know has no human rights."
Like other rally attendees, Michael understood that this was about something bigger than Amanuel, about taking on an unjust system. "There are many Thomases around the country," he said. "This is a small fight toward a greater mission, a greater good."
Another kind of irony could be seen in the guard house near the driveway gate of Portland's ICE jail has two very large photos in it. One is of the Portland, Oregon sign that rises high over the west side of the Burnside Bridge, and the other is the glittering 65 foot Portland sign that hangs off the Arlene Schnitzer concert hall on SW Broadway. Both are Portland icons. Their images in that guard house imply welcome–an odd, even perverse, juxtaposition with where they hang, in this place that is not about welcoming, but being inhospitable, and often, discarding.
"We have a higher calling to welcome those from other places in the world," said Prescod. "This is Thomas' country. This is where he grew up. This is where he now lives."
Want to get involved? Go to http://www.notonemoredeportation.com/portfolio/thomas/ and fill out and send the form demanding Thomas Amanuel's release.
After sending the form, call the Bakersfield Detention ICE Field Office at (661) 328-4500 and demand Thomas Amanuel's release. A sample script is available at http://www.notonemoredeportation.com/portfolio/thomas/.