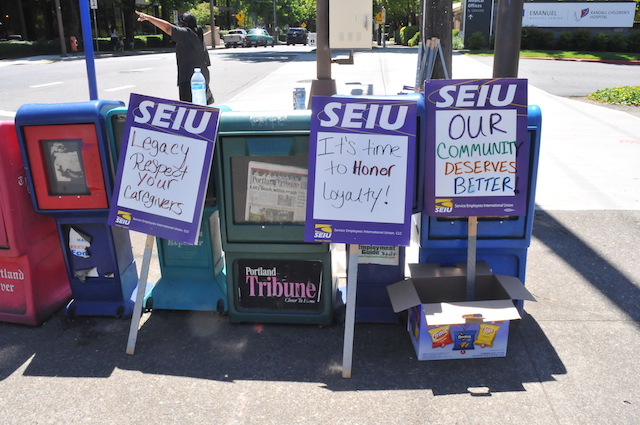 The opinions in this piece represent the views of the author, a Legacy employee who has requested anonymity in order to avoid potential workplace retaliation.

Legacy Emanuel Hospital is one of only two trauma hospitals in Portland. Legacy Randall Children's Hospital is one of the largest pediatric health centers in the city. They play a central role in the health of the communities in the 3 million large metropolitan area. Consequently, the business of these hospitals is the business of these communities.

It would be natural to expect that the decisions of Legacy's leadership would reflect the values of Portland's population when it comes to health care. That is, you would expect that the leadership would value patient safety and a positive experience for those who depend on the Hospitals for their care above all else.

Recent decisions by the leadership, however, have revealed that they operate according to a very different set of priorities. Though both the Emanuel and Randall Children's Hospital staff is already stretched thin, damn near to the breaking point according to many who work there, the hospitals are quietly carrying out serious cuts in the form of lay-offs and shortened hours. Over 300 positions have been eliminated and 100 loyal employees have been kicked to the unemployment office.

Why this drastic action? According to emails sent to employees from Senior Vice President and Chief Financial Officer Anna Loomis, the reason is that these Legacy Hospitals are "not meeting our 3% operating margin goal, which we need for continued financial sustainability and to fulfill our mission to the community." In other words, according to Loomis, Legacy's mission to the community is for the hospital system to make a 3% percent profit.

These cuts are not about improving health care. They will certainly have a harmful impact. What matters to Legacy's leadership, what matters above all else, is the bottom line. This should be no surprise since Legacy's new CEO, Kathryn Correia, regularly touts the merits of "lean healthcare" and "the Toyota Way", both approaches to management that aim to maximize profits at workers' expense.

Legacy's Board of Directors seems to have no shortage of creativity when it comes to finding funds to construct new buildings, such as Emanuel West. It was slated to cost $210 million in 2017, and since then, its costs have reportedly risen considerably. And the Board certainly find no challenges in the path of awarding themselves bonuses. However, when it comes to Legacy's employees, they can be easily discarded.

While Legacy's publicity is filled with talk about the hospital chain's "community values," apparently those who have engineered these layoffs live in a very different community than the majority of Portland's working-class population. This is reflected in the fact that in their 2016 tax returns, the top 25 leaders made $12,465,905. That number represents 11 percent of the payroll intended for 13,320 employees. On average, one of these leaders who are telling workers they need to make sacrifices, made over 50 times what the average employee made. While legally Legacy Hospitals are considered "non-profit", this level of inequality reflects the values of a cut-throat corporate culture.

The disregard Legacy's leadership holds for its workers could not have been made clearer by the Board of Directors' actions amidst the confusion and fear created by the cuts. They sent out an announcement congratulating Emanuel and Unity Hospital's President, Trent Green, for his promotion to Legacy's Chief Operating Officer. Following Loomis's email regarding Legacy not reaching its profit goals, Green sent his own email "to personalize the message" supporting the cuts he no doubt helped to engineer. The gall of this action didn't escape Legacy's workers. "We get laid off, they get promotions", was a frequently heard sentiment.

It goes without saying this will have numerous devastating consequences on employees who were laid off. Those left behind will have to try and make up for the cuts, resulting in increased stress and potentially dangerous mistakes. In addition, such large layoffs have a damaging impact on the employees' families and the communities these families live in.

These cuts will also hurt the hospital's patients. In a petition going around the hospital, signed by hundreds, their impact is summarized as follows:

Cuts in the following departments and job classes could mean the following for patients:

Patient Access: longer wait times, limited ability to help transport patients, delayed surgeries due to longer wait times for admitting.
Central Sterile: delay in equipment being ready for surgeries, increased potential for hospital acquired infection.
CNAs: needing to wait longer to use the restroom, inability to be bathed every day, increased potential for hospital acquired infection.
Unit Clerks: more lax security and safety if unit clerks are not there to answer phones and check badges and id's of visitors, reporting will be pushed onto already overburdened nursing staff.
Food and Nutrition: longer waits for meals, less options for healthy food options.
Transport: inability to discharge patients in a timely manner patients arriving late to surgeries, decreased ability of transport to help with codes, higher incidence of workplace injuries.
EVS (Housekeeping): longer wait times for admits, higher likelihood of hospital staff getting sick because offices aren't being cleaned, need for hospital to be on divert status more due to rooms not being clean, increased potential for hospital acquired infection.
For those unorganized workers who suffered cuts, resulting in a rearrangement of tasks for those remaining, they had no alternative but to take what Legacy's leadership was dishing out. Despite the harmful consequences to working class communities, labor law offers no protection against layoffs,since that is the price of doing business, and it is the corporate class that the court system advances.

For those represented by SEIU Local 49, because of their past struggles to get it in their contract, management had to meet with union members to explain their reasons for the cuts (though this is currently being contested in some departments). The membership didn't buy management's excuses for a second, however. Without any legal basis to challenge the layoffs, these meetings turned into a control-the-bleeding exercise, making improvements to management's plans, but still having to swallow a bitter pill.

The battle is not over, however. Union members are gearing up to push back against the short staffing they are currently left with. We know no laws will come to rescue us. But we do have the power over the work we do and our solidarity. Rather than passively accept the actions of Legacy's leadership, we will continue to fight for the safety of the patients we serve and to make Legacy a good place to work.