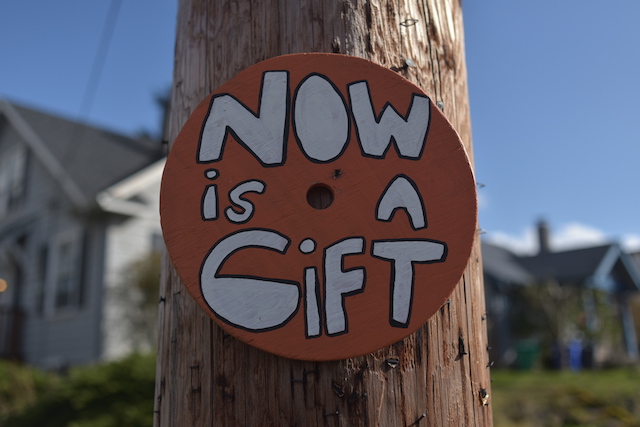 Story and photo by Pete Shaw
When I went into a quasi-lockdown a little over a year ago, just before the first case of the novel coronavirus in the US was announced, it seemed my life would continue more or less unchanged. After all, particularly during the Winter, my better 99% prefers I keep a low profile due to health considerations. And as I learned many years ago, if she thinks something is a good idea, then it is a good idea.
But soon the world changed, and unlike most people who suddenly found themselves confronted with newfound isolation, I was encountering more people than usual. My pre-Covid walks were quiet affairs where I would see only a handful of folks. These walks not only provided about two hours of physical exercise, but also allowed my mind to run wild and free. Keeping a beat with the music between my ears, I would mumble conversationally to myself, gesticulating wildly as I am prone to do. However, with more people at home, those daily jaunts became exercises in geography and geometry as I sought to respect social distance guidelines–with people with children and pets having sidewalk priority–and also not trod upon people's lawns and flower beds, but not get run over by drivers and cyclists. And not wanting to freak anyone out, I stopped expressing my thoughts out loud and held back on my dance moves.
On those walks, I visited Friends, always at distance. For some, I hoped, it gave them a small break from having to deal with their lovely children who were understandably frustrated at being cooped up inside. When I could, I would bring loaves of bread, recently out of the oven, reminders of presence and caring. I still do this when I can, and over the past few months it has seemed more important as weariness becomes more difficult to hide.
So while I have not been able to get out and cover events since February 26 of last year (hence my paltry output for this publication), my life has otherwise largely been normal. However, one of the major disruptions has been not being able to head back to my birth state, New Jersey, to visit my father; my brother and sister in law, and their family; and Friends from the life I once knew back there. In particular, I miss spending time with my father, who this month will turn 96. As I have mentioned in prior pieces, he has Alzheimer's Disease, although it is thankfully not terrible, although noticeable. He repeats himself often, and events that we shared that have always occupied a special place in my mind have faded from his. However, we have nice conversations on the phone that often deal with current events, if not at the deep level we once had them, and longer term items that he retains are easily discussed.
My father sprained his ankle around Christmas, and my brother had to take him to his house to convalesce. The management of his independent living facility–which considering its official name is the Saint Francis Living Facility, and that it is a ministry of the Sisters of the Sorrowful Mother, is something quite different from "The Management"–said he was no longer welcome back, although they said this much more kindly. They simply lack the staff and facilities that my father now needs. I told him it was about damn time he acted his age, which gave him a good laugh.
So now he lives 15 minutes further from my brother and sister-in-law in an assisted living facility. He is adjusting, no mean feat as because of Covid-19, he was required to spend his first 10 days in quarantine before he was released upon the general population.
He is understandably a bit confused. Approaching 96 and having Alzheimer's Disease will do that. In late January he called, telling me he didn't want me visiting his room for some reason he could not recall.
"The Virus?"
"What virus? Trump?"
"Good point, but no. The Covid virus."
"Oh, yeah. No, don't visit. Where are you?"
"In Portland."
"Oh yeah. Well, don't visit. It's a long walk. Where's John and Nancy?"
"They're 15 minutes away. You are living in a new place, so it is going to be confusing for you for some time. If you can find a place to store it away, remember always that we Love you, and you are in good hands."
"Good!"
The past year has seen the loss of quite a few great baseball players, at least seven of them enshrined in the Hall of Fame. The most recent of them was Henry Aaron.
I asked him if he heard Hank had passed. He had. My dad, while not a huge baseball fan, enjoyed baseball, and he knew its history well enough. When I was growing up, he would often tell me stories of baseball lore. I grew up a Mets fan (tip of the hat to the late, great Tom Seaver, another Hall of Famer we lost). There was no way my folks, both from Brooklyn, were going to raise a devotee of those bastards from the Bronx. But largely due to my dad's tutelage, in my adult years I became a lover of the game.
When my better 99% and I lived in Chicago, my dad visited, and one day we went up to Milwaukee to see a Brewers-Cardinals game at County Stadium, the same place where Aaron, as well as many other great names, including the great pitchers of their 1957 team that won the World Series, Warren Spahn and Johnny Sain, plied their crafts for the Braves before that franchise pulled up stakes and moved to Atlanta. Those hurlers were so dominant, particularly that magical year, that some newsman noted in a now-famous aphorism, one that my father would often mention, that all the Braves needed to win It All were "Spahn, Sain, and two days of rain."
Of course, having Aaron did not hurt. It never did. And in that magical year he batted .322, hit 44 home runs, and drove in 132 runs while winning the National League's Most Valuable Player award. He continued in stride through the World Series as Milwaukee defeated the Yankees in seven games.
My dad did not remember us going to the game, but at the time he enjoyed the trip. As baseball fans, there was something nice about being in a place where 40 years earlier, from the same seats, we would have seen Aaron and those other legends. On the phone we talked about Aaron as a great player, and a greater person. I ended that segment of conversation by noting that a week or so prior to his visit so many years ago, Jessica and I had gone up there to see a game. I led him on, noting that the day was gorgeous, just as it was again when he, Jessica, and I watched the game.
"Two perfect days for baseball."
"No days of rain!"
The mind is an amazing thing.
A couple of weeks ago, my father called me well into the evening, which is to say from his end of the line, a bit into the New Jersey morning. He was confused because, as I understood it, he'd had a vivid dream in which he saw my mom, or as he said, his wife. And he wanted to call her. He knew she was dead, but she seemed so real to him. In a more perfect world, I would reach out and hug him, as he used to hug me when our roles in life were reversed, when my navigation of the world was full of confusion.
I told him I often see mom in dreams, and many other people no longer here, and sometimes those dreams are so vivid that when I wake up, I am confused, and then sad. I miss them. But then I am happy for the gift of a visit.
"It's nice when you put it that way!"
"It's nice when it happens."
"Peter, I'm hungry. I'm going to get some food."
"Dad, it's just past midnight. Nobody is gonna be in the cafeteria."
"Oh, yeah…Peter, I'm hungry. Maybe I should get breakfast."
"The cafeteria is probably closed, dad. You don't eat breakfast for another 7 hours."
"Oh. Maybe I should go back to sleep."
"Great idea. But know you can call me at any time."
"What if I see your mother again?"
"Give her a big hug for me."
"Okay! Good night. I Love you, Peter."
"I Love you too, dad. Good night."