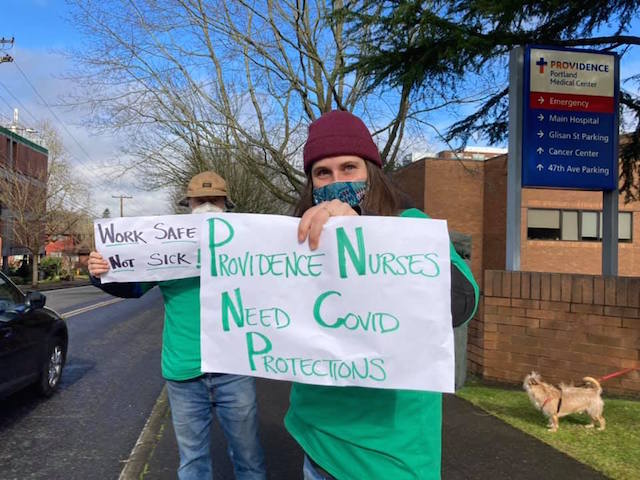 Story by Pete Shaw
On Wednesday March 10, the Portland Area Workers' Rights Board (WRB) live streamed a public hearing at which some nurses who work at Providence-Oregon and are represented by the Oregon Nurses Association (ONA), testified about what they believe to be the Catholic organization's inadequate support of caregivers and its lack of concern for the safety of nurses and patients during the COVID-19 epidemic. The nurses, who work at some of the ten Providence hospitals and care establishments across Oregon, paint a damning picture of a management seemingly out of touch with the needs of its community.
Among the many missteps are worrying reports of nurses being banned from taking the steps to ensure adequate personal safety, potentially leaving themselves and their patients at high risk, as well as woefully inadequate worker assistance to meet the demands of the crisis.
Since the early days of the COVID-19 pandemic, nurses at Providence Health and Services have been asking for a long-term safety agreement to be put into writing that meets nurses' and community members' demands, including adequate PPE, timely exposure notifications, regular access to COVID-19 tests, pandemic leave retroactive to the beginning of the pandemic, and a workers' compensation presumption for COVID-19 The values of this memorandum of understanding (MOU) are best expressed in the Nurses Bill of Rights, which Providence management also refuses to endorse.
In fact, rather than tightening up protection protocols, Virginia Smith, a nurse on the Medical-Surgery unit at Providence Willamette Falls for over 10 years, described how she and her fellow nurses felt "stunned" when in May 2020 Providence management allowed an agreement to expire between the nurses and administration that contained industry standards and safety provisions.
"Instead of recognizing a written agreement that includes our proposals and how it benefits our nurses on the front lines," said Smith, "Providence has decided to use bureaucratic barriers to decline working with us. This has ultimately shown the nurses who are showing up every day during the pandemic that Providence cares more about the bottom line than they do about taking care of us and their communities."
Kim Martin, a Providence bedside nurse for over 28 years, spoke of PPE supplies and virus tests as a treasure hunt whose rules were constantly changing. In the early days of the pandemic, many nurses sought the proper masks–N95 or ASTM Level 3, both considered in the top tier of protection. The equipment remained difficult for Providence nurses to access well beyond their initial scarcity. The nurses subsequently began making masks for themselves and their coworkers. Providence management pushed back.
"Wearing these masks not only was discouraged," said Martin, "but nurses were told it was not allowed. Management then brought in simple masks that provide the minimum protection at entry to the hospital and asked nurses to wear only the provided masks."
In addition, Martin said management also did not allow nurses to purchase their own PPE.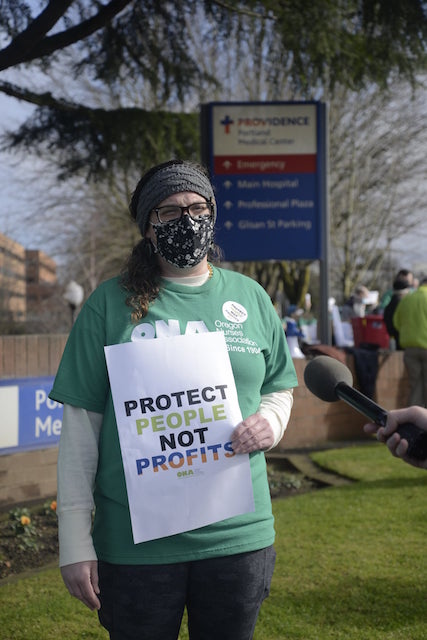 To this day, despite evidence–and the Center for Disease Control's endorsement of it–that shows the effectiveness of properly fitted double masking, Providence forbids the wearing of two masks.
What mask policy Providence has, by Martin's reckoning, has not been well communicated to Providence nurses. "In December," she said, "Providence internally distributed a memo recommending staff use a more substantial Level 3 mask, which means it has a better moisture barrier to prevent COVID infection between patients and staff. Unfortunately, they failed to roll out the practice they themselves recognized as necessary. These masks were not readily available and staff received conflicting and scattershot education about the change."
Martin noted that this history preceded the December to January COVID outbreak at a Providence Portland Medical Center's in-patient rehabilitation unit that resulted in the closing of an entire unit due to at least 49 patient and staff infections.
"When I questioned our PPE committee chair about the failure to roll out the use of the Level 3 masks," she said, "the simple masks were conflated to be equivalent, which was clearly dishonest to anyone who has hands-on experiences with them."
There has been some progress. Martin noted that Level 3 masks are now stocked on hospital units; however, "nurses are not educated and encouraged to use more than a simple mask on a regular basis."
At other times, Providence has been dismissive of nurses' concerns. Martin said that prior to the pandemic, nurses used one mask for one patent interaction, but now find themselves using one for an entire 12-hour shift, which runs contrary to Providence's assertion that its hospitals have abided by health practices provided by the CDC.
"When patients suspected of having Covid were placed on my unit," said Martin, "the staff were told by management and then repeatedly by Infection Prevention, that only a simple mask and face shield were recommended by the CDC. When staff rightly argued that this was not true, they were told that they were just anxious."
"The truth is," Martin continued, "the CDC recommended a simple mask only if an N95 or higher respirator was not available. In other words, it was recommended if you had nothing else. Providence had a large stockpile of N95 masks, but chose not to provide them or the fit testing required to use them. Instead, they spread patients that could be infected with COVID across medical units. Even after admitting the CDC did recommend an N95 as best practice, Providence leadership failed to educate staff to this and continued to reinforce that the use of a simple mask and shield was sufficient."
Nurses, like most working people, sometimes go to work with cold-like symptoms. "Cold and flu season comes every year, and we all battle through it as best we can, regardless of the profession," said Alexis Keller, a Providence Milwaukee nurse for 8 of her 12 years in nursing, now the bargaining unit chair for Providence Milwaukie Hospital. "But we knew this year coming to work with a cough or a sore throat meant putting our patients and our co-workers at risk. So out of caution and out of guidance from Employee Health, we stayed home with those particular symptoms, not wanting to infect our patients and co-workers, and also not wanting to contribute to the spread of the pandemic."
Quarantines take time. So do delays in testing and reception of results. Sometimes nurses were told to stay home until their symptoms resolved, even though they had tested negative for COVID. Hospital systems in the Portland area, including Legacy and the Oregon Health and Sciences University, have responded by offering nurses more paid time off (PTO). Providence has not. According to Keller, nurses who take time off from work due to COVID-related issues are required to use their vacation time for hours missed. While Providence nurses have asked for 40 hours of COVID-related paid leave, Providence management believes the current benefits are enough.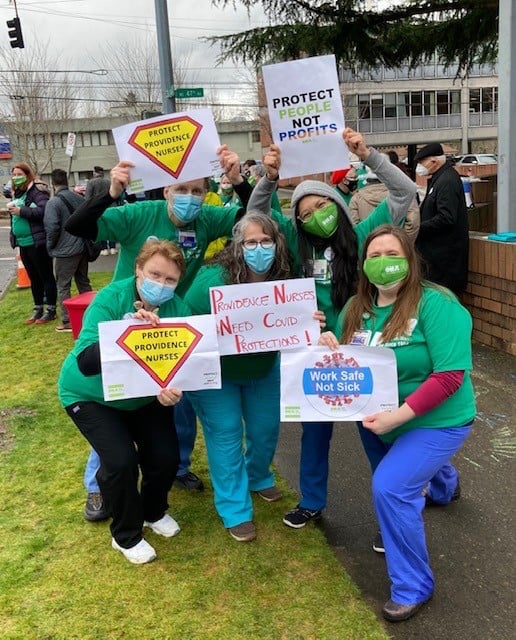 "Our lived experience is in disagreement with that," said Keller. "Even with our 40 hour request, which is what we've asked Providence to provide us with–40 hours of emergency paid time for nurses who experience COVID symptoms–they would still be below the community standard. Other hospital systems in the area have seen what their nurses are going through and have taken the steps to offer 80 hours of emergency paid time off, or more."
On top of all this, Providence has made it difficult for its nurses to file workers compensation claims related to COVID by, according to Smith, maintaining that "it's too difficult to prove how workplace exposures have resulted in illness for nurses, specifically COVID illness."
"The patient has to be a known positive," explained Smith, "and there also has to be some investigating done as to whether or not the nurse had a breakdown in his or her proper PPE. The assumption being that if you're wearing the proper PPE, that your risk is minimal to nothing. It's not nothing when you're in a room with somebody who's breathing on you and right close to them."
"And not only have they denied the vast majority of workman's comp claims," Smith continued, "but they've actively discouraged us from even filing workman's comp claims. That means that any nurse that's pulled off the schedule for quarantine from a workplace exposure, has had to rely on their own personal paid time off which many nurses had already depleted at the start of the pandemic."
Keller noted how Providence's position has left nurses feeling pressure from all sides. "Calling in sick can really create a financial burden for the nurse who is calling in, as well as the guilt of leaving your co-workers high and dry on sometimes already short-staffed units. Some departments are working short on an almost daily basis. This contributes to the high levels of burnout, and with no PTO left, nurses must work for months just to take time off and recharge."
Lynda Pond, President of the ONA, also provided testimony. "Providence currently stands as an outlier towards agreeing to additional COVID leave and safety practices designed to support nurses who have negatively been impacted by COVID," Pond said. "While other hospital systems have negotiated signed agreements that provide health and safety protections along with Covid leave, Providence has chosen to delay, deny, and rewrite the facts that Providence nurses have been dealing with for the past year."
Among efforts elsewhere noted by Pond: PeaceHealth is providing adequate PPE, and all new hires start with 80 hours of COVID sick time. At Good Samaritan in Corvallis, nurses have paid leave for the first three days of any mandatory absence due to workplace exposure to the novel coronavirus, and COVID testing is available to staff at all times at no charge to employees.
Further afield, Pond said St. Anthony's, a small critical access hospital in eastern Oregon, "has been working tirelessly with their nurses since the beginning of COVID to provide PPE protection. They have invited their nurses to the table to talk about what is needed, to talk about how to safely staff the hospital, and how to be proactive in light of this pandemic."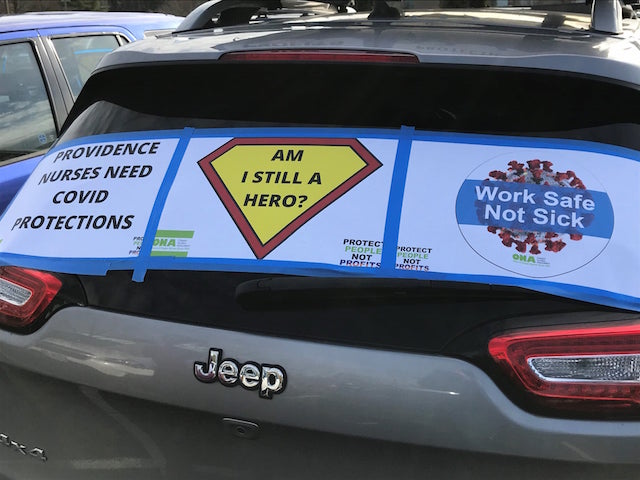 Meanwhile, at Good Shepherd, a small critical care hospital also in eastern Oregon, replaced an obdurate administration to good effect.
"This new management team came in, looked at what was happening with the nurses," said Pond. They took PPE out from under lock and key. They made COVID testing available 24/7 to their nurses. They then looked at the pay loss that nurses had suffered in the past year and retroactively reimbursed them for all of the PTO that they had to use. They restored their PTO banks. For one nurse, she got over $7,000 of monies that she had had to use out of her PTO bank to care for her family and herself during times of COVID."
"So my callout to Providence is pretty simple," said Pond. "If a much smaller hospital with a much smaller profit margin than Providence can take such great care of their nurses, what is wrong with Providence?"
Meanwhile, said Smith, Providence's most recent offering on PTO held that, "Instead of 40 hours of COVID emergency pay, if a nurse had already depleted their PTO, that they could go into negative PTO to themselves. When we asked for clarification–would they have to earn that back with hours worked?–they said, 'Of course, yes.'"
Keller noted that many nurses came to work at the Catholic organization because of its mission statement–"As an expression of God's healing love, witnessed through the ministry of Jesus, we are steadfast in serving all, especially those who are poor and vulnerable"– only to be let down by the reality of the conditions under which they now toil.
"I've experienced the compassion of the staff of the hospital–the workers, the nurses, and the doctors," said Father Jack Mosbrucker, who sits on the Workers Rights Board, noting the discrepancy between the testimonies of Keller, Smith, and Martin, and Providence's professed ethics. "But somehow the administration seems to have forgotten that message, or perhaps they don't think compassion is part of their role or their work at a Catholic institution. Or perhaps they've become too corporate minded. I don't know which. And I think that one of the things about a Catholic institution is that it should have an ultimate respect for workers. That is fundamental, and when that is not present, they have missed not just their goal, but they have missed their role as a Catholic institution."
"It can be really demoralizing for nurses to watch Providence tout their core values," said Keller, "their mission statement–all of their beautiful sentiments, that everyone should hold close when they're thinking about caring for people and their community. But to see that those values are often used in advertisements and not in real life, and not in care of their workers is truly disheartening."