Welcome to the liveblog for D12, the coordinated Port Shutdown on the West Coast. I'm Adam Rothstein, and I'll be chairing the liveblog today, along with all of our lovely correspondents and camera-people out there.
For the latest, you can follow @occupy_thyself, @occupyoregon, or #D12PDX on Twitter.
8:00 PM – Here's what's happening. We are waiting to see what arbitration says about shutting down the shift at Schnitzer. Then, most likely, there will be a decision about whether or not to shut down the Port tomorrow, in response to police violence in other cities.
We're going to pause the live blog for now. We may restart it again if needed, and will alert you by Twitter (@PDXoccupier) if we do.
For now, workers are honoring the picket line, and things are peaceful.
Thanks for reading, and we'll talk to you soon.
7:56 PM – Here's what the GA looks like at Occupy Oakland tonight.
7:54 PM – Fire balloon in front of Terminal Four.
7:26 PM – The bike swarm is still out, roaming out up and down Lombard between Terminal Four and the three Schnitzer entrance roads.
7:06 PM – Several Schnitzer Steel trucks have now been turned back from the Schnitzer gate, like this one.
6:49 PM – Here are some photos of the confrontation with the the truck trying to cross the picket line earlier.
6:34 PM – Here's a photo of the police that went by before. Where they are now is unknown.
6:21 PM – The city attorney is here, which many people read as a willingness by the city to use force against the protesters. Police are now speaking to protesters about moving back from the street for safety reasons. There is a good bit of traffic on Lombard. Here are some more photos from the last two hours at Terminal Four and Schnitzer Steel:
6:18 PM – Police continued north on Lombard, back towards Terminal Five.
6:11 PM – Currently the three gates of Schnitzer are blocked. A meeting is about to be held in front of Terminal Four to discuss possibly extending the blockade, in solidarity with harsh police repression in Seattle. Lots of riot police just showed up. The arbitrator is on the way, to decide whether or not to call off the shift.
5:57 PM – Jacob reports that a car tried to get into Schnitzer Steel, and got very aggressive. There appears to be indecision between protesters on whether or not people are allowed to break the picket line. The car tried several times to go through, and revved its engine at the protesters, rolling forward as if it was going to speed ahead. The driver was very angry. Things have calmed down now, and protesters are talking to the driver.
5:47 PM – Schnitzer Steel is shut down. The police cars turned on sirens and tried to clear to road into it, but people didn't move. The media van is moving again because they are giving tickets to vehicles on the side of the road. A man is holding a sign on the street. It says: "Expect Us."
5:36 PM – Here are three great photos from Terminal Four.
5:32 PM – A contingent of protesters is staying at Terminal Four to make sure it stays closed. Lombard is packed with traffic: bikes and cars.
5:26 PM – Terminal Four in Portland is shut down. Workers got four hours of pay. Now protesters are mobilizing to shut down the Schnitzer Steel terminal. It's just a bit down the road on Lombard, towards the northwest.
5:16 PM – Watch this video of locked down protesters in Houston being put inside an inflatable tent by police.
5:10 PM – Seattle is being attacked with explosive tear gas grenades, pepper spray, horse police. Here's a picture.
5:07 PM – The sound truck was issued a $142 ticket for breaking the decibel limit.
5:05 PM – Here's the scene at Terminal Four. In addition, see the police pulling over a part of the bike swarm.
4:52 PM – In the break, we heard that Oakland is on their way to the Port, and Seattle has succeeded in shutting down Terminal 18. Photo below is the march in Oakland:
4:47 PM – The folks who traveled by cars, buses and bikes are here at Terminal 4. They are blocking the roadway at the entrance and chanting. Photos soon.
3:54 PM – Terminals Six and Five are closed for the second shift. At 4 PM, protesters are meeting at the entrance to the park, to march to Terminal Four! It's a long walk! But there's music! We'll follow the march and resume reporting from Terminal Four. Internet service is bad up here, so we may not report from in between locations.
3:48 PM – Occupy Portland's main site (not ours) is under DDOS ping flood attack. We'll let you know more about it when we know.
3:42 PM – Here are a few pictures of the current scene at Terminal Six in Portland. Everything is pretty relaxed. We've heard reports that the Port has called off the second shift that was due to come in at 4 PM.
3:39 PM – The Seattle march is approaching the Port. Police are reportedly moving in now.
3:27 PM – Here's a nice introduction to the Oakland Port Action today.
2:56 PM – Gate at Terminal Six still locked down. Spokes Council is reportedly set to start in half an hour here in Kelley Point Park.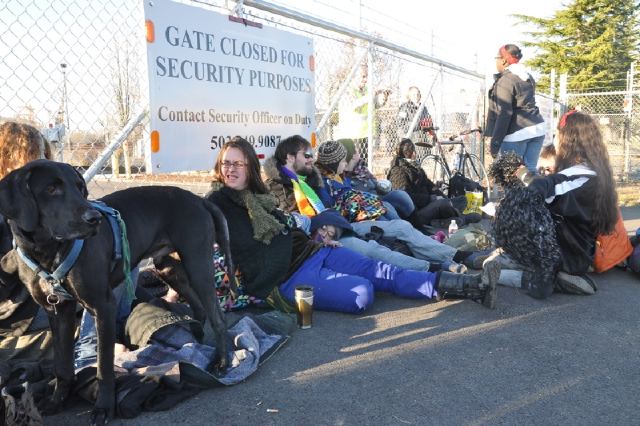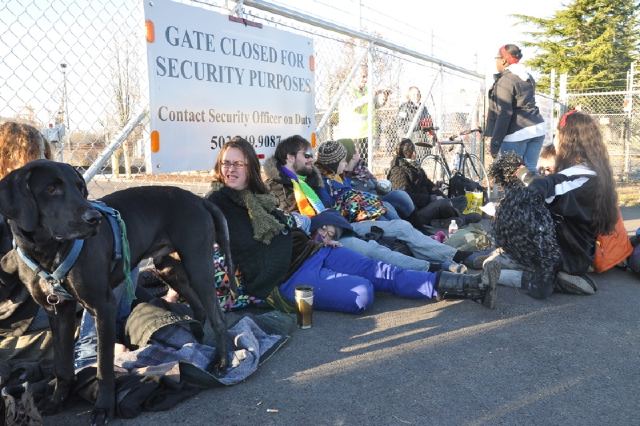 2:31 PM – A bit of clarification on how a port works, in case you were interested: the workers get paid when the ships get loaded and unloaded. They will be loaded and unloaded. Just not today. The workers will get paid. In the meantime, the corporate investors in the Port lose profit. For all of those anti-Occupy trolls that seem to have suddenly become pro-union: congratulations! And don't worry, the ILWU won't lose out on ships to unload! We can all celebrate that!
2:10 PM – First, a photo from Long Beach, of arrests going on there. Then, two more photos from Portland.
1:37 PM – The DJ truck moved to Terminal 5. Rumors that the Port will attempt to re-open Terminal 5 today for second shift at 4 PM. Meanwhile, more photos:
1:08 PM – Another shot of photos. Three in a row, no commercial interruption!
12:53 PM – There will be a spokes council meeting at 3:30 PM in Kelley Park, before the second wave of pickets at 4 PM.
12:37 PM – Here are some videos from this morning. The police bikes, and zoom shot of the Terminal Six blockade.
12:29 PM – This is from a separate reported filed by Little Bear, here on The Occupier:
They laid their bodies down on the cold metal tracks that see millions of pounds of goods roll over them every day. They successfully diverted one train, which upon hearing of the protesters, reversed and was taken off course. A truck was also successfully stopped from crossing the tracks. But then, a front-loader operator from Millbank Material USA decided to take matters into his own hands and rolled up to the protesters in his gigantic beast of a truck. Police watched and reported on the scanner that the loader was rolling towards the protesters. They stepped aside to let him through. He lowered the bucket down, inches away from crushing the protesters' skulls and legs. Another worker cheered the driver on from the background, "Run the motherf***ers over!" The protesters remained steadfast in their resistance. They were not going to move.

Upon witnessing this, a larger group of protesters ran over to to driver and screamed at him to stop, which he did.

Police monitering the scene reported on the radio that they spoke with the operator and that he claimed that his bucket was broken. Another police officer replied that he'd seen him operating it a little earlier with no problems.

The manager of Millbank Material USA forced the operator to come out and apologize. The conversation that followed is paraphrased below.
Operator: "I'm just really frustrated that you wouldn't move for our trucks. We're just trying to get our jobs done."

Protester: "i'm sorry that you're trying to do your job but safety is part of your job – that was not safe. You can't pretend you have no idea what is happening."

When asked why Shawna was willing to risk her life, her reply was,

"I came into this movement knowing that I may lose my friends, my family, my reputation. I have a child. what I do today won't have an affect on me today, but it will have affect on his future. When he's my age, he won't be struggling to get nowhere. If that takes laying down on a track, risking getting crushed by a frontloader, then it's worth it."
The confrontation with the loader is seen in this photo:
12:18 PM – Reports that Houston police have duct tape over their badges, using horses to step on protesters. "Privacy" tents are over the protesters locked down, and no one knows what is happening inside.
12:08 PM – Photos from Portland, earlier.
11:58 AM – Report that in Houston protesters are locking down in the streets, both arms and legs. Traffic to the port is backing up. Photos below show when the lockdown started, but now @KitOConnell says that the locked down protesters have been covered in a tent by the police, so no one can see what is happening to them. Police horses are pushing the other protesters back away from them.
11:52 AM – Recent photos of the scene at Terminal 5.
11:35 AM – The march in Houston is getting ready to go. A report came in that police have pulled a gun on someone parking their car near that protest.
11:22 AM – Bike cops were just replaced by cops in tactical gear at Terminal 5. Note: tactical gear is not full riot gear. Helmets, but not full armor.
11:16 AM – Highlight photos from earlier. Lots of photos today; I posted the hot ones as they came in, now I'm going back through the backlog and finding the real gems, like these of the sun rising over the blockade this morning.
11:09 AM – Here are some current pictures of Terminal Six.
10:59 AM – Commenters report (and I've heard elsewhere) that Port of Longview was indeed shut down today. Also hearing that maybe the DJ booth will not be allowed to play, because the police look uncomfortable with it.
10:47 AM – Some more photos from Portland. DJ booth on a flatbed is getting set up at Terminal Six.
10:40 AM – A number of truck drivers have posted an open letter of support, and raising the issues that they see with Wall Street, and the conditions of their workers. And they ask us to sign their pledge to work for good, clean, green jobs:
I Pledge to Support Good, Green Jobs and the Truck Drivers at America's Ports!
*
The EPA estimates 87 million Americans live and work in port regions that violate federal air quality standards due to high diesel soot exposure that puts them at grave risk for asthma and deadly illnesses like cancer, heart and lung disease. At the same time, inadequate regulation and lax enforcement of environmental and labor laws have long made America's ports look more like a Third World country rather than world-class generators of good, green jobs that can help fuel our nation's recovery.

The current system is broken and its wreaking havoc on the lungs and livelihoods of millions of working families. Because I care passionately about economic and environmental justice, I stand with truck drivers, residents and advocates who are fighting to:

1. Protect the EPA award-winning LA Clean Truck Program as a national policy solution to rid our roads of dirty diesel rigs and make the industry, rather than individual workers, pay the cost of fleet replacement and proper maintenance.

2. Pass the Clean Ports Act of 2011 so Congress makes it clear that local authorities have the power to enact and enforce environmental standards to clean the air, keep our roads safe, boost green jobs, and help businesses grow and compete responsibly in the new economy.

3. Urge federal and state agencies to crack down on illegal employee misclassification to punish companies that disguise truck drivers as independent contractors in schemes to cheat on taxes and saddle struggling blue-collar workers with their business costs.

4. Expose exploitation and poor working conditions to drive up standards in one of America's most critical professions plagued by decades of low pay, few benefits, wage theft, unsanitary and inadequate restroom facilities, and health and safety violations.

5. Restore collective bargaining rights so that highly-skilled workers in a dangerous industry have the freedom to form a union to negotiate for improvements like a middle-class paycheck, paid time off to spend with family, and improved safety training.

I will speak out until U.S. ports are truly clean and safe, and America's truck drivers are valued and rewarded for the work they do to keep our economy moving!
10:36 AM – Video of the truck that tried to push protesters out of the way. You hear the disagreement about whether to let the truck through, but because the driver was being aggressive, the protesters in the front would not move.
10:21 AM – Sorting through the backlog of photos here. Both terminals here in Portland are mostly quiet, with protesters milling about in front. Hearing reports of arrests in San Diego and Long Beach, including protesters arrested for stepping outside of a crosswalk. Here are some shots from the day's action thus far in Portland:
9:48 AM – Video from the picket earlier today. Also photo by John.
9:43 AM – Photos:
9:33 AM – More pictures from today.
9:23 AM – Jacob and Lauriel report that this truck pulled up to Terminal 5. The protesters were amiable to letting him through, but then he pulled up aggressively as if to run over the protesters. Then the protesters said no way, and wouldn't let the truck through. There was a confrontation, and then the truck departed.
9:18 AM – Meet the pig puppet!
9:13 AM – Photo from earlier.
9:00 AM – Police have pushed protesters back in San Diego, breaking the line. Cars getting through. Here's the PPB's lovely ice cream truck outside of T-6 currently, and another picture from Portland from earlier this morning.
8:50 AM – In Long Beach, riot police are moving people back, in the first photo below. The second photo is T-6 here in Portland.
8:41 AM – Scanner reports that police in Portland are targeting protesters for specific arrests. The infamous ice cream truck has arrived. Reports of LRAD in Long Beach. Protesters there are trying to leave.
8:38 AM – Many reports now that riot police are heading to terminal 5 in Portland. Police attack seems immanent in Long Beach, from reports via Livestream and Twitter.
8:36 AM – Hearing a report from Twitter that riot police may be on their way to T-5 in Portland. Meanwhile, Rumorz Cafe is at T-6, photo below:
8:34 AM – Report from Long Beach livestream that police kettling is immanent.
8:28 AM – Reports of Long Beach being threatened with "chemical agents, bites from police dogs" if they don't disperse.
8:24 AM – Video from the march to T-6 earlier this morning.
8:11 AM – A tent was set up in front of T-6. Protesters at T-5 are blocking the trains that go into the grain terminal there.
8:04 AM – A few more photos. Trucks blocked, jubilant attitude at T-5.
7:57 AM – Mainstream media reporting "Port of Portland is shut down for the day."
7:47 AM – Some more photos. The first shows a truck that tried to enter T-6. The protesters blocked it, the driver said, "ok", and turned around and left. The two below that are from T-5, where trucks are also turning around.
7:36 AM – Lt. King made a statement, that the port is closed, or something to that effect. Hearing reports that police are moving back from T-5 to T-6. The occasional car is being let through the picket line at T-6. "An injury to one is an injury to all" is the chant at T-6.
7:30 AM – Hearing reports of police issuing "unlawful assembly" warning at San Diego. More photos. Another one from Portland, and a second from Long Beach.
7:27 AM – A few pictures. One of the riot line, at T-5. Another of a solidarity protest in NYC.
7:18 AM – Lauriel reports riot police blocking access road to T-5. About a hundred and fifty protesters are being blocked from approaching the gate. Another group of protesters had made it through from the gate, maybe 300-400. The people at the access road aren't being let through to join the other group.
7:15 AM – Long Beach is facing down many riot cops. The police are not letting anyone in with livestream equipment, unless they have a press pass. Sun rising here in Portland.
7:10 AM – Jacob reports 400 people at the T-6 gate. More at T-5, but our radio coverage is poor.
7:06 AM – Riot police behind gate at T-6. Just standing there, for now. Report of warm hats available, thanks to Occupy Boise! Here's a picture of Pier J, down in Long Beach. Solidarity!
6:58 AM – An SUV tried to get through the picket line. Protesters let the car through, but they were turned back by authorities at the gate. The picket line let the car back out to Marine Drive.
6:56 AM – The line of protesters in front of T-6 is 3-4 deep. They are letting people through the picket line, if they wish to go.
6:51 AM – Paul reports there is a heavy chain link fence across the gate to T-6. They could move it, but it doesn't look like any trucks are getting in there today. Hearing report from San Diego that the blockade there is working, and cars are turning around away from their port.
6:48 AM – News helicopters overhead here in Portland. Two SUVs full of riot cops heading west on Marine Drive. A lot of semis were backed up when we came in, but we're not sure if that is a usual thing for Terminal Six or not. Here's a photo of a semi turning around:
6:45 AM – Many bike cops out on Marine Drive here in Portland. Denis Theriault reports they are letting the protesters into the street. There's no sidewalk on Marine Drive.
6:43 AM – Here's a map showing different action locations for D12.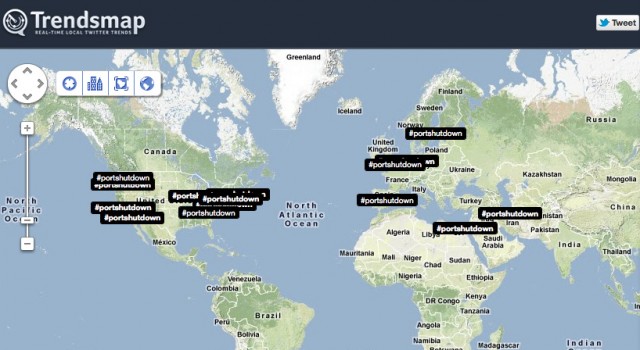 6:25 AM – Reports that San Diego is starting their march. Long Beach has apparently broken through a police line, being threatened with arrest.
6:29 AM – Getting reports that Port of Oakland is closed. We'll be syndicating reports from other cities as we get them.
6:20 AM – The media van is in the parking lot of Kelley Point Park. People are assembling, and we saw a lot of traffic on the way to the park, which is the assembly point for the action. The first assembly point will be Terminal Six, just down the road on Marine Drive.