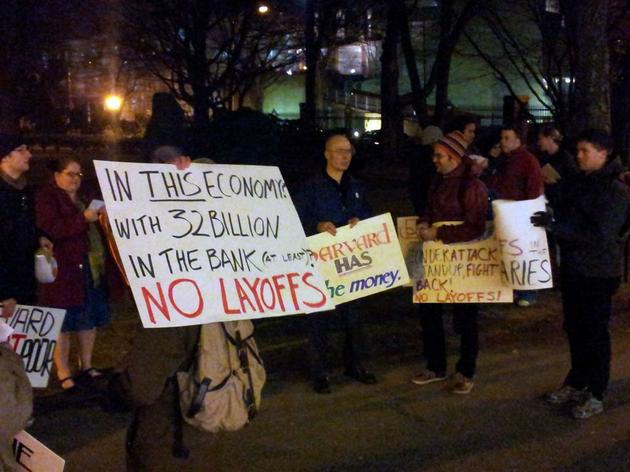 This article is from the Occupied Media news wire. It was originally published over at the Boston Occupier.
by Julie Walsh
On the evening of Thursday, February 16, a circle of about forty picketers marched outside Harvard University's Lamont Library, chanting and waving signs in an intermittent drizzle. The group had gathered to protest the university's secretive, top-down handling of the restructuring of Harvard's libraries, including plans to cut a substantial number of its 930 full-time employees.
Rank-and-file members of the Harvard Union of Clerical and Technical Workers were joined in the picket line by students, faculty, alumni, and participants in Occupy Boston. Occupy Harvard, in the midst of a five-day occupation of the Lamont Library, had helped to organize the event and distributed informational flyers to those passing by. Two union members took turns on a loud speaker, rallying the crowd.
Non-unionized employees, including librarians, were largely absent. With their jobs already on the line, they were forced to rely on less vulnerable individuals to make their case.
The picket was catalyzed by the events of the preceding week. On February 10, Harvard Library unveiled its plans for a new organizational structure aimed at eliminating redundancy across the university's 73 libraries. Many staff members had looked forward to the changes. Anna Aizman, a graduate student in Comparative Literature who works part-time as an assistant librarian, explained that her full-time colleagues were initially "excited that uncatalogued collections would finally be organized and recorded. These are people passionate about knowledge."
However, on February 13, the university foisted a surprise on its work force. A letter from the Vice President of Human Resources proffered voluntary early retirement to 275 members of the library staff. The buy-out package followed two previous rounds of layoffs, in 2004 and 2008-9. It was also out of synch with librarians' shared impression that their facilities are currently understaffed.
"You say layoffs, we say back off! You say cut backs, we say fight back!" picketers chanted as they circled. "Harvard HAS the money," read one protester's hand-lettered sign. Cambridge City Councilor Leland Cheung, who is also a student at the Kennedy School of Government, spoke to the crowd. He urged protecting Harvard's libraries and told protesters that"the city of Cambridge stands with you."
"Historically, Harvard has needed a push to give fair conditions to its workers," observed Giuliana, a lecturer in the History and Literature program, who asked to be identified just by her first name. She cited the Harvard Living Wage Campaign as an example. The campaign ran from 1998 to 2001 and culminated in a three-week sit-in at the president's office, which at last succeeded in catalyzing the renegotiation of contracts for dining hall workers.
Giuliana read aloud to the picketers from a letter written anonymously by a Harvard librarian to the administration. "We feel terrified and threatened with losing our jobs," the letter read. "This is a devastating time for library staff. Please don't send us any more upbeat, jargon-filled emails."
Rossen Djagalov, a lecturer and member of the Student Labor Action Movement, explained the urgency of the day's protest. "We need to make an intervention now, when nothing has been decided yet" and before layoffs are finalized, he said. "We are trying to act preemptively." Genevieve, a union member and Harvard employee, explained that the picket was one of many actions organized without encouragement from union leadership. "But the Occupy movement has raised consciousness and brought some support," she said.
As the picket began to break up around 6:30 p.m. protesters tucked their signs under their arms and stood conversing in small groups. The tone was subdued but determined: everyone seemed to recognize that the day's rally was one step in what would likely be a long struggle on behalf of Harvard's library workers.