This article is from the Occupied News Wire. It was originally published in the Occupied Wall Street Journal.
Editor's Note: There is a solidarity rally in support of Trayvon Martin in Portland on Saturday, March 24th in Peninsula Park at 9 AM.
by Jennifer Sacks
Though tensions in Occupied Union Square Park ran high after the March 20 brutality – which left one woman injured at the hands of overzealous, high-ranking officers and resulted in six arrests – hundreds poured into the square at 6 p.m. for a rally for Trayvon Martin, the Florida teenager hunted down and killed for being black.
Trayvon's aggrieved parents, Tracy Martin and Sybrina Fulton, spoke at the rally, dubbed The Million Hoodie March, which drew 1,000 hoodie-wearing supporters who sported the same apparel that Trayvon's killer, George Zimmerman, found "suspicious" as he stalked the 17-year-old through a gated Sanford, Florida, community.
"My son did not deserve to die," Sabryna Fulton said. "Our son is your son."
At the same time, photos began emerging of people wearing hoodies, showing their solidarity with the murdered Trayvon and challenging the concept of racial and cultural profiling.
Around 7:30 p.m., the rally became a march, commanding 6th Avenue and easily overwhelming the considerable police presence. One group marched to Times Square –
– and one group went back downtown, where they faced a phalanx of police – who weren't able to stop Charging Bull from getting #occupied.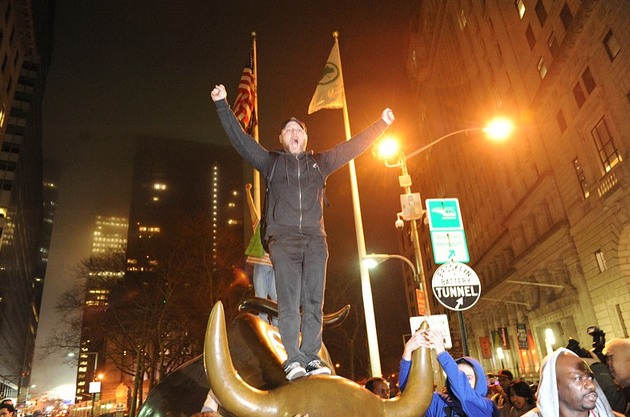 But a presence remained at Occupied Union Square, and those still stinging over Trayvon's killer's continued freedom discussed and chanted and comforted.
Around 11:30 p.m., police amassed at the north end of Occupied Union Square. 500 cops, accompanied by dozens of paddy wagons and arrest vehicles, surrounded the park – there was so much manpower that they stood shoulder-to-shoulder as they ringed the square – and pushed the protesters back onto the public sidewalk area in what was the largest show of police force since the November 15 raid on Liberty Square.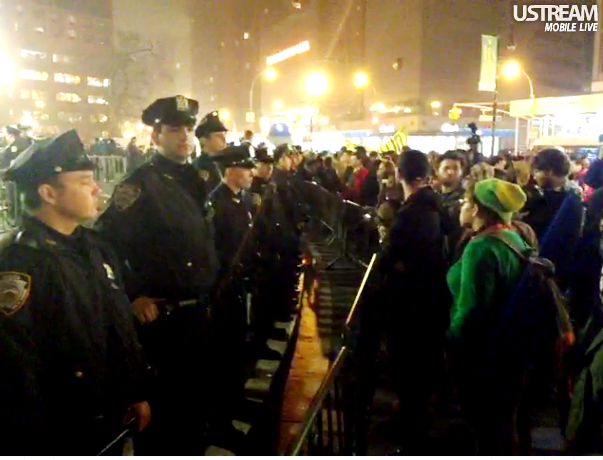 But the show of force was thankfully just that, and though white shirts patrolled the crowd and provoked the occupiers, the paddy wagons and NYPD arrest bus remained empty. Hopefully the police state is warming up to a basic truth than can save it millions in wasted taxpayer dollars:
Here's Fiona McAnn's Storyful for a roundup of the evening. Expect police brutality marches to follow – including one called for Saturday afternoon by OccupyMARINES.