Get On the Bus to Hanford: Your Life Could Depend On It
by Rochelle
Toxic derivatives and assets. We're not talking about the freakish financial devices cooked up by crooked banksters. This stew is far more lethal and it's going to be wreaking havoc on the planet long after Bank of America lies on the rubbish heap. Since 1946, over one million gallons of radioactive material–strontium, cesium, plutonium and other killer ingredients–have been seeping into the ground and the water around Hanford. And while the sludge creeps toward a neighborhood near you, the clean-up partnership between the Department of Energy and Bechtel (i.e. big corrupt government in bed with big corrupt corporation a.k.a. business as usual in America), plays a shell game of shifting budgets and target dates–now $11.3 billion and 2017, respectively.
You can protest this decades-in-the-making horror movie by getting on a bus this Sunday, April 15, and taking a ride to Richland, WA for the A15 Rally, Hanford: North America's Fukushima. Join many of the rock stars of the anti-nuke movement at the John Dam Plaza from noon to 5 PM, as they give you a taste of why Hanford demands to be a top human, and Occupy, priority now and far into the future.
Handy Dandy Hanford Details
The Hanford Nuclear Waste site, largest in the western hemisphere, is located just 10 miles from Richland, WA, and 200 miles upstream from Portland–our backyard, in geographical terms. Hanford went into the nuclear business in 1943. The site played a starring role in weapons production during World War II and on into the Cold War era.
Many fault lines run beneath Hanford, contributing to its risk as a ticking environmental time bomb. Workers and Hanford-area residents are at greater risk for deadly disease. Two thousand 'downwinders' currently are suing Hanford over health-related issues.
Bechtel, the biggest independent contractor involved in Hanford–and the 5th largest privately held company in the U.S.–reports that over one-third of Hanford's 177 storage tanks have released radioactive materials. Far from being contained, the most recent Hanford leak occurred in February of this year.
The clean up treatment plan involves vitrification technology (heating and blending the waste with glass-forming compounds) that will, according to Bechtel, "process and stabilize" 56 million gallons of radioactive and chemical waste to be stored in steel containers. The problem is, as experts note, those steel containers will also one day leak. Thus, this stabilization perpetuates the old saw about how dangerous it is to use "safe" and "nuclear" in the same sentence.
A15 organizers say they need help spreading their message and urge the 99% to call, email, text, twitter and Facebook their friends. Donations and political pressure also are welcome. "We encourage folks to write to politicians and tell them we demand external oversite of the DOE and Bechtel regarding the Waste Treatment Plant at Hanford," said A15 organizer Miriam German.
The A15 keynote speaker will be Dr. Helen Caldicott, an expert on the implications of nuclear radiation pollution on the health of people and the planet. John Brave Hawk, with American Indian Movement and Warrior Society, will begin the Rally with a Drum ceremony. Other speakers include, Paige Knight of Hanford Watch; Chuck Johnson of the Columbia River Keeper, speaking about Columbia Generating Station (CGS), the NW's only live nuke plant; Lloyd Marbet, who was behind the closure of the Trojan Nuke Plant; Peter Bergel of Oregon Peaceworks will draw the parallels between Nukes and the War Machine; Dorli Rainey, Seattle activist; worldwide anti-nuker Sister Meghan Rice from New York. Music will be performed by Mic Crenshaw, Laura Love, Miriams Well and Patchwork Family.
Though mainstream media coverage has been spotty, organizers scored press with an April 5 "Boobs Out" event in downtown Portland. The story was picked up by the Willamette Week, Portland Mercury, Seattle Weekly, Tri City Herald, Bellingham Herald, Tacoma News Tribune and Occupy The 99% News.
The urgency of Hanford has inspired a number of creative ways of circulating the call to action. One of the April 5 attendees painted "Everyone is naked to radiation," on her bare back. Paraphrasing Caldicott, German said, "'If you haven't gotten your message out, you've not done enough!'"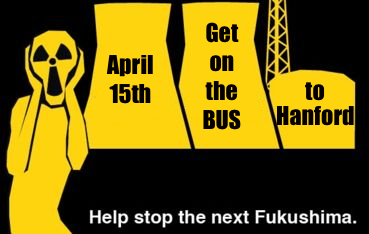 Get There
Bus it to the rally for $20. Buses depart City Hall Sunday, April 15, at 6:30 am. You can reserve online (seats are limited). Cash payments will be accepted on the day (advance seat reservations still required). Please visit: http://hanfordrally.wordpress.com/transportation-2/
Gather Resources
Share the event on facebook: http://www.facebook.com/events/292844004098460/
Follow the twitter feed: #occupynuclear
http://hanfordrally.wordpress.com
http://www.livestream.com/occupyportlandcollective/video?clipId=pla_4bd40067-e899-4641-9774-b4bfd084eb37&utm_source=lslibrary&utm_medium=ui-thumb
http://www.nfb.ca/film/if_you_love_this_planet/embed/player 
Make Noise
Contact your representatives and let them know what you think of radioactive waste contaminating one of our most precious resources, our watershed:
Ron Wyden (Senate, D-OR) http://wyden.senate.gov/
Jeff Merkley (Senate, D-OR) http://merkley.senate.gov/
Suzanne Bonamici (House, D-OR1) http://www.bonamici.house.gov/
Kurt Schrader (House, D-OR2) http://www.schrader.house.gov/
Earl Blumenauer (House, D-OR3) http://www.blumenauer.house.gov/
Peter DeFazio (House, D-OR4) http://www.defazio.house.gov/
Greg Walden (House, R-OR5) http://www.walden.house.gov/
Dennis Kucinich http://kucinich.house.gov/
Elizabeth Warren http://elizabethwarren.com/
Patty Murray (Senate, D-WA) http://murray.senate.gov/public/
Bernie Sanders http://sanders.senate.gov/
Congressional Progressive Caucus http://cpc.grijalva.house.gov/