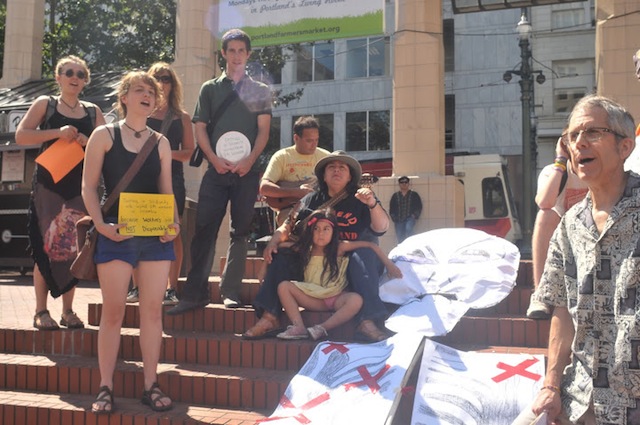 Story and photos by Pete Shaw
Lunch time in the Summer is usually a festive occasion at Pioneer Square. People take to the tables or bricks with their brown bags or a hot dog bought at a nearby cart and there is often some kind of music scene going down. Wednesday August 15th was no different save for the 17 people who were in the middle of a fast in solidarity with 13 members of the Association of Injured Workers and Ex-Workers of General Motors Colmotores (ASOTRECOL) who had been on a hunger strike since August 1.
These GM workers who were employed at an assembly plant in Bogota, Colombia, were injured on the assembly line and, according to Paige Shell-Spurling of the Portland Central America Solidarity Committee (PCASC), fired because of these injuries. "General Motors Colmotores," said Shell-Spurling, "treated these workers as though they were disposable, hiring them in the prime of their health, using up their bodies, detecting their injuries in a company medical facility, and instead of taking care of them, firing them illegally and kicking them to the street without anything."
Due to their debilitating injuries, these workers were unable to find work. They had spent the last year in peaceful protest on the sidewalk in front of the U.S. Embassy. Sewing their lips together, they had vowed to go without food until General Motors resolved the issue, even if this resulted in their deaths.  They were demanding that GM Colmotores recognize the occupational nature of their injuries: assume the costs of medical treatment for occupational injuries, pay pensions and disability payments to those unable to work due to handicaps, compensate workers for economic wages and assets lost and reintegrate workers into the GM workforce or retrain them for other positions.
The action in Pioneer Square was part of a national day of action which included a demonstration in front of GM headquarters in Detroit, Michigan; widespread fasting in solidarity with the 13 hunger strikers in Colombia, delivery of letters to local GM dealerships and various social media interactions with GM demanding it resolve the issue.
The pressure worked enough to bring GM Colmotores to mediation, and the hunger strikers had their first taste of food in 22 days.
But on August 31st, after four days of mediation with GM Colmotores, no solution was reached. Jorge Alberto Parra Andrade of ASOTRECOL stated, "The proposals of Colmotores did not comply with our realistic expectations for a just solution, nor did they accept our demands. Our demand has always been our rehiring to our appropriate job posts with appropriate compensation, but the executives of GM Colombia stood firm on their position to not allow our rehiring and to not acknowledge their culpability. Rather, they wished to address our situation through an economic offering, managed by a foundation, which according to them would allow us, the impacted workers, to initiate a microenterprise. In reality, their proposal and the insignificant funding they offered would have accomplished nothing but convert us into street food vendors."
On September 3rd, the GM workers resumed their hunger strike. Parra said, "We never received from GM Colmotores a just offer of capital that would realistically cover the most minimal requirements for initiating our 'life project,' as they referred to our microenterprise. They entirely forgot our physical situation and our yearning for a just future, and for these reasons there was no accord nor solution in this mediation. But we make it clear that our struggle will continue until a just solution is guaranteed. Our lives have been left in ruins by GM. We were fired due to workplace injuries and offered no severance, no worker's compensation insurance and the company lied about the reason for our dismissal. Since this sixth attempt at mediation with GM Colmotores has ended without a settlement, we are left with no recourse except to sew our mouths shut and re-start our hunger strike today."
The Colombia Free Trade Agreement, like all similar free trade accords, save perhaps for the upcoming Trans Pacific Partnership, of which nobody except the CEOs of the giant global corporations seems to know the contents, has strong language protecting labor rights. And like all similar free trade accords, enforcement is different from language. According to Portlander John Walsh of Witness for Peace, "Ratification by Congress of the Free Trade Agreement between Colombia and the U.S. was preceded by the commitment of both governments to a 'Labor Action Plan' to improve labor rights, including steps to reduce the prevalence of contingent employment, prevent 'collective pacts' from being used as an anti-union tool, and increase the number of labor inspectors. Before the Free Trade Agreement took effect last spring, the U.S. government declared that the Labor Action Plan was being fulfilled. However, illegitimate dismissals of injured workers were authorized by a corrupt labor inspector– adding more only helps if they fulfill their responsibilities with integrity. The Labor Action Plan might have been implemented on paper, but the workplace reality has not changed, and the hunger strikers' plight shows, as a sign on their encampment says, that the Labor Action Plan is 'a failure right under the nose of the U.S. embassy.'"
An international day of solidarity is planned for Monday September 17th.   Actions will be taking place across the globe, unless substantial progress is made with General Motors.  In Portland, that rally and march will begin at 3:45 PM at East Burnside and Martin Luther King Jr. Blvd. and end at St. Francis Park.
Jess Hunter-Bowman, Associated Director of Witness for Peace said, "General Motors is a global company, but that should be no reason to treat workers in the developing world any differently than workers in Michigan, Ohio or anywhere else in the United States. GM must be held accountable for their serious labor violations in Colombia and that is exactly what we plan to do."
"Our 20,000 supporters, U.S. workers, members of the faith community, members of Congress and other public figures have been watching the developments in this case very closely and are deeply concerned about the situation of the ASOTRECOL workers," continued Mr. Bowman. "They intend to do everything in their power to ensure these workers receive a just settlement."
Want to support the Colombian workers on their hunger strike? Here are some things you can do:
Attend the rally on Monday September 17th.  For details see: http://www.facebook.com/events/482300258455267/
Join the rolling fast, starting September 3rd, in solidarity with these workers on hunger strike. You can sign up here: http://org2.democracyinaction.org/o/5436/p/salsa/event/common/public/?event_KEY=49852
Send a letter to GM, Congress, the Department of Labor and the U.S. Ambassador in Colombia urging them to immediately take action to resolve this situation. Click here to send your message today: http://org2.democracyinaction.org/o/5436/p/dia/action/public/?action_KEY=11423
Join Witness for Peace in Detroit starting Wednesday, September 5th, for an ongoing protest and hunger strike calling on GM to immediately re-start negotiations with the workers. Come for an hour, a day or a week. They will be there until a resolution is reached. Email [email protected] for more information if you can join them.
Take a letter to your local GM dealership expressing your concern about the situation of Colombian GM workers and ask them to communicate your concerns to GM in Detroit. These dealerships are locally owned, but they can get the message to GM in Detroit that people around the country are watching this situation closely.
Stay tuned. Witness for Peace is currently planning the September 17th National Day of Action in support of these workers and will ask you to join them. See their Facebook page at: https://www.facebook.com/WFPeace