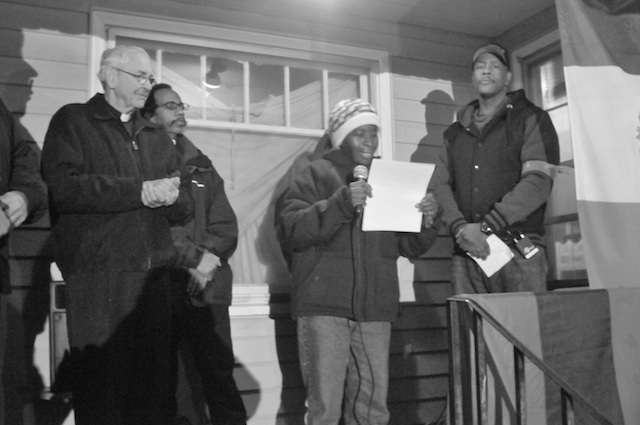 Story and photos by Pete Shaw
"Five months later I am still in here, but now I'm not just fighting the developers and lenders. Now we have to face the city who is threatening to take my home." Alicia Jackson spoke those words from her porch this morning, seven hours after the eviction notice delivered to her home was due to take effect. Still strong and still defiant after five months without running water and the ever present worry of being kicked out of her house, Jackson expressed her gratitude for and solidarity with the community that has coalesced around fighting foreclosures, over 75 of whom showed up in support of Jackson and in defense of her home.
Despite petitioning the city to turn on her water since May, Jackson has not had running water in her house since moving back in. The lack of running water, which can result in a backup of gas from the sewer line, possibly leading to an explosion, is a health hazard, and because of it, the city issued an eviction notice on September 6th. Although the Water Bureau has the ability to authorize water service, the water has not been turned on because the city refuses to acknowledge Jackson as the legitimate owner of the house, despite the issue still winding its way through the court system.
"The city claims that it is a safety issue to have me stay in my home without water service," said Jackson, "but instead of turning on the water and solving the issue like they've done for other homeowners in similar situations, they are trying to evict me and board up my house."
A giant check for $413.00 of the type presented to sweepstakes winners was then unfurled. Jackson has spoken with both Water Bureau Administrator David Shaff and Commissioner Randy Leonard who oversees the Water Bureau. According to Jackson, when told Shaff water was a human right and threatened legal action against the bureau, Shaff dismissed her, responding, "Sue on." Jackson also said Leonard told her, "I care about you." Jackson noted this was not how she was taught to care about people.
Jackson fell into foreclosure after losing her job with the City of Portland and fell behind on her mortgage. She contacted the bank for a loan modification, but the bank refused to work with her and instead "fast-tracked" her into foreclosure. This appears to be common practice as banks intimidate people out of their homes and try to take their property before homeowners can fully challenge the process. "I was receiving harassing letters, phone calls, and visits from strangers who were all urging me to leave," said Jackson. "I felt I did not have any other option, and I left before the courts filed an eviction notice."
Jackson soon began second-guessing her self-eviction. "It did not feel right," she said. "Later I researched my home in the city's records and found that my foreclosure was illegal and started a process to challenge the ownership of my home. During the research I also found the lenders I worked with no longer exist due to their discriminatory and predatory lending practices in African American neighborhoods." Jackson is one of the last African American homeowners in Northeast Portland, and during this housing crisis, borrowers of color have been more than twice as likely as white borrowers to lose their homes.
Jackson's ordeal is hardly unique. Her neighbors Will and Heather Seritak, who face eviction this coming Monday, spoke in support of Jackson and urged people to keep building this movement. "We are going to resist in community and solidarity with Alicia," said Will Seritak. This homelessness is a bigger priority than profits. We want the banks to understand we will not be moved." Heather Seritak added, "Secure housing is a basic human right. Inalienable human right. Universal human right. Why should banks and redevelopers make profit out of homelessness? Why should this be the new growth industry?"
Banks such as Wells Fargo, which once owned the mortgage to Jackson's house, have been running a massive public relations campaign centered upon their desire to help people stay in their homes. And while Wells Fargo itself, the nation's largest home mortgage servicer, likes to tout the low number of mortgages it forecloses on, it finances "foreclosure flippers" such as Fox Capital Corporation which was able to purchase Jackson's supposedly foreclosed house from Fast Cash House Buyers using a $7 million revolving line of credit from Wells Fargo. This belies Wells Fargo's caring image and exposes its willingness to profit from homeowners' on the brink of foreclosure. And this relationship is not unique to Jackson's circumstance. It is a pattern among those three companies–Wells Fargo, Fox Capital, and Fast Cash House Buyers–that occurred at least 19 times in Portland in 2011.
Cecil Prescott of the Ainsworth United Christ Church reminded the crowd that this is a "deeply moral issue that is special significance to those who believe we are called to be our sister's keeper and our brother's keeper. We see the patterns of greed and destruction wrought by banks. But when the question comes of a single family or homeowner, we are repeatedly asked to put the responsibility for the tragedy on them. It would be a moral failing not to hold banks accountable for the individual effects their actions have wrought. House by house, home by home, we say no more. No more."
Fox Capital, whose name is on some of the ownership documents, has been derelict in its upkeep of the house and failed to show up for the September 6th administrative hearing at which 40 community members stood behind Jackson as she explained how she had repeatedly tried to have her water turned on. For seven months they let the house fall into disrepair, but thanks to Jackson, it is once again well maintained. So why is the city so intent on boarding up a lived in house and throwing Jackson out of it. Why is the city so intent on doing this to the Seritak family and numerous other families around the city? Why is this happening at all in our country?
Jackson asked the crowd, "At a time when there are so many empty homes and so many people without a roof over their heads why would the city contribute to homelessness? Why would the city choose to side with banks and home poachers against a homeowner where their foreclosure is still being challenged."
In response to Jackson's query, Ahjamu Umi later wondered, "Isn't it better to have someone in a house? The city wants it empty, blighted, and bringing down property values. It makes no sense. We feel like having Alicia here makes perfect sense."
Itztli of Blazing Arrow, one of the groups that has been fighting foreclosures in the community, said this was all part of a larger fight for housing justice. Blazing Arrow, along with We Are Oregon, the Black Working Group, Right 2 Survive, and Sisters of the Road support the Community Agreement which states that there will be no more empty houses and no more evictions.
After the rally people began setting up tents both on Jackson's property and in a nearby lot. One camper said, "I'm here to show support for Alicia and all people facing foreclosure. That's why we're here, to tell the banks, developers, and the city that we stand with Alicia, not them and their greed." Another added, "Why do we even have houseless people? We have all these empty houses that we can put people into and the resources to build more houses for the rest."
On a shelf in Jackson's home is a form-card from Michelle Obama. It reads, "Movements for real and lasting change are sustained by the relationships we build with one another." Five months since Alicia Jackson moved back into her house and home, the relationships between members of the community who supported her have grown enormously. They are pushing back against the banks, developers, and now city that apparently like seeing people homeless and houses empty. "They want us to quietly accept this and go away," said Jackson. "They hate it when we fight back, but we have to fight back because we want to build the kind of world we want to live in and for our children and grandchildren."