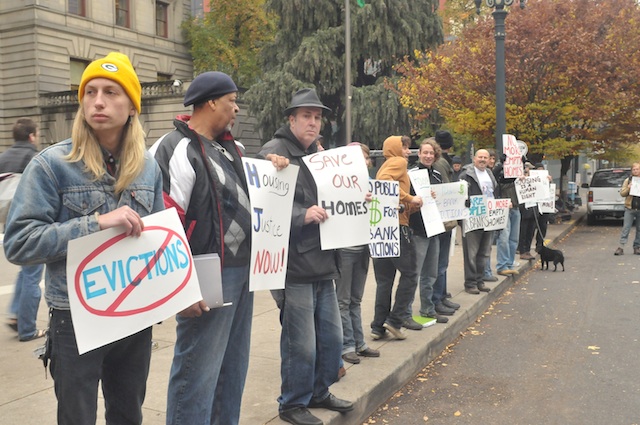 Story and photos by Pete Shaw
Fifty supporters of the eviction resistance movement gathered outside City Hall on November 16 to demand the City of Portland and Multnomah County declare a moratorium on evictions and the use of city police to help the sheriff enforce evictions. "We are bringing the fight to City Hall," said We Are Oregon organizer Kari Koch. "These are the people evicting people and kicking them into the street."
The press conference and rally represents a slight tactic change on the part of the eviction resistance movement in Portland, extending its focus now to elected representatives and demanding they be responsive or face consequences at the ballot box. "We want the City of Portland to issue a moratorium on evictions," Koch told the crowd. "Either way we'll be out there every day as a community. But we also have political power and we will hold the city of Portland responsible. The mayor and the city council can't hide behind the shield of unjust laws any longer."
At the press conference, people whose homes have been foreclosed upon stepped forward to tell their stories. A man named Kent, who with his wife Grace, has lived in Portland for 50 years, had a similar experience to recently evicted Patricia Williams and Darren Johnson. Kent said he filed paperwork for loan modification four times, and each time the bank lost the paperwork. The bank Williams and Johnson worked with also claimed to have lost their loan modification paperwork.  Kent said he and Grace intend to stay in their home. "Our community doesn't want us to move," said Kent. "Our neighbors are supporting us."
Flynn, who represents Hattie Porter, an 83-year-old woman with a heart problem whose home was in foreclosure, told the crowd that Porter was ready to fight her eviction. "She's not giving up," Flynn said. "She's gonna stand up and fight. We need to work together to save our schools, homes, and country. It's time for us to stand together and say, 'Enough is enough.' We are not the pigs that built their homes of hay and sticks. Our homes are made of bricks."
Boots Riley of The Coup and The Street Sweeper Social Club, who fuses art and activism, noted that the foreclosure resistance movement was fighting for an alternative to the capitalist system that frames housing as an earned reward rather than a human right. "We live in a world where we are taught to work 40 to 80 hours a week so you can have a place to live. Your first house is a celebration, and you have to work your whole life to keep it. That's considered success. Truth is housing should be a right. We are not seen as humans in this system. We are disposable tools for profit."
Prior to the press conference and rally, six community supporters helped Williams and Johnson move back into their SE Portland home. During their October 30 eviction the sheriff's department asked for and received the help of over 30 Portland police officers. At the rally it was announced that five Portland Police officers escorting two movers had arrived at the couple's home and were ready to remove their property from the premises.
After the press conference, 30 people marched up Jefferson Street to the First United Methodist Church where there was a houseless forum underway. Before entering the conference room, Koch announced that she had just received word that the movers at the Johnson and Williams home had tried to pry open the front door, but the police called them off, finally acknowledging there is in fact a dispute over the ownership of the property.  The movers were forced to pack up and leave.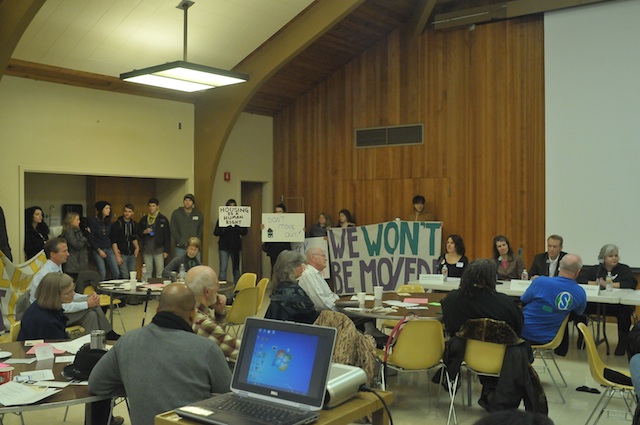 The houselessness forum was attended by city council members Nick Fish and Amanda Fritz. Fish, alerted by the chants of the approaching crowd, came outside and used a conciliatory tone to invite people in to join the conversation, requesting that they refrain from unruly behavior. When asked about the proposed moratorium, Fish three times avoided giving an answer, instead saying he was willing to sit down and talk about approaches.
Ibrahim Mubarak of Right 2 Dream Too also came out, welcomed the protesters, and lead them into the conference area, introducing them to the room. Koch gave a brief update on the community repossession of the Williams and Johnson home. The contrast was striking: about 120 people seated around tables, listening politely to the ideas of Fish and others, with various government officials looking solemnly on. Then suddenly a group of 30 people enters the room and announces an elegant and simple solution, as exemplified by the events at the Williams and Johnson home.
As Fritz and Fish listened, Koch spoke to the crowd about the need to put pressure upon their elected officials.  "I encourage you to force them to put a moratorium on evictions and the use of the police in helping the sheriff. But you, me, our families, and our communities are the ones who will make the real decisions."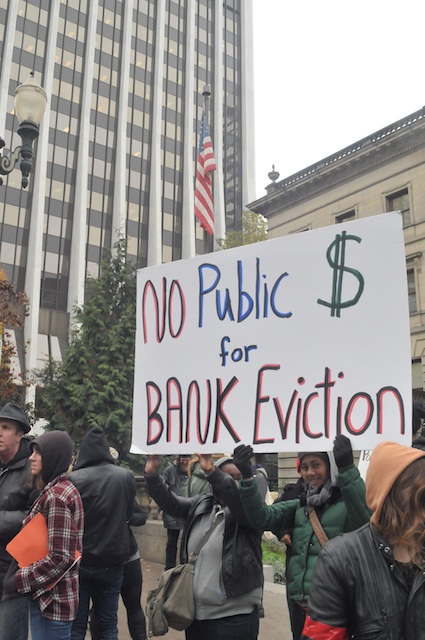 After leaving the conference room, a call was put out to the Rapid Response Team, a group of over 1,200 people, to head over to help Williams and Johnson defend their home.
"The system isn't broken. It is working as intended," reads a sign frequently seen at various rallies over the past year. The fight against foreclosure evictions is about changing that system and making it work for people, instead of  banks, housing poachers, and all other institutions that profit from denying housing to people.
"City and business leaders will give you plans to keep you hopeful," said Riley. People understand the problems around them. What we can do about it is the big question. People agree there should be no homelessness when there are empty houses. We need to show people how to change it. It's about the community supporting and physically defending them. We need hundreds of people supporting these folks. We need to defend their homes as if they were ours because they are. The banks and powers of the city fear people figuring out how to fight back. They know we understand. They fear a solution."
If you would like to show your support, you don't necessarily have to come to the Williams-Johnson home. Call (971) 266-4311 to find out how you can help.  To join the Rapid Response Network and help defend people from evictions, text @ploc-openrrn to the number 23559. For more information on home defense, see  http://weareoregon.org/