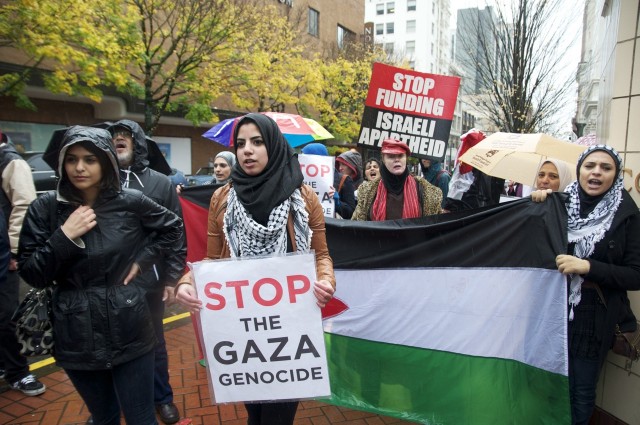 Story and photos by joyofresistance
About 200 people showed up Saturday to stand in solidarity with the Palestinians in Gaza and demand an end to Israel's ongoing attacks on Gaza. On November 14, two days after a truce agreement between Israel and Hamas, Israel fired a missile into Gaza, targeting and killing Ahmed Jabari, leader of Hamas' military wing, even though Jabari had been negotiating for a truce for peace with Israel through Egyptian officials. After days of bombing Gaza with Israeli airstrikes, drones and warships–largely US produced and purchased with US tax dollars as foreign aid, and used in violation of the Arms Export Control Act–over 66 Palestinians have been killed, including 32 civilians, and more than 400 wounded. Three Israelis have been killed, with about 50 wounded.
Several activists spoke passionately about the suffering of the Palestinians under Israel's brutal and unjust occupation. Remi Kanazi, a Palestinian-American poet, writer and activist performed two powerful poems, "Coexist" and "Normalize This." All of the speakers condemned ongoing US support of Israel, which funds Israeli occupation, attacks and apartheid policies. They also criticized the biased and untruthful reporting of the corporate media, which unfailingly casts Israel as the "victim" defending itself from Palestinian "terrorists," when in reality, Israel is the real terrorist and perpetrator, using its overwhelming military power to attack and oppress defenseless civilians in Gaza.
The speakers called for activists to support the local BDS efforts, and connected the Palestinian struggle for justice with our local resistance for justice and human rights against imposed austerity, corruption, evictions,and police assaults.
The protest was organized by Students United for Palestinian Rights (SUPER), the Portland Boycott, Divestment and Sanctions Coalition (PDX BDS), Americans United for Palestinian Equal Rights (AUPHR), and Portland Jewish Voice for Peace (JVP).
Despite the rain, the protesters marched through downtown Portland, expressing their outrage and grief. They chanted and shouted out, "Free Free Gaza!" "Gaza, Gaza, don't you cry, Palestine will never die!" "One, Two, Three, Four, Israel is a racist state, Five, Six, Seven, Eight, Stop the war and stop the hate!" "Gaza, Gaza under attack!  What do we do?  Stand up, fight back!"
Standing in the rain last Saturday, we remembered that many of us took to the streets when Israel attacked Gaza in late 2008 and early 2009, killing over 1,400 Palestinians. After over 60 years of Israeli occupation, things have only gotten worse for the Palestinians.
Take Action: Call the White House at 202-456-1111 and the State Department at 202-647-6575.
·     Demand that the U.S. exert immediate pressure on Israel to end its violent aggression;
·     Demand that Israel immediately lift its illegal blockade and siege of Gaza
·     Demand the U.S. exert diplomatic pressure on Israel for an immediate ceasefire and initiate an investigation into Israel's misuse of U.S. weapons to commit human rights abuses of Palestinians.