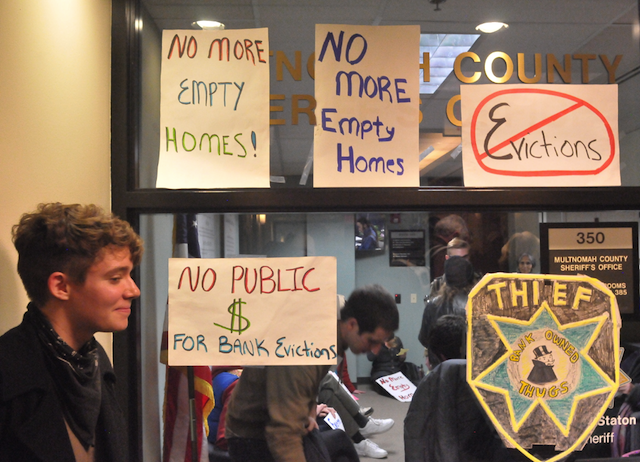 Story and photos by Pete Shaw
"Some of us take risks. We're asking you to take risks," said John Schweibert to Multnomah County Sheriff Daniel Staton, during a sit in at the Sheriff's office staged by Schweibert and four other community home defenders on January 24.
Though Staton expressed his support for homeowners, he said that since evictions are court ordered, he has no choice but to enforce them or face contempt charges and possible jail time.
At 3 PM on the 24th a group of  home defenders – Allen Hines, May Wallace, Lady Joe, and Schweibert – went up to the sheriff's office in the Multnomah County Building, requesting to meet with him and deliver a letter demanding an end to bank evictions in light of the recent forcible eviction of Debbie Austin and her family in NE Portland. The Austins had been battling Fannie Mae for over a year, challenging the legality of their eviction, only to have their case thrown out because they could not afford a lawyer. Advocates allege that the banks are using the court system to take community homes with the support of the Sheriff.
The group was met by Under Sheriff Tim Moore and then led into a conference room where Staton, along with Chief Deputies Jason Gates and Michael Schultz, listened to their demands. Both Moore and Staton emphasized that their hands were tied when it came to enforcing evictions. "I have absolutely no options under a court order but to follow it," said Staton. Schweibert emphasized that the home defenders were asking Staton to make a moral decision, not a legal one. Staton questioned if the group would bail him out if he made that moral decision.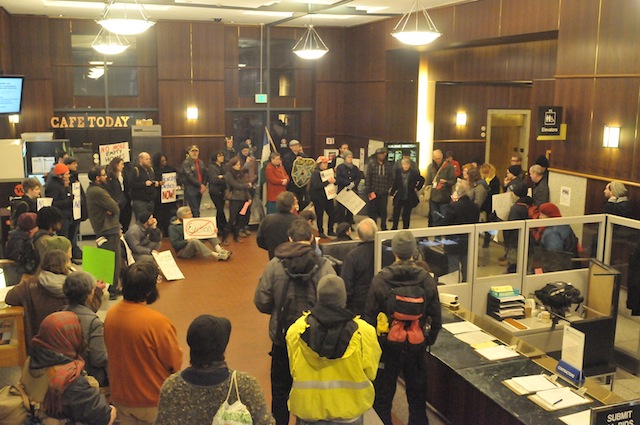 While affirming that he was doing all he could to work with the situation, and that he had sympathy for those evicted – including Austin who was in the meeting – he stated at least three times that what was needed was action on the legislation and judicial levels. While appreciating the importance of going through the various legal and legislative channels, the home defenders told Staton their interest – and the interest of the community – resided in keeping people in their homes.
"Remedies around courts and legislation are great," said Angela MacWhinnie, an organizer for We Are Oregon,, "but evictions must stop now."
The Sheriff sit-in comes on the heels of the Austin family eviction on January 16. At the behest of government loan behemoth Fannie Mae, 12 sheriff's deputies and 10 Portland police officers opened the Austin door by force and ousted the family. With little time allotted for gathering her possessions, Austin, a 57-year-old cancer survivor with drop foot, convinced the officers to allow her to put on suitable clothing, before finding shelter for her two children and herself at a neighbor's.
An armed private security force now stands guard at the Austin home. Kari Koch, an organizer with We Are Oregon, estimates that, according to average industry wages, the occupation is costing taxpayers about $480 a day.
"Being on the other side of the law, you have no idea what that does to your psyche," Austin told Staton, Moore, Schultz, and Gates, in trying to describe the negative effects of her eviction. "As law enforcement, doesn't it concern you that my tax dollars are paying your wages?" Moore twice replied that they had taken an oath to uphold the law.
Lady Joe asked Staton, if law enforcement was indeed bound by the law, why were sheriffs around the country stating they would not uphold the recent spate of executive orders from President Obama regarding weapons control, while others have refused to enforce evictions. "You don't have to question my loyalty to the community," snapped Staton, when Lady Joe told him that his job was to defend our community. Staton then emphasized that he would review the letter from the home defenders and discuss it with his attorneys and other sheriffs around the state.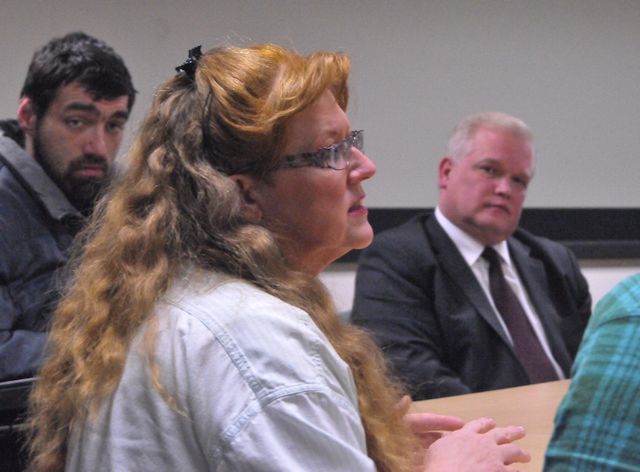 Schultz tried to smooth things over by telling the group that the Sheriff's Office would apply the same focus and compassion they brought to their work on immigration issues. His reassurance attempt may not bode well for those facing eviction, since law enforcement efforts in the immigrant community have torn apart families and left large swaths of distrust toward the government.
Following the meeting, Lady Joe, Hines, Schweibert, and Wallace decided that since their demands were not met, they would remain in the lobby of the sheriff's office. Over 60 people who had come to the county building soon filed upstairs to provide support for the foreclosure resisters. The crowd, overflowing from the office, spoke through one phone, leaving a loud message for both Staton and Fannie Mae, demanding they cease evicting people from their homes.
According to Koch, efforts to reach Staton about the reality of those facing foreclosure and eviction have fallen on deaf ears. "We have met with the Sheriff, written letters, and made phone calls to no avail. Even the courts have ruled that the banks were guilty of fraudulent behaviors as part of the housing crisis. Sheriff Staton must respond to the clear evidence that the banks are in the wrong and he should not be colluding with them to evict families. We are taking action today because Sheriff Staton is already over budget and must stop spending public money enforcing big banks' access to our communities' wealth."
Fannie Mae controls over half the mortgages in the US and was involved in the national housing collapse. In a report on Fannie Mae earlier this year, the New York Times reported, "During the housing boom, they misused the government's support to enrich shareholders and executives by backing millions of shoddy loans. Fannie…lost more than $30 billion, in part as a result of the deals, losses that were borne mostly by taxpayers."
While camped out overnight at the Sheriff's office, the home defenders developed a plan to put the community on a path toward an eviction moratorium. First, the Sheriff shall immediately issue a 90-day moratorium on eviction, while the Sheriff pursues judicial and legislative options for full moratorium. Second, the Sheriff shall commit to a process with home defenders for a long-term solution through, but not limited to, legislation and working with the judicial system to keep families in their homes and holding banks accountable. Finally, home defenders commit to publicly take action against those that stand in the way of housing justice and defend this path toward moratorium.
The group planned to meet with Staton later in the day to discuss their plan.
Want to get involved? There will be an action at noon today, January 25th, at the Multnomah County Building at 501 SE Hawthorne.