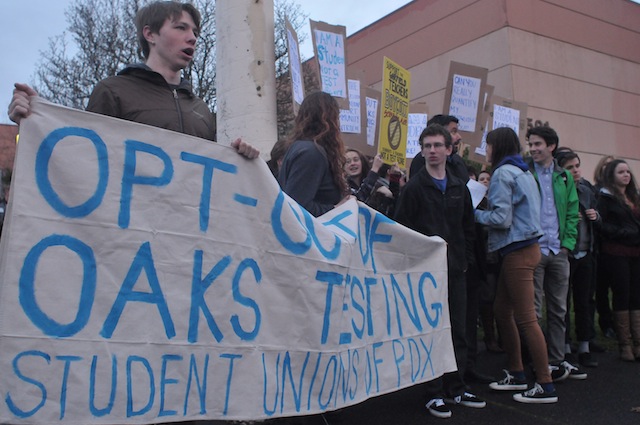 Story and photos by Pete Shaw
Standing in solidarity with Seattle's Garfield High School teachers and all instructors in the Seattle Public Schools who have refused to administer Washington's Measures of Academic Progress (MAP) Test, a crowd of 30 Portland Public Schools (PPS) students and about 5 parents gathered in front of PPS headquarters on February 6, demanding Oregon begin real education reform and cease its heavy reliance upon standardized testing.
According to the Portland Student Union (PSU), composed of students from Portland's schools, they have been trying to work with PPS on an "opt-out" campaign. While the PSU is encouraging students to opt-out of the OAKS and pursue alternatives, PPS has been reluctant to work with them. According to the PPS website, students may opt-out of the OAKS "for only two reasons: for disability or religious reasons," and they must also have parental permission. PPS says the tests are required, implying that students must take them to graduate.
Alexia Garcia, a Lincoln High School senior and PPS Board student representative, contends OAKS is not a graduation prerequisite. "What's required of students," said Garcia, "is that they show proficiency in the areas of math, reading, and writing. OAKS is only one of the ways that students can demonstrate that."
So why are these students opposed to OAKS? According to PSU, they see standardized tests as "an inaccurate depiction of a student's knowledge and an absurd way to evaluate students, teachers, and schools." Andrew Davidson, a Grant High School junior also notes that they are "a waste of time and resources."
Benson Polytechnic High School senior Kevin Truong said that he and many of his fellow students are much more supportive of assessments that measure student knowledge and skills, rather than test taking ability. "I believe students should be treated equally, and standardized tests are not for everyone," Truong said. "I'm from a tech school, and not all of us are test takers. But if you give us a project or ask us to build something the requires us using what we have learned, we can do that."
While standardized tests have long been used to evaluate student performance, the No Child Left Behind program – sometimes derisively referred to as No Child Left Untested – made testing the prime determinant of school success. "Failing"schools are put on probation, and if scores do not rise these schools may be restructured, a step that can include closing the school, making it a charter school, or turning it over to a private company. Numerous studies have shown a close correlation between test performance and a student's socio-economic status. Also well documented is the fact that general school performance is directly related to the socio-economic status of students.
The primary goal of the opt-out campaign is to tell Governor Kitzhaber, Chief Education Officer Rudy Crew, the Oregon Legislature, and the Oregon Department of Education that they should strengthen rather than standardize the education system. As the PSU sees it, "regardless of the score on the state report card, as students we can assure you that all of our schools are in need of improvement. What we really need is more funding to fund more teachers to allow for the fostering of student-teacher relationships. We need a more comprehensive community based evaluation system in which students, teachers, administrators, parents, and other community members evaluate their schools. That feedback will be more beneficial than the incomprehensive numbers and graphs provided by the standardized tests. If anything, it is the current system with standardized tests, standard graduation requirements, and a standardized curriculum that is really in need of improvement."
"A student can't be judged by this system, " said Benson student Guadalupe Gonzales. "We are not test scores, and we should have a say in our education, not some outside force. We need to start on a new foundation. We don't learn the same, and we don't have the same skills. We need assessments that allow us to show our skills."