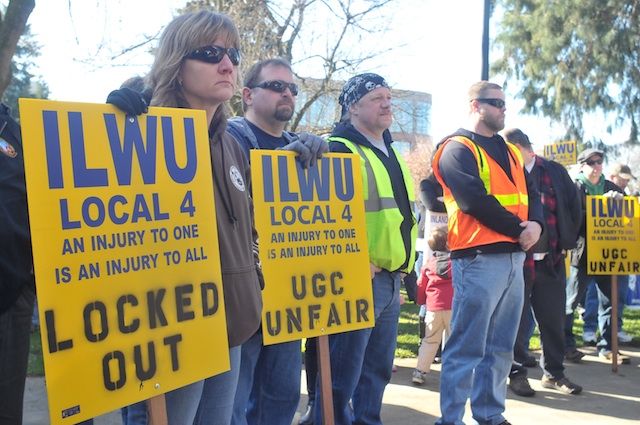 Story and photos by Pete Shaw
A crowd of over 200 Longshore workers, other union members, and community supporters rallied at Esther Short Park in Vancouver, WA, on March 8 in support of ILWU Local 4 grain handlers locked out of their jobs by United Grain Corporation in late February. After some speeches, the assembly, led by ILWU International President Robert McEllrath, proceeded to a nearby United Grain office. Once there, the group persuaded a policeman to deliver a copy of a recently negotiated contract with TEMCO – a document they hoped would serve as a template for a United Grain contract.
While successful, the rally also provided some uneasy moments. In particular, there was a deliberate xenophobic smearing of United Grain that came very close to smacking of racism. It was repeatedly mentioned that United Grain was a Japanese-owned company which, unlike U.S. based TEMCO, was refusing to bargain in good faith. A video on YouTube produced by Longshore Shipping News titled "ILWU Workers reach deal with U.S. company; Japanese company locks 'em out," doled out more xenophobia. In the video, after a brief interview with two locked out grain handlers, the screen reads "5000 miles away Japanese conglomerate Mitsui owns the United Grain elevator that's hired out-of-state replacement workers." One of those locked out workers later says, "We want to help export this American grain; help our American economy. This foreign company, for some reason, just wants us out." Soon, the screen reads, "The ILWU has invited Mitsui and the foreign owners of the remaining grain terminals back to the negotiating table."
On a rally day that should have exemplified values unity and solidarity, it was revolting and offensive to see the crowd cheering words that were being used to create separation and alienation. This lockout has nothing to do with United Grain being owned by a Japanese company presumably run by Japanese people. US companies do the same thing. The only question is how much profit they can make. TEMCO is vehemently anti-union, yet here was the ILWU leadership virtually designing harps and halos for its CEO and board of directors. There is only one story here – corporate capitalism, devoid of any national allegiance, squeezing every last penny out of labor. To create alternative narratives only serves to play into the hands of the grain companies.
Of historic note is the fact that this fight is being waged less than a mile from the Portland Expo Center, where, following President Franklin D. Roosevelt's Executive Order 9066, 3500 Japanese Americans and Japanese were herded, unjustly stripped of their rights and most of their property, and held for five months before being transferred to concentration camps in California and Idaho.
At the rally, some questions as to the efficacy of current tactics also emerged. One rank and filer suggested the time would be better spent going to the terminal and taking it over, kicking the scabs out right then and there. He was roundly berated by both McEllrath and a few Local 4 rank and filers, with one person accusing him of being one of those opposed to the negotiations that led to the grain contract at Longview. Though this may have been true, the Longview contract has damaged the ILWU. Not only did it predictably result in the terrible contract (voted down by about 93% of the rank and file) proffered to the Portland, Seattle, Tacoma, and Vancouver, Washington grain handlers by the Pacific Northwest Grain Handlers Association, it set the stage for this current lockout.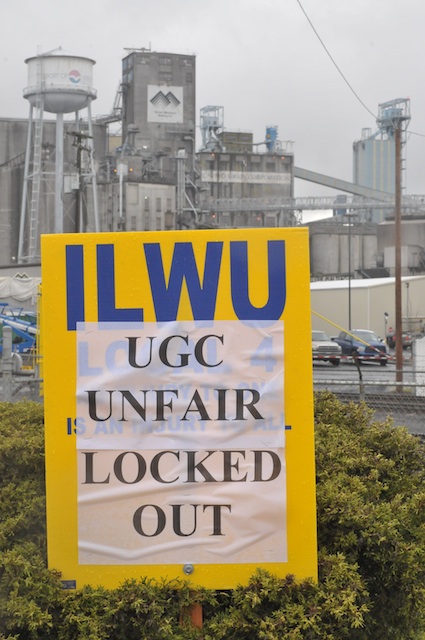 Prior to the Longview negotiations, strong ties had formed between much of the Longview ILWU Local 21 rank and filers and community members, with thousands of west coast supporters ready to turn out in solidarity. The very real threat of a shutdown engendered by this unified force pushed Washington Governor Chris Gregoire to intervene and brought EGT to the negotiating table. Then, for reasons still unclear, but by most counts due to the ILWU international leadership's insistence, Local 21 suddenly cut off communication with those outside its ranks. The union went on to accept a contract many judged to be much weaker than necessary had pressure from Local 21 and its supporters – the community – been maintained. Many community members who had worked hard to forge a relationship with the union felt spurned and expressed wariness of repeating the experience.
ILWU Local 4 may well win this battle with United Grain, and it is extremely important for all workers that it does so. But promoting xenophobia and calling upon the community only as it sees fit are missed opportunities. Also damaging to union workers are attempts to sidestep the militancy that formed the backbone of so many high water marks of the US labor movement.
At present, the ILWU is backing itself into a corner when it comes to both global and local solidarity. By turning away from its past, the union can only hope to dim its prospects for the future.