Story and photos by Pete Shaw
Joining the growing ranks of students and teachers protesting standardized testing, over 60 Grover Cleveland High School students walked out of their classes on Thursday April 18. The students, who are members of the Portland Student Union (PSU) see the tests as an unreliable way to evaluate their actual knowledge, as well a useless stick for measuring students, teachers, and schools. They urged their classmates both in Cleveland High School and the rest of Portland's high schools to "opt-out" of taking the Oregon Assessment of Knowledge and Skills (OAKS).
Flanked by banners reading "Education Is Not a Commodity," "Think Outside the Bubble!" and "I Am A Student, Not A Test Score," Cleveland junior Ian Jackson said, "We will not stand by as the arbitrary, biased, and bigoted tests assess our knowledge, evaluate our teachers, and determine our education." Jackson connected the PSU Opt-Out Movement with the Indiana University students who went on strike in April to protest rising tuition costs, the teachers at Garfield High School in Seattle who refused to administer state tests to students, and students in Colorado who staged a test walkouts. "Education will not be standardized," Jackson said. "Nor will we let them turn it into a commodity."
The Cleveland walkout, which included students of all grade levels, occurred on the same day juniors were taking the science portion of the OAKS. Though the OAKS has no effect on students' grades, it is a graduation requirement. PSU has been trying to work with Portland Public Schools (PPS) to allow other proficiency tests, such as the SAT and ACT–which do not take up class time–to be used as substitutes for the OAKS. According to PPS, students may only opt-out of the OAKS for disability or religious reasons.
For years, standardized tests have been used to evaluate students, teachers, and schools. The Bush era No Child Left Behind,meant a dramatic increase in testing and created no shortage of controversy. Cleveland senior Pele Warnick said that, while she has had to take numerous standardized tests that are supposed to judge her education, she has "never once been asked genuinely what I thought of my education system." Warnick believes that standardized tests have built-in racial biases, reflect white middle class cultural values and uphold the social and economic status quo while penalizing those not so privileged. "It's flawed–it's as simple as that," she said. "We must realize that these tests are inequitable."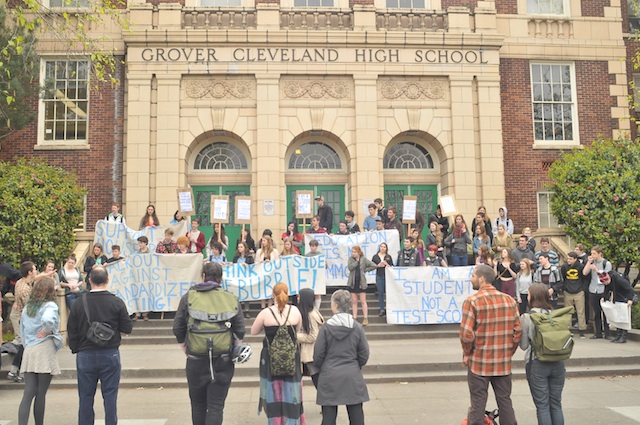 Warnick also reminded the assembled students that standardized tests were not befitting of people, whose gifts and talents are not so easily measured. "At this point in time with these tests and the way our education system is continuing on bombarding us with systems that do not show the true merit of an individual and the capabilities that our brains and our bodies have," she said, "I am starting to lose hope for this generation. And I don't want to do that. I love us. And I want us to grow and I want people to see what we truly can do as a people, as students."
After the rally, the students and 15 community supporters marched through the neighborhood around the school. Walking up SE Franklin Street, the students appeared to try and go back to school through a side entrance. They were immediately confronted by two security guards, one of whom screamed that they were not allowed back into the school. The students responded by chanting, "My parents pay taxes!" and "Whose school? Our school!" The security guard then explained that the students were not allowed into the school while parading with their banners. The students then continued marching and held a brief meeting just off school grounds.
The OAKS is soon slated to be replaced with the Common Core Standards which will not allow students to substitute a work sample for the test. Common Core, according to Jackson, will "be even more devastating to our educational system than OAKS and No Child Left Behind have ever been." Jackson emphasized the importance of setting the table so that this year's freshmen, who will be the first class required to take the Common Core Standards tests, will not start their fight from scratch. "We're really building a foundation for you guys," Jackson told the students. "We're building a foundation so that the first year that test is in here, you guys can squash it."
Too often students, like other people in society, do not realize the power they have. Earlier, Warnick roused her fellow students by reminding them of that power. "This is our education," she said. "We're the ones that there are thousands and thousands of. There are so many of us and we are great, great test takers and great pencil sharpeners, and we know how to sit in a chair like nobody's business. But we're done sitting. It's time to stand up."