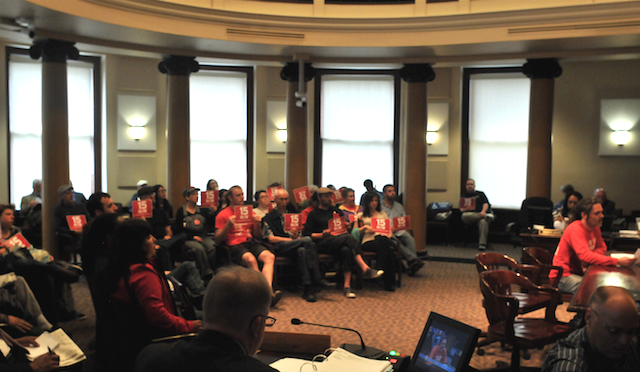 Story and photos by Pete Shaw
Just how unpalatable the Portland City Council finds 15 Now PDX, the activist group working to raise Portland's minimum wage to $15 an hour, was made known about a half hour prior to the council session on June 11. One City Hall official approached about 20 of the group's members who were rallying outside the building just prior to the 9:30 meeting and informed them that "people in red shirts have to sit upstairs." When one of those persons in a red shirt told the official that he did not appreciate being told his constitutional rights did not matter, the official quickly backed off.  A few minutes later, 20 seats on the floor of the City Council chamber were occupied by people wearing red shirts and holding 15 Now PDX signs.
Justin Norton-Kertson, co-founder of 15 Now PDX, presented the council with 1,000 signatures of Portland citizens who support raising the minimum wage to $15 an hour. During his testimony, Norton-Kertson noted the escalating cost of living in Portland–rents and groceries up 4.5% and 3.5% respectively last year, with that rent increase following a 4.9% surge from 2011 to 2012–that has made living in the city difficult for many of its wage earners.
Oregon's minimum wage currently stands at $9.10 an hour. While it is one of the highest in the country, it clearly is not enough to sustain a minimum wage worker supporting her family while living in Portland. Norton-Kertson cited a report by the National Low Income Housing Coalition that determined a single mother earning the minimum wage in Portland would have to work 78 hours per week to afford a two bedroom apartment to adequately house her and her children. In order to afford that apartment on one 40 hour per week job, she would need to draw $17.73 an hour.
According to the Oregon Center for Public Policy, a two parent-one child family in Portland needs to earn $63,978 per year to have a basic level of economic security. If both parents work full-time at minimum wage jobs without taking any time off, they will still be $26,000 shy of that basic level. However, as Norton-Kertson told the council, with a $15 minimum wage, that family will earn close to $63,000, bringing them right up to the cusp of economic security.
"This makes it clear," said Norton-Kertson, "that for the basic economic security of its residents, parents, and children, Portland needs a $15 minimum wage."
Oregon's minimum wage law preempts local governments, with some exceptions, from creating their own minimum wages. Among those exceptions are jobs in and through City government. Norton-Kertson called on the council to "raise the minimum wage for all City workers to $15 per hour" and "require that all contractors working with the City pay their employees a $15 minimum wage."
As well, the City can take steps that while not officially raising Portland's minimum wage outside of City and City-related jobs, would have that effect. For example, as Nick Caleb, who recently challenged Commissioner Dan Saltzman for his seat, suggested, the City could "enact a living wage tax on employers who aren't paying $15/hr and create a fund for employees that don't earn $15/hr to collect from. Ideally, this would be a progressive tax with top earning employers paying a higher tax rate to subsidize lower earning small businesses that might otherwise struggle to adapt."
However, the City council has punted on these options, choosing instead to ask the Oregon Legislature to lift the ban on local governments their own minimum wage laws. While that is something of a start, it clearly falls short of meaningful action.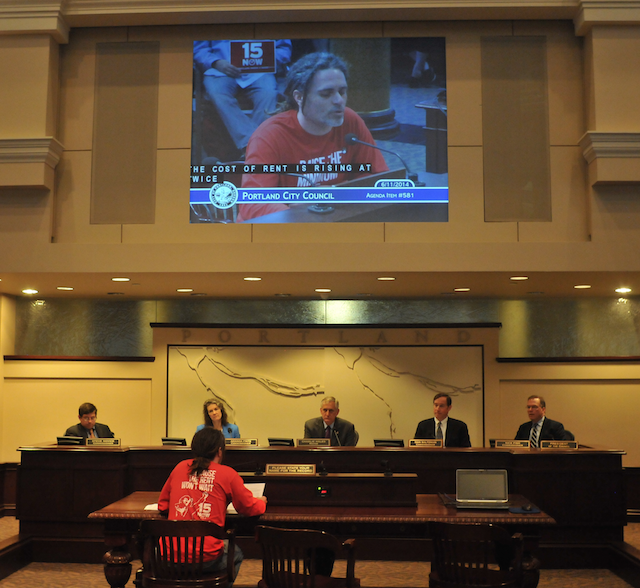 Commissioner Amanda Fritz, who oversees the Bureau of Parks and Recreation, applauded the idea of raising the minimum wage in principle, but then talked about the various budget restrictions she would face if the City council approved the raise. She stated that the increase, which would affect 2,000 employees in Parks and Rec, would cost the City $2.7 million. Fritz also said she was hoping to bring many seasonal workers to full time status–which would make them eligible for benefits–something that she could not do if the minimum wage was raised to $15 an hour. As well, she noted that the money paid out for the increased wage would be sucked away from other needs such as street maintenance. Her point was clear: there is a budget, our choices are limited by it, and every decision requires a tradeoff.
At that point, a member of the audience shouted, "Stop giving grants to Trader Joe's," a reference to the Portland Development Commission's (PDC) proposed deal with Trader Joe's in which the PDC offered it the lot at the corner of NE Martin Luther King Jr. Boulevard and Alberta Street, valued at about $3 million, for $500,000.
Fritz also made note that there was "a lot of resistance to raising more revenue," a reference to Mayor Hales' and Commissioner Novick's recent failed attempts to levy a street fee for necessary maintenance. "Raising more revenue" is political-speak for "raising taxes," particularly, raising taxes in a progressive manner. That resistance is because, as Novick recently noted regarding why such a progressive tax is not desirable, "If you do an income tax, that affects rich people more," something that would upset them and make them work against the tax. This too is political-speak, its real meaning being that Novick is scared that he will lose his job if he takes such a progressive instead of regressive stance.
Likewise, Portland's commissioners seem scared of the repercussions from the rich Novick mentioned, as well as the likes of the Portland Business Alliance, should they do something as radical as make the city livable for those who work in it.
Hales, referring to the ban on Portland deciding its own minimum wage, then said, "We don't like preemptions in general, and we don't like this one either." However, Hales' solution, with which the rest of the commissioners seem to agree, is to lobby the state to get rid of the preemption law instead of taking the steps that right now could raise the minimum wage, substantially benefiting many people's lives.
During his testimony, Norton-Kertson told the council, "What we really need is for this body to act in the best interest of those it represents." Ending his comment, Norton-Kertson asked if any of the commissioners would do that, proposing they "endorse $15 an hour right now."
His question was met with silence.
To join the fight to raise Portland's minimum wage go to: http://www.15nowpdx.org