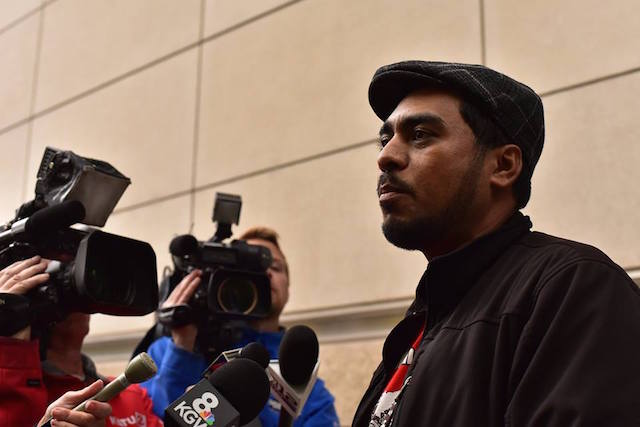 Story and photos by Pete Shaw
Rights activists, labor leaders, faith leaders, and lawyers gathered at the Federal Building in downtown Portland on October 1 to rally for Francisco Aguirre and deliver a letter signed by 118 organizations nationwide asking the US Attorney General to dismiss criminal charges of re-entry into the United States against him. Aguirre–the beloved Portland immigrant and labor rights activist who took sanctuary a year ago at Augustana Lutheran Church after 12 Immigration and Customs Enforcement (ICE) agents attempted to arrest him–remains under ongoing threat of deportation.
Following ICE's attempt to take Aguirre in September 2014, a solidarity network of community groups swung into action and offered Aguirre and his family the necessary protection and support to see them through this time of persecution. Aguirre eventually left sanctuary in December 2014 after ICE dropped the detainer it had placed on him. The detainer had originally been ordered because in August 2014 Aguirre was arrested for suspicion of driving under the influence, the result, Aguirre says, of having drank two beers.
While the ICE hold on Aguirre may have been dropped, ICE has far from forgotten Aguirre and has now been joined by the US Attorney, which is pressing federal criminal charges against him for returning to Portland after having been deported nearly 20 years ago–a deportation linked to his arrest in the late 90s on drug-related charges. (All but 2 of the charges against him were dropped and he plead no contest to the remainder at the behest of the public defender who represented him, though he insists that because he did not understand the legal system, he thought he was pleading his innocence. Aguirre is adamant that he was not involved in dealing drugs, but rather believed he was helping two people without housing who needed a place to stay.)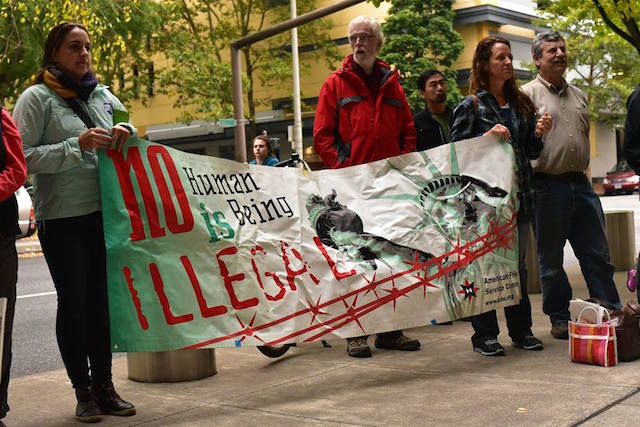 Due to his plea, ICE deported Aguirre, who had originally come to the US fleeing violence in El Salvador–much of which was engendered by the US-backed Dirty Wars of the 1980s in which the US government supported governments, military forces, militias, and paramilitaries that terrorized the people of El Salvador, Guatemala, and Nicaragua. Not long after his deportation, Aguirre returned to the US, again fleeing the violence in his homeland.
When he first came to Portland in 1995, Aguirre began organizing day laborers–work he returned to when he reentered the country, becoming involved with the Workers Organizing Committee and later helping to found the VOZ Workers Rights Education Project. He soon began serving as the coordinator of the Martin Luther King Junior Worker Center, where he has consistently fought to gain greater rights for day laborers in Portland–including helping them recover $500,000 in stolen wages and improving health and labor standards–and throughout the US.  
Now, despite this history of improving the lives of Portlanders and the outpouring of support for him, Aguirre finds himself in the Department of Justice's (DoJ) crosshairs. Many of his supporters believe Aguirre is being unjustly targeted and they are urging the DoJ to examine the totality of Aguirre's contributions to his community and the country, and to drop the charges against him. In their letter of support–addressed to US Attorney General Loretta Lynch, as well as Acting US Attorney Billy Williams, and Assistant US Attorney Greg Nyhus– they state, "We are deeply troubled by the highly unusual prosecution coming years after Mr. Aguirre's alleged deportation and reentry into the United States. Of particular concern is the appearance that the prosecution comes in retaliation because Mr. Aguirre publicly sought sanctuary in the Augustana Lutheran Church in Northeast Portland after ICE attempted to raid his home and separate him from his three children, two of whom are US citizens. The prosecution of Mr. Aguirre would constitute a grave injustice for him and his family. Moreover, we are concerned that prosecuting Mr. Aguirre for reentry so many years after the alleged reentry as a result of his public activism would create a chilling effect on other immigrants who would otherwise publicly assert their rights and report labor and civil rights violations."
Cooperation between the DoJ and ICE has also proven to be of great benefit to the private prison industry. An investigation by Fusion found that over 23,000 immigrants are jailed every night "in an immigrant prison system which has funneled billions of taxpayer dollars into the private prison industry."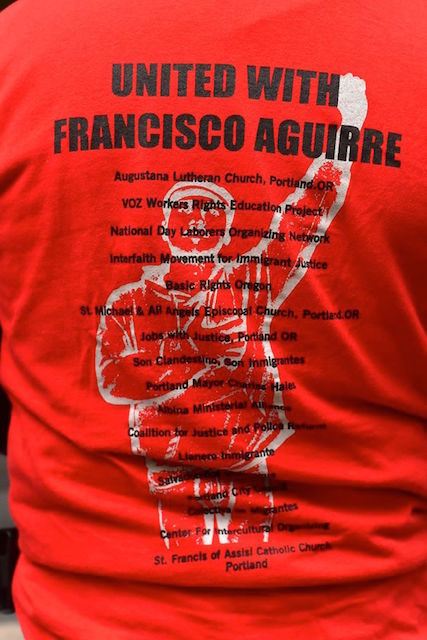 According to the Transactional Records Access Clearinghouse (TRAC), despite declines over the past two years, "the Obama Administration continues to stand out as having drastically increased criminal prosecution for illegal entry and reentry," convicting more than twice as many people as during all 8 years of George W. Bush's presidency. Furthermore, TRAC says that the increase in prosecutions "took place during a period when the actual occurrence of immigration offenses were on the decline."
"Although immigration-related criminal prosecutions are going down in general, the number of criminal charges for entry and reentry have been going up," stated Romeo Sosa, Executive Director, VOZ Workers Rights Education Project & Portland Immigrant Rights Coalition. "By collaborating with ICE in pursuing the case of Francisco, the DoJ becomes complicit to the use of criminal charges as punishment for challenging immigration enforcement practices. It is clear that the DoJ has discretion on what cases to pursue. We hope they make the right choice in stopping the prosecution of Francisco."
Dora Reynes, Aguirre's wife and the mother of their two girls, thanked the crowd and appealed to acting US Attorney Billy Williams. "I am deeply thankful for this community of solidarity that seeks equality," she said. "My daughters and I deserve to have our family united. My husband Francisco is a good man whose purpose is to work with and for the community. But he is also a victim of a governmental system that is broken and inhumane. Mr. Billy Williams, I ask you, I demand you drop the unjust charges against my husband. This would allow us to live in dignity as human beings and would restore tranquility to our family."
Pastor Mark Knutson of Augustana Lutheran Church, whose congregation provided sanctuary for Aguirre, reminded people that Aguirre left El Salvador under circumstances little different than the various refugees whose plights have been splashed across the front pages of newspapers for the past few weeks and that our response to them should be the same as to Aguirre and all people. "Our faith calls us to see one another as sisters and brothers. All of us are sojourners one day or another in our lives."
Soon a group including Reynes, Knutson, Pedro Sosa of the American Friends Service Committee, Diana Wei Pu of Portland Jobs with Justice, and Olga Tomchin of the National Day Laborer Organizing Network went to deliver the letter to Williams. As often happens when activists deliver letters or seek audience with officials, nobody but the secretary was in the office. All other people–Williams, other attorneys, their assistants–were out on business. The one person whom the secretary said was there was suddenly not there when Knutson asked if the group could see him. Watching over the interaction were two Department of Homeland Security (DHS) police and a US Marshall.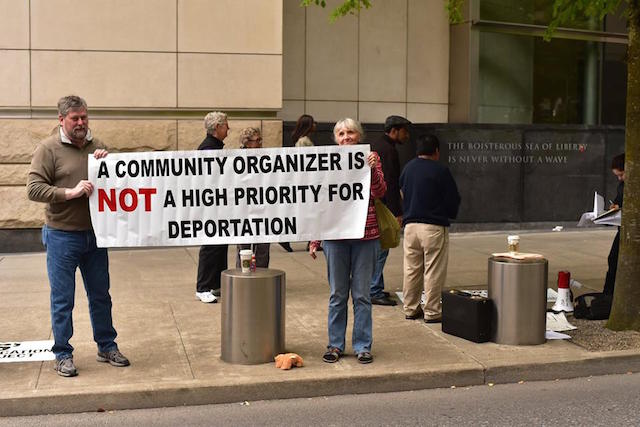 Knutson then began writing a personal letter to be delivered to Williams. As he was composing, Wu took out her cell phone and apparently photographed him. One of the DHS police told Wu that photos were not allowed in the building and told her to erase it, to which Wu apparently complied. The DHS officer had his hand on his taser for the duration of the encounter.
After Knutson gave his letter to the secretary, the group began to enter the elevator. With Reyes, Sosa, and Tomchin already in, the DHS officers halted Wu and told her to step aside. It appeared as if they intended to arrest her because of the photo incident. Reyes, Sosa, and Tomchin left the elevator. The DHS officer who had not approached Wu then told the group it had to leave. "We're going to stay here," Knudson said and then Tomchin, who is a lawyer, declared herself Wu's attorney, saying she would be accompanying her client.
Immediately, the two officers and the US Marshall backed down, although they did come down in a separate elevator, following the group out of the building. It was a crude attempt at intimidation on the part of the officers and the marshall. It was also an instructive exercise in the types of tricks those in power often play, such as how the DoJ and ICE will often tell immigrants that have been detained to "just sign this piece of paper," as if it is a meaningless item when it will in fact have terrible consequences.
Tomchin told Aguirre's supporters how the confrontation with Wu was an example of how it is "so important to know your rights and fight back." And it is important to to do that with people who have your back.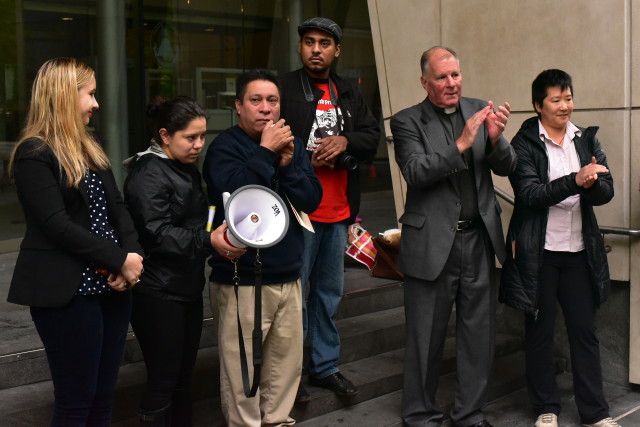 One of the United States' founding myths that continues to inform many people's consciousness is that of the rugged individual. But a deeper look at history shows that it is people working together in solidarity that have made the movements toward greater justice in this country. This current permutation of the immigrant rights movement is no different, with numerous people throwing their resources and support behind many others facing the same unjust circumstances as Francisco Aguirre.
While Aguirre, as he often does, appeared in good spirits at the rally, he expressed his anxiety at continually dealing with the DoJ's and ICE's pursuit of charges against him. "I'm worried to be everywhere," he said. "There's no safe place."
But if he is apprehensive, he is also stalwart in his resolve to fight with his supporters, both for himself and other immigrants experiencing similar persecution. "It's the community who is making this effort. We need to learn from each other. To support each other. We need immigration reform that will be equal opportunity for everyone in this country who helps the economy of this country. We have roots here. We have kids."
This is about keeping a family together," said Diego Hernandez,  of the Oregon Commission on Hispanic Affairs, whose words could apply to any immigrants and their families who are being persecuted by the DoJ and ICE. "But it is also about keeping a family together that serves the community. This is as American as it gets."
Want to get involved? Sign the petition at: http://www.notonemoredeportation.com/portfolio/franciscoaguirre/ and then call the US District Attorney at (503) 727-1000, extension 1015. A sample script is available on the same page as the petition.