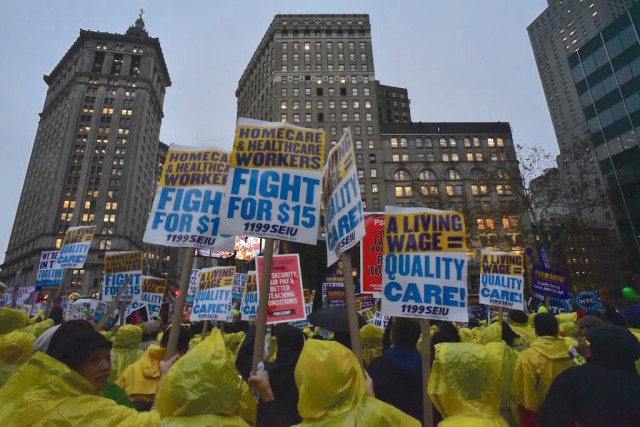 Story and photos by Pete Shaw
New York is big. New York is loud. It is bombastic, boasting, and even overwhelming. New York is not Portland.
Last week I was in The City, part of a trip to visit my family. A few days before departing, I realized I would be missing the rally in Portland to raise the minimum wage to $15 an hour. This did not please me, but thankfully my wife has enough brain cells to spare for me, and she said that a similar event would likely be happening in New York. She was correct, and in fact over 200 such rallies took place around the country.
In some ways, New York City was the starting point for this drive to raise the wage. Not so long ago about 200 fast food workers walked off their jobs, demanding a wage increase and a union, and setting spark to a movement that had been brewing for some time. That campaign quickly blossomed, and it has seen gains in many places, including Oregon where the present fight is not about raising the minimum wage, but to what it should be raised.
The rally at Foley Square, which is located in the southern part of Manhattan, near Chinatown, Little Italy, and the Brooklyn and Manhattan Bridges, was a festive, high tech, and decidedly New York affair. That feeling was only augmented by the surrounding skyscrapers and huge government buildings. There are very few places in Manhattan that do not call immensity to mind.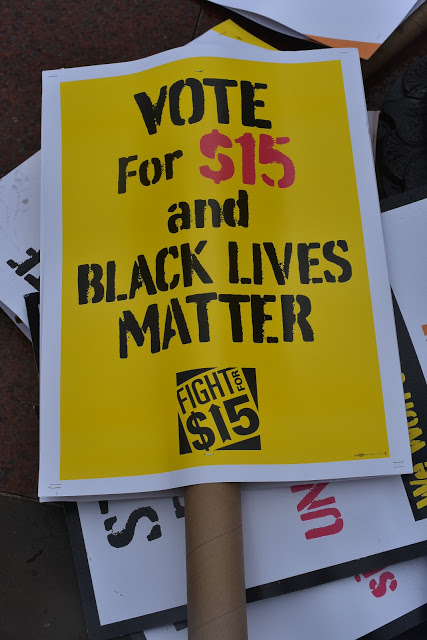 On stage, backed by a giant television monitor, was a very fine band consisting of guitar, bass, and drums. They rolled out some very soulful, funky beats, many of the songs fitting for the day. Their cover of Marvin Gaye's "What's Going On" was fantastic, and on a dark and cold afternoon that alternated between dreary and dreary with rain, "Stand By Me" made universal sense. I told one person we were from Portland, Oregon and she thanked me for bringing the rain.
Many groups were represented at the rally. Fast food workers, SEIU homecare and healthcare workers (many of whom had walked off the job that day), the Hotel Trades Council, AFSCME workers, City University of New York adjunct professors, members of the United Food and Commercial Workers, and retail workers came out. A large contingent of a Black Lives Matter group, bearing a banner reading "Black Work Matters" and wearing hoodies that tied together the struggles with the messages "I Can't Breathe" and "Fight for $15" mingled easily.
There was a buzz in the air–a sense of immediacy–that one can only get in New York. The old joke has it that the shortest interval of time is that which is between a traffic light turning green in New York City and a driver honking his horn. There is always a sense of movement, and it was palpable at the rally.
Even the speakers were big. Gary La Barbera, a very big man who was the head of some union, talked forcefully about the need for unity among all workers, unionized and not. Governor Andrew Cuomo–about as big as you can get in New York politics–announced that state employees would be getting a $15 minimum wage, which received a huge ovation from a crowd that had swelled to several thousand.
My wife noted that atmosphere was more of a festival than a rally. "New York knows how to party," she said.
But while there were differences between this protest and the similar ones I have attended in Portland, there were also commonalities–similarities of far greater importance than those surface disparities of pomp and circumstance. Most obvious was the coming together of people from different walks of life, demanding change. Not asking. Demanding.
Those voices were loud and clear, and most importantly, numerous. Governor Cuomo likely did not come willingly to Foley Square to make his announcement. He is a fiscally conservative Democrat whose main goal in life according to many City dwellers is to stymie every reform effort put forth by New York City Mayor Bill DeBlasio. No, he was probably dragged kicking and screaming. Even though the wage increase kicks in down the road (2018 in New York City, 2021 in the rest of the state), when Cuomo stated that New York stands up, fights, acts, and leads by example, he was–whether he liked it or not–referring to the people at the rally.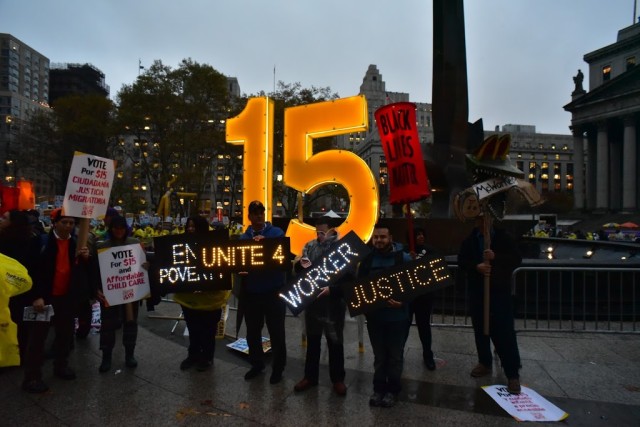 And when Cuomo told the crowd, "New York is not just another state. New York is the progressive capital of the nation," he probably said it through gritted teeth, but say it he did.
In Portland–and throughout Oregon–a different tack is being taken. $15 Now! volunteers are gathering signatures for a 2016 ballot initiative that if approved would raise the minimum wage for all workers to $15 an hour. The initiative's primary rival is not a group opposed to a higher wage, but one seeking a lesser increase in it. That shifting of the fight is a huge victory in itself and when I told people at Foley Square about it, they were impressed and interested.
The status quo is being dragged along. As long as working people keep organizing and fighting, there is no choice.