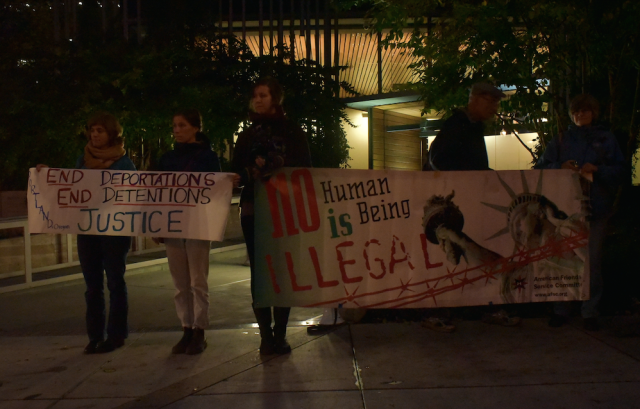 Story and photos by Pete Shaw
Voz and the Portland Immigrant Rights Coalition (PIRC) held a candlelight vigil on the night of November 19, calling for an end to the detentions and deportations that have torn apart many immigrant families and communities. The action was part of a national week of action promoted by immigrant rights group #Not1More and marked the anniversary of President Obama's executive order last November 20 that expanded the Deferred Action for Childhood Arrivals (DACA) program created by the Obama Administration in June 2012.
The vigil came less than a week after the ISIS attacks in Paris that killed over 120 people, and those murders added an unexpected depth to the vigil that made it even more somber and more urgent.
The original DACA program granted legal status for two years to young people without documentation who satisfied certain requirements, and its extension not only expanded legal status to three years, but also made immigrant parents of US citizens eligible for deferred action under the Deferred Action for Parental Accountability (DAPA) program. Perhaps more importantly, Obama also announced an end to the Secure Communities program that had terrorized immigrant communities, replacing it with Priority Enforcement (PEP), a program that putatively focused on "targeted enforcement" of immigration law. That targeted enforcement, in theory, would limit when Immigration and Customs Enforcement (ICE) would ask local law enforcement agencies to continue holding a detained immigrant to situations when that "priority" person has been convicted of a crime or has been deemed a threat to national security.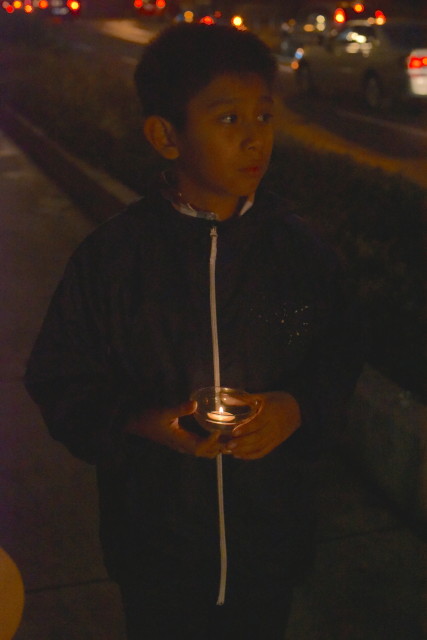 But since Obama's announcement, a federal judge in Texas issued an injunction against the DACA expansion and DAPA. That decision was upheld on November 9 by the 5th US Circuit Court of Appeals in New Orleans.
As well, the PEP's targeted enforcement has proven to be more of the same.  While ICE has claimed it no longer conducts immigration raids, a report by the National Day Laborer Organizing Network found that "as implemented by ICE, 'targeted enforcement' looks very much like a raid." If anything, it seems ICE has become more aggressive. According to Marco Mejia of the PIRC, PEP "is worse than" Secure Communities which "benefits corporations that make money off the suffering of immigrants."
Those corporations include the private prison companies GEO Group and Corrections Corporation of America, who own many of the ICE prisons. US law requires that ICE imprison an average of 34,000 people every day, a number which makes improbable the idea of targeted enforcement, and also assures GEO Group and Corrections Corporation of America a guaranteed source of profit.
"The government actually wants us to be here," said Pedro Sosa of the American Friends Service Committee, "because they want to fill the private prisons with the immigrant community. Obama has the authority to stop this detention quota. This is immoral, this business. It must stop."
Amanda Aguilar Shank, who works for Enlace on its national private prison campaign urged the crowd to see immigrants taken away by ICE not just as singular people thrown in prison and facing deportation, but as a part of a system that criminalizes large portions of the population, not limited just to people without documentation. "Black Lives Matter and #Not1More," she said, "are responses to this criminalization that make it okay to put people behind bars and tear them from their families."
Shank also challenged immigrant rights activists to reach out to other groups beyond the immigrant community that are fighting this criminalization. Citing the protests in Minneapolis, Minnesota over the police's execution of Jamar Clark, the fact that 1 transgender person is killed every week in the US, and the recent threats made against Black students at Lewis and Clark college, Shank said, "This is a moment we need to be challenged to be building these movements and building these connections."
Mejia expanded those connections even further. He noted how the media treated the victims of the Paris attacks with dignity–a dignity lacking when the lives involve people considered to be unworthy, like those killed by US bombs in Afghanistan and Iraq. For these deaths there is virtually no corporate media coverage and, furthermore, the same corporate media often fans the flames of dehumanization which in turn can make such crimes acceptable.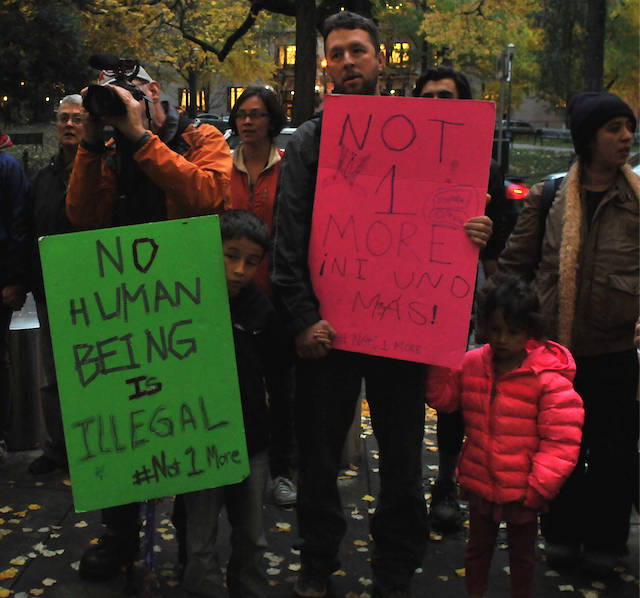 "When white people such as in Paris are killed, we react," he said. "But when it happens to others we don't care. That is part of dehumanizing."
Mejia then asked the 30 people in attendance to keep in mind all victims of terror everywhere, including those of the state terror of which the US government approves and sometimes engages in that is so often ignored.
Earlier in the day, the US House of Representatives passed a bill that would make the already difficult task of Syrians and Iraqis seeking entry into the country even more trying, starting with an indefinite suspension of allowing them to enter the US. In promoting the House legislation, Speaker Paul Ryan cynically equated refugees and terrorists, saying, "We cannot let terrorists take advantage of our compassion." His language was not very different from that which has been used against other immigrants–particularly those from Mexico and Central America–to the US. Ten years ago, ICE, in response to people's horror at seeing families torn apart during immigration raids, began a propaganda campaign that equated immigrants from south of the US border as drug dealers, rapists, and murderers.
Ryan's words were almost nearly as farcical too.  So far, every suspect in the bombings has been from Belgium or France–neither Syrian nor refugee.  From the hysteria that has seemingly gripped many people in the US, one could be forgiven for forgetting, as Ohio Senator Sherrod Brown noted, that since September 11, 2001, most terrorist attacks in the US have been committed by "generally white males."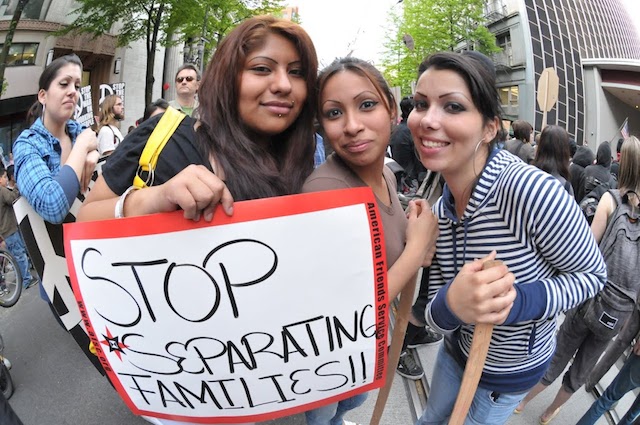 And just like immigrants from Mexico and Central America, it's not like refugees are pouring into the US.  Since the beginning of the civil war in Syria, the US has taken in 2,000 refugees from that country.  Comparatively, Turkey has welcomed 2 million Syrians who have fled their home.  Obama has proposed taking in 10,000 refugees next year, still a paltry number. Meanwhile, a few days after the Paris attacks, French president Francois Hollande said France would take in 30,000 Syrian refugees.
Whether Syrian and Iraqi refugees, or immigrants from Mexico and Central America, these are people to whom this country owes some debt of responsibility. The House bill, by effectively equating refugees with terrorists, makes the US seem the victim, when it is these refugees who are fleeing from the devastation wrought by the many years of US-European foreign policy that has supported brutal, repressive regimes in Middle East and made the area a fiefdom of US-European economic interests.
There is nothing new to that. As Mejia noted, "This system we live in is very expert at making the victim into the perpetrator and vice-versa."
Repayment of these kinds of debt does not come easy. But the immigrant rights community's steadfast refusal to shrink in the face of government repression has yielded great gains. DACA was an important, if limited, victory. And Obama's attempted expansion of it, as well as his introduction of DAPA was a big step. Those victories were not handed down from President Obama. Rather they were forced upon him because of the continuous organizing of those fighting for immigrant rights and justice.
Now that fight includes Syrian and Iraqi refugees. It says something good about Portland's immigrant rights community that this vigil could so seamlessly make room for two more groups of people desperately trying to flee homes that have become unsafe, and who have, as Shank put it, become criminalized.
Bob Brown of the Interfaith Movement for Immigrant Justice summed up well the expansive and encompassing character of the struggle. "Our faiths tell us to welcome the stranger, to include the stranger in our communities. Everyone contributes to our community, and we need to be welcoming to those people."