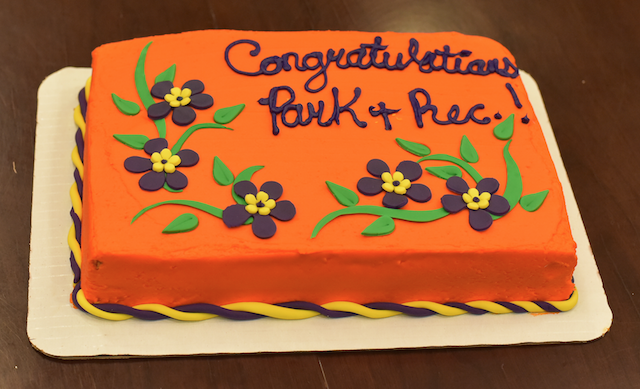 Story and photos by Pete Shaw
Many part-time recreation employees are cheering the unanimous Portland City Council decision on February 17 to ratify an agreement between the Parks and Recreation bureau and Laborers Local 483. Under the arrangement, Portland Parks and Recreation will create 130 new living wage union protected jobs by the Fall, and the City will recognize these "casual" or "seasonal" Recreation Support staff as part of the union once a majority show support for joining. As union-protected employees, they will be able to collectively bargain for their wages, benefits, rights, and work conditions.
"Today is a milestone for myself and other casual workers," said William Zeigler, an employee at Mt. Scott Community Center in Southeast Portland. "Through this agreement we see a way forward to living wages and opportunities for full time work."
The agreement settles a nearly 15-year dispute between the City and the Laborers over the use of casual workers who, according to the City, were non-union employees and thus could be treated differently from those workers protected by union contract. Because of that classification, the City was able to pay those casual workers less than union members while offering neither benefits nor job security, despite them doing the same work as the unionized employees. The Laborers said this violated their contract with the City and in 2013, Local 483 filed a grievance. On May 1, 2015 arbitrator David W. Stiteler determined the City "violated, and is continuing to violate, the contract" by assigning the work of union employees to the non-union casual employees. He ordered it to cease and desist from this practice, but left it to the City to figure out how to navigate this new terrain.
Prior to Wednesday's vote, the City had made some small but significant progress toward increasing wages and benefits for workers. In May 2015 the council approved amending the City's Fair Wage Policy, setting a $15 an hour minimum wage for all full-time workers, as well as over 150 janitors, security guards, parking attendants, concessions workers, and others who work for companies contracting with the City. But that move left out over 1,800 part-time workers, most employed by the Parks and Recreation Bureau overseen by Commissioner Amanda Fritz.
The new agreement will, according to Laborers Local 483 president Wesley Buchholz, "draw clear lines preventing future workers from being paid less to do the exact same work as their permanent counterparts while keeping wage standards clear for current members."
Jennie Birt, Recreation Coordinator at Mt. Scott Community Center said the agreement "ensures all Recreation staff will be paid properly and fairly for their work. It creates new full-time benefitted positions, returning many of the jobs lost to budget cuts over the years. This important step forward ensures respect, fair wages, and helps alleviate staff facing staggering workloads. It's also good for the community we serve: when staff are fairly paid, Parks can retain great talent and ensure the quality recreation opportunities that Portlanders have come to count on and expect from our award winning bureau."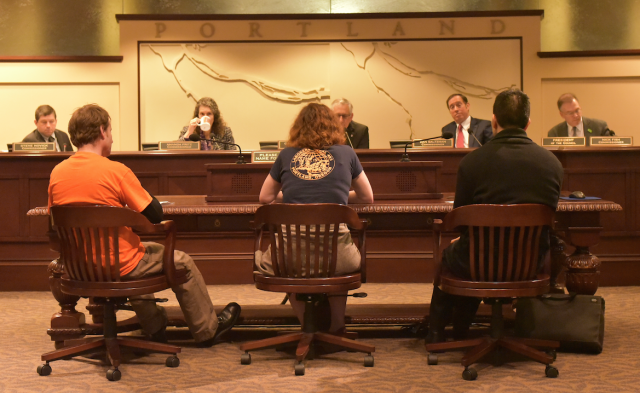 The council's vote comes at a time when Portland is experiencing dramatic rent increases–making life in the city difficult to impossible for those not receiving a minimum of $15 an hour. (As many people have testified before the council on an array of issues, even that figure is cutting it close.) Those two fights–raising the minimum wage for all workers and providing protections for renters–are being vigorously waged at the state level, and the council's vote on Wednesday should prove a small move toward pushing those ends.
"When the City Council says we need to take action to stem the tide of rising rents," Buchholz said, "it begins in the City's own house, with its own employees. When hundreds of City employees can't afford the rent, that is a housing problem. When City employees are forced to live at home with their parents or find themselves commuting from far away, that is a problem. City employees, like any type of worker, deserve a wage that allows them to live in the city they serve."
Farrell Richartz, now a member of Laborers Local 483's executive board, told the council about his 12-year stint with Parks and Recreation, and another 10  as a utility worker with maintenance operations. "I know first hand the struggles of low wages and the lack of job protections and vital benefits such as health care," Richartz said. "My life was improved by moving into a full-time, union represented job with better wages and benefits. I know that the actions being taken by this council have the potential to positively affect lives of many people who work to provide services to our communities and are themselves members of those communities."
Buchholz fleshed out some of those struggles that Richartz mentioned. "These casual staff–many of whom have worked for the City 9, 10, even 24 years, year after year–have had to make do with poverty wages in a city that now has the fastest rising rents in the nation. This has meant workers have had to forgo important doctors visits and apply for food stamps to put food on the table. It has meant Rec staff have left the very communities they serve in order to find housing for their families. It has meant empty cupboards, empty bank accounts, and in a number of disturbing cases, bankruptcy and homelessness."
However, while the agreement has been passed, paying for it may be another story. Fully funding these changes, according to Commissioner Fritz, will cost $4.4 million, which coincidentally is the same amount of new revenue predicted by the most recent City budget forecast. Anything less, she intoned, could result in the City cutting services.
Prior to casting his vote, Commissioner Steve Novick echoed and expanded upon Fritz's caution, adding that if the City does completely honor the agreement, the result may be cuts in other bureaus. Meanwhile, Commissioner Nick Fish said he would do all he could to make sure the agreement was fully funded.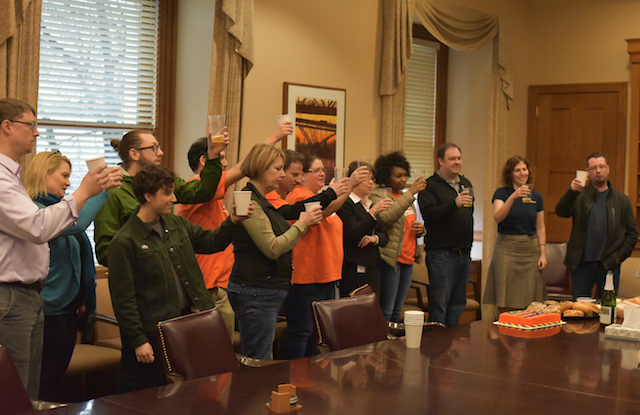 Any labor victory is cause for celebration, particularly at a time when anti-union rhetoric–especially against public sector workers–around the country has reached a feverish pitch. The tone of the council session was congratulatory and magnanimous, by both those who testified on behalf of the Laborers, and the commissioners. Hales thanked negotiators for their honesty, and Erica Askin, business manager for Local 483, thanked a litany of government figures for their dedication and hard work, saying the agreement "lights the way for fellow workers in both the private and public sector as they strive for fair pay, benefits, and recognition in the workplace."
At a celebration held in the 3rd floor Rose Room after the council's vote, which included both Parks and Recreation workers and some City government staff, there was a palpable sense of congenial achievement, and many words were spoken about how the negotiations would provide a blueprint of how management and labor should work together as partners, not adversaries.
That language belied the fact that for over 10 years the City barely budged on allowing many of its employees to work for anything resembling a living wage. It was only through these employees working together–including filing the grievance that resulted in Stiteler's decision that essentially forced the City's hand–and not backing down in their demands that Wednesday's vote was taken and won.  The upcoming budget fight may well put the friendly rhetoric of collaboration and partnership to the test.
But for a few minutes in the Rose Room, over a spread that included a traffic safety orange congratulatory cake that matched the bright, blinding orange of the shirts worn by nearly 20 union and perhaps soon-to-be union members, there was an unmistakable sense of victory.