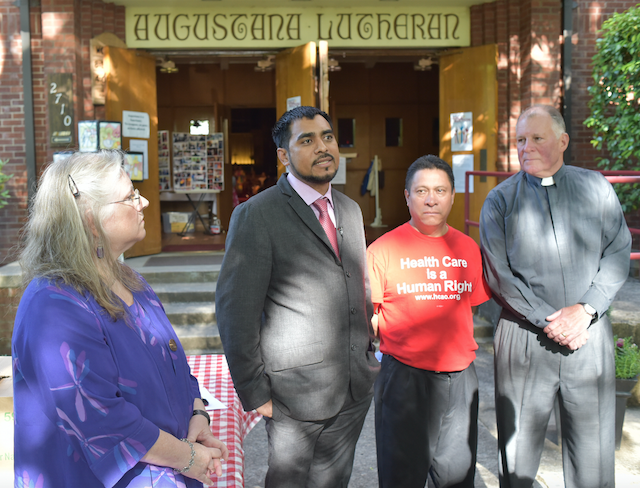 Story and photos by Pete Shaw
Francisco Aguirre, the immigrant justice activist who for 81 days in 2014 took sanctuary in Augustana Lutheran Church when the US government threatened to detain and deport him, returned there on Sunday June 19. However, this time the cause was celebratory. On May 27, Assistant US Attorney Greg Nyhus filed a motion to dismiss the illegal re-entry charge that the Department of Justice had been pursuing against Aguirre for nearly 21 months.
And for those 21 months numerous people, and faith and justice groups, rallied behind Aguirre and his family, providing them with the necessary support and working every available avenue to see Aguirre prevail. They also provided a platform for calling attention to some of the hardships faced by people without documentation in the United States and the need for a more humane immigration policy.
"One thing I learned is that hope is the last thing you're going to lose in life," said Aguirre Sunday night. "If you don't have hope, you're not going to survive."
Aguirre came to Portland from El Salvador in 1995 without documentation, fleeing violence that was largely a consequence of US foreign and economic policies, particularly the Dirty Wars of the 1980s and the Drug War. Those US interventions in Central America resulted in destabilized legitimate governments whose reach is short, and in those places where they have no power, have been replaced by the rule of drug cartels and others who use violent means to reach their desired ends. That instability and its resultant gang violence is also what lies behind the more recent migration of mothers and children from Central America, particularly Guatemala, Honduras, and El Salvador.
After a no contest plea to drug trafficking charges–which Aguirre disputes, adding that he thought he was pleading innocent–Aguirre was deported to El Salvador in the late 1990s. He soon returned to Portland, again without documentation. In August 2014, he was pulled over for driving under the influence, a result, he said, of drinking two beers. That DUI charge drew the attention of the federal government.
On the morning of September 19, 2014, a federal agent knocked on the door of Aguirre's home in Fairview, saying he wanted to discuss something with him. At first the agent did not say what he wanted to talk about, but when Aguirre pressed him, he said it had to do with Aguirre's small computer repair business. Finding it suspicious that this man was backed by 11 other agents, Aguirre asked him for paperwork showing that was in fact why they were there. The agents worked for ICE, and the claim of investigating Aguirre's company was a ruse to draw him out of his home so they could take him into custody. Aguirre stood his ground and asserted his rights, saying they could not enter his home without a warrant.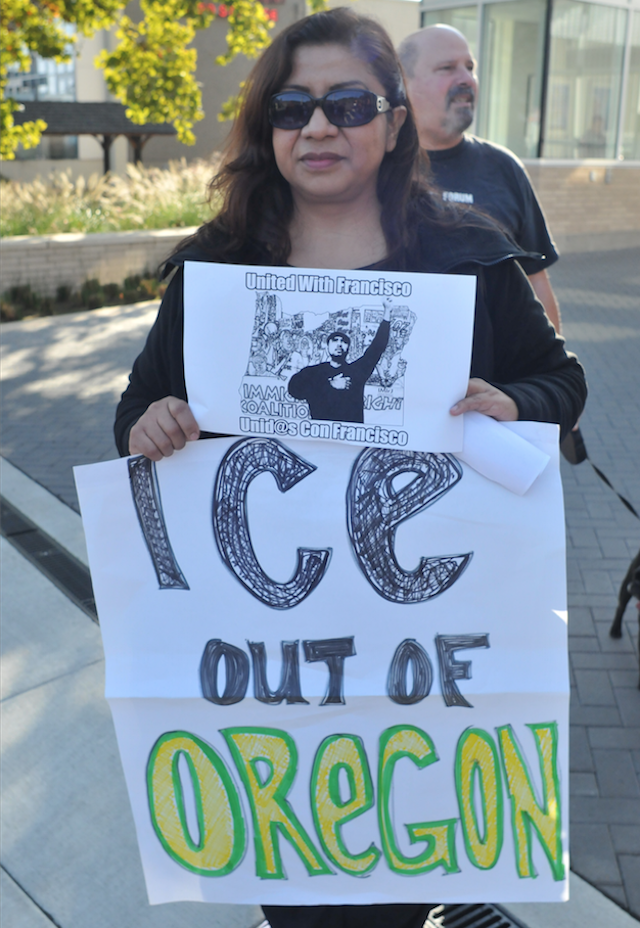 Following the encounter, Aguirre made some phone calls, and very quickly the immigrant and immigrant rights community moved to defend Aguirre. By that night he had taken sanctuary at Augustana Lutheran in Northeast Portland. For a few months thereafter, wherever Aguirre went he was surrounded by allies–often in large throngs–who had his back. Court dates saw the gallery packed with those who could not find a seat waiting outside. On one visit to the Portland Field Office of US Citizenship and Immigration Services to complete some requirements for obtaining a U Visa–offered to immigrants who are victims of serious crimes and who have cooperated with authorities in prosecuting those crimes–Aguirre was accompanied by a caravan of supporters. Phone calls, petitions, and visitors flooded the offices of Billy Williams, the US Attorney for the District of Oregon, demanding the charges against Aguirre be dropped.
Aguirre also had in his corner Ellen Pitcher, the tenacious lawyer who defended him. At Sunday's celebration, Pitcher stated that Williams said he was not aware of an illegal re-entry charge ever being dismissed. She said she was confident that Aguirre would have prevailed had the trial gone forward due to his experiences in El Salvador and his good works here in Portland, which include organizing day laborers, helping found the VOZ Workers Rights Education Project, and serving as coordinator of the Martin Luther King, Junior Worker Center on NE Grand Avenue. Pitcher's mettle also no doubt helped with the charge being dropped. "I'm very persistent," she said. "I refuse to give up."
What was celebrated Sunday was the refusal of Aguirre, his wife Dora Reyna, and the numerous people and organizations who supported them to give up. Yet during the interfaith service guided by Augustana Lutheran Church's Pastor Mark Knutson, at least 10 different community and faith groups that stood with Aguirre–and all immigrants suffering under the United States' unjust immigration laws–were represented, although none seemed willing to take credit for their work. Rae Anne Lafrenz, coordinator of the Interfaith Movement for Immigrant Justice, spoke to this humility and grit when she told the audience, "You guys are the leaders. Any achievement that has happened is because of each one of you. Francisco's family is together because of all of you. When Congress won't act on our behalf, and when the government won't act on our behalf, it's up to the communities like this one to take action."
Action will continue to be taken, and not just because there are about 11 million people without documentation in the US who, as Aguirre put it, are living with the fear that when they go out of their homes, they don't know if it is the last time they will see their families, friends, and community members. Aguirre himself is not out of danger. He still faces the possibility of ICE detaining and deporting him. He said ICE had served him a warrant for his arrest and tried to get him to sign a document giving up his rights to fight the case in court. In his fight against ICE, Aguirre is being defended by Stephen Manning of the Immigrant Law Group.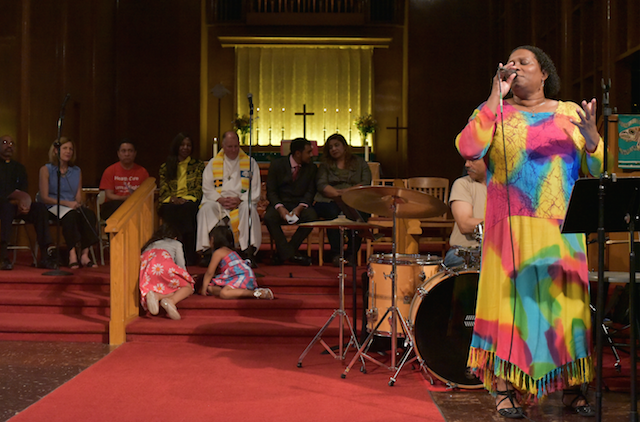 Pitcher urged people to continue fighting for Aguirre and for all people without documentation. She noted that it was particularly important for people to lean on their representatives in Congress. Those representatives, she said, chose not to get involved in supporting Aguirre as he faced the illegal re-entry charge because they did not want to trespass on the Department of Justice's turf. "They do not have that excuse anymore," Pitcher said from the altar. Noting that Congress does have power over ICE, she stated, "It's up to you and me to convince them to use it."
Aguirre's victory in his battle with the Department of Justice is a bittersweet one. Moises, his son from another marriage, was living with Aguirre, Reyna, and their two children. Just like Aguirre, Moises lacked documentation, and the stress of seeing what his father was experiencing, as well as the fear of going to jail–a conviction for illegal re-entry could have resulted in up to 20 years in prison–drove him to go back to El Salvador. On February 2 he was murdered there. Noting that Moises "ended up paying the consequences of all of this," Aguirre expressed his belief that he was "here with us in spirit." And a little more: on this Father's Day, Aguirre noted that he had become a grandfather. With a mixture of sadness and pride he said, "I also want to say, Moises, happy Father's Day."
During the service, the house band–a very fine jazz trio–struck up a song with the line "God is watching from a distance." In some religious communities, particularly those whose focus is on a punitive God who seems lustful for vengeance, such a line would be taken ominously. But the tone at Augustana Lutheran Church invokes a nurturing, loving God. Knutson gives the impression of someone who regards God in a non-traditional sense; that is, he invokes a God who reveals Herself in various ways to different people, but always calls them to act according to their better angels. Her watching from a distance is a gentle reminder that when all else seems to fail, She is there to soothe and comfort. Perhaps it is that grace that led Aguirre to say, "(US Attorney) Billy Williams should be proud because he made the right decision. This is his victory too."
And maybe it is that grace, along certainly with Aguirre's courage–augmented through the support of other immigrants and allies in the immigrant justice community– and of course, hope, that keeps Aguirre pushing his fight. Standing in the soft early evening light filtering through the windows of Augustana Lutheran Church, Aguirre thanked his supporters, but also encouraged them to join him in continuing to fight for immigrant justice. "We must welcome immigrants in whatever part of the nation immigrants exist. In a country of immigrants, we must learn to work with the immigrant community. We must continue to fight for the 11 million immigrants. We must come together to protect them."