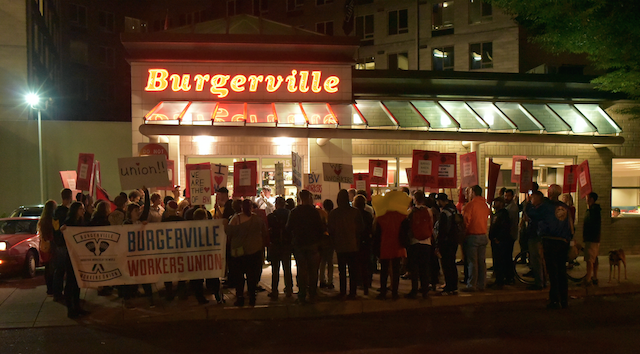 Story and photos by Pete Shaw
The Walla Walla onion rings–so good that they named them twice–have arrived at Burgerville. Inside its stores, signs advertise the food while emphasizing the community values Burgerville espouses to distinguish itself from the larger fast food chains such as McDonald's and Burger King. One placard shows a farmer kneeling in a field of large onions, holding a large bulb and its green shoots. Below the photo, bold letters announce, "Grown in Walla Walla." Another sign shows a young woman and a child at a table with a couple of shakes–perhaps the seasonal marionberry, which uses locally sourced products–and a tray of the onion rings. The text reads, "Made for sharing. Our Walla Wallas are specifically grown and prepared for growing together." It is typical corporate propaganda, depicting the corporation as existing not for the purpose of maximizing profit but rather for making the world–your world–a better place.
Despite the implication that Burgerville has higher standards than other fast food chains, when it comes to how it treats its workers, Burgerville is no different. Because of that, in April some Burgerville employees formed the Burgerville Workers Union. The union, which has yet to be recognized by Burgerville management, is demanding a $5 an hour raise for all hourly employees, healthier working conditions, and greater respect from management. Those are fairly standard demands of any association of workers. The Burgerville Workers Union–organized with the support of the Industrial Workers of the World–has been campaigning for recognition, and one of its tactics has been showing the real human impact of the lack of workplace justice at Burgerville. Those glaring absences of justice leave workers at Burgerville without recourse to the demands and whims of management.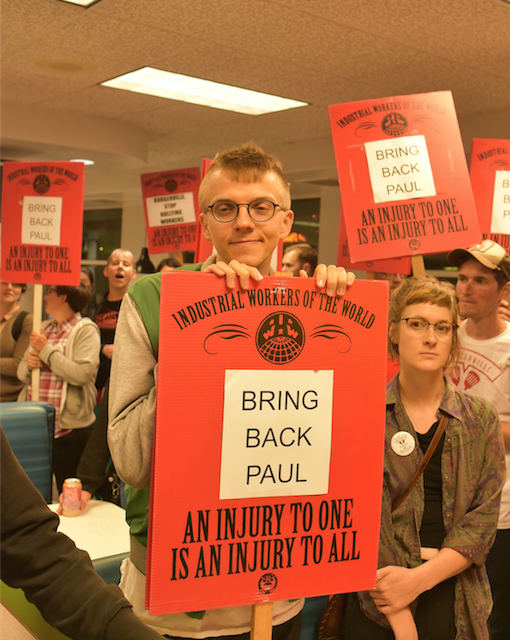 On Tuesday August 9 at 9PM, 50 union members and supporters marched into the Burgerville on NE Martin Luther King, Jr. Boulevard and Multnomah Street in support of Paul, a former worker at that store. According to the Burgerville Workers Union, Paul, who is a member of the union, "has been asked to come in and work long hours without legally required breaks, often closing late at night, and staying past the end of his shift to help his coworkers and managers." Two weeks ago, while working two hours after his shift was scheduled to end, Paul scalded himself with hot water, and in pain and frustration, accidentally damaged a sink. He was suspended for a week and then fired, without due process or an opportunity for restitution.
In a letter delivered to the store's manager, the union stated, "We are enraged by the treatment of Paul. We are regularly pushed past our limits by Burgerville, especially those of us working late night shifts. Managers prioritize speed of service and labor costs over worker safety, creating dangerous working conditions where accidents happen and people get hurt. Instead of being offered help and relief, workers are blamed, punished, and fired. This is unacceptable and is a clear demonstration of the need for an independent voice for Burgerville workers."
That need was also made clear a few months ago when Ivy Fleak, a worker at a Burgerville in Vancouver and a member of the union, called out a manager for sexual harassment. According to the union, Fleak was soon targeted by a different manager who attempted to fire her for standing up for her rights. The union and its supporters rallied behind Fleak, and consequently she got her job back and received back pay.
The victory was short lived. According to the union, management retaliated by making "unsubstantiated allegations and threats, putting her in a position where she felt she had no choice but to quit." In mid-July a person claiming to be a private investigator loudly accused Fleak of stealing thousands of dollars in gift cards, but neither he nor Burgerville management provided any evidence. Management gave her a choice: resign quietly or face criminal charges. No due process. No transparency. Fleak opted to leave her job.
Fellow worker and union member Chris described Paul as one of the hardest workers he knows, often on the unpredictable closing shift. "We work close together a lot," he said. "Plus those are really hard shifts; you know–there's no end time. So you work late into the night, scrubbing the grease off floors. You're working hard. You're working as fast as you can to get out of here as early as you can to get a decent night's sleep."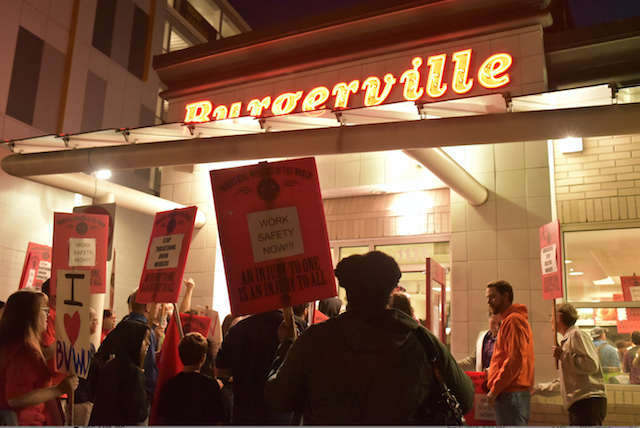 Scottie of Scottie's Pizza Parlor on SE Division, where workers earn at least $15 an hour, came out in support of Paul and the Burgerville Workers Union. He told people how he once worked a job where he found himself in a situation similar to Paul's, where management was pushing him to work faster and not safely. A box fell on him, and in anger, he punched the box and hurt his hand. But Scottie's situation was different from Paul's.
"At that job I was fortunate enough to have a union so my job was protected. I received disability pay, and I was able to go back to work once I was healthy enough to return. That's exactly what should be happening in this case, and that's why Burgerville needs a union."
Rob Sisk, President of Service Employees International Union (SEIU) Local 503, announced that  at SEIU's recent General Council, the statewide union passed a resolution to support all fights for a $15 an hour minimum wage that specifically cited the Burgerville Workers campaign.  This followed Local 503's Board of Directors officially endorsing the fight in May.
"All workers in this country have a right to living wages," he said, "and a right to a union to hold on to those wages and gain respect in the workplace."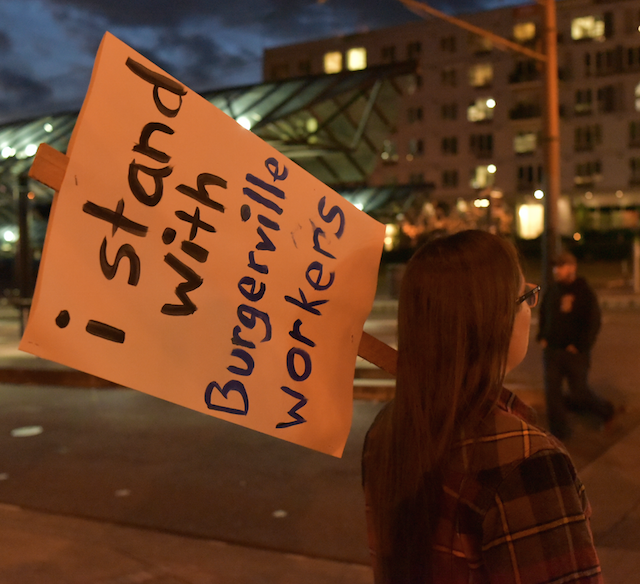 Rebecca Lewis, who is a stagehand, stated, "The kind of union busting we're seeing from Burgerville is disgusting." She then noted that quite a few stagehands worked at the nearby convention center, saying they "don't have to eat here."
Soon, the crowd split into two groups, and for about a half hour set up picket lines in front of both entrances to the store. Numerous cars honked their horns in support, and quite a few walking passersby expressed interest. One woman asked a supporter why there were picket lines. She was going to get a hamburger, but when told about the union and Paul's firing, said she would go elsewhere to satisfy her hunger. The advocate told her that instead she should get her hamburger and use the opportunity to tell the manager to rehire Paul, which she did.
Earlier, Paul–who is 19 years old and a culinary school student–filed an application for employment. He told the crowd, "I've worked here for 8 months, I work over 40 hours a week, and I'm a full time college student. I'm just trying to pay my rent. I don't think a sink should be worth more than my job," to which someone replied, "We've got your back, Paul!"
Whether Paul gets his job back remains to be seen. What cannot be doubted is that in the three months since its inception, the Burgerville Workers Union is making strides toward providing a counterweight to a previously unchecked management.
"Standing together as a union gives us workers the courage and strength to push back," said union member Luis Brennan. "It gives us power that we can use to fight for what we deserve."