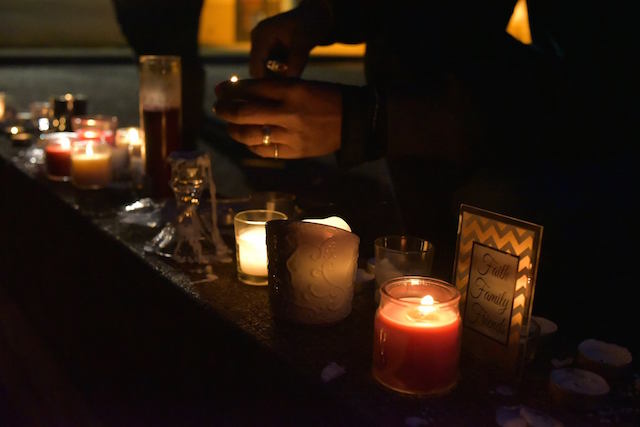 Story and photos by Pete Shaw
Over 100 people attended a Sunday night vigil for Quanice Hayes, the 17 year old Black man who was murdered by Portland Police officer Andrew Hearst. The vigil, which included people holding hands during a prayer led by Hayes's aunt, Patricia Ruffin, occurred three days after Hayes was murdered. It was an understandably emotional event, a kind of public wake that saw a wide array of people coming together to pay respect to Hayes, provide support for his family and friends, and once again demand that police be held accountable for their crimes.
The vigil was held in the parking lot of the Banfield Pet Hospital on NE 82nd Avenue, not far from Madison High School. In a walkway just below the parking lot, running along the side of what was once an office of the Department of Motor Vehicles, people set up candles, cards, and other paraphernalia of memory, mourning, healing, and hope, each to come in its due time, perhaps. The ad hoc shrine extended to the top of the wall separating walk and lot.
On the wall of the former DMV office were messages, some directed to Moose, Hayes's nickname. "R.I.P. Moose. I'm gonna miss you." "We love you baby boy." "Rest in paradise bro." "RIP cousin. I miss you and love you." "Gone but not forgotten. Forever in our hearts." Friends consoled family members and each other. There was an immense outpouring of grief and love.
Following Hayes's murder, Portland police spokesman Pete Simpson tried to justify Hayes's murder by stating Hayes had been suspected of robbing a person sitting in a car parked outside the Portland Value Inn on NE 82nd Avenue on Thursday morning. Later, Simpson said, police were responding to a report of someone breaking into a car in the Banfield Pet Hospital parking lot and saw Hayes, who fled. Encountering him soon thereafter on NE Hancock Street, Hearst shot and killed Hayes. Near his body was a fake gun. Notably, the police, while mentioning the fake gun, did not say that Hayes was pointing the gun at Hearst.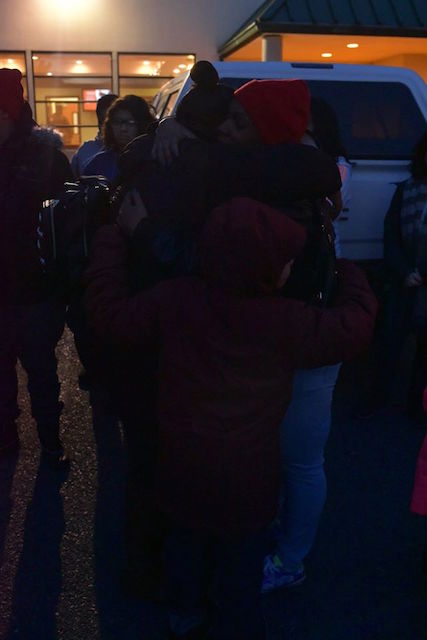 In so many ways, the case bears resemblance to police and vigilante shootings of Black people that occur in the United States every 28 hours. Closer to home, it is strikingly gruesome how similar Hayes's murder was to that of Keaton Otis, the young Black man murdered by Portland police on May 12, 2010.
In Otis's case, Officer Ryan Foote said he pulled over Otis because "He was wearing a hoodie…He kind of looks like he could be a gangster." Likewise, when Hayes was murdered, police were looking for a Black man wearing a hoodie and jeans. In both Otis's and Hayes's cases, to the police they looked like people who would be committing crimes. And as in the case of Trayvon Martin, the murdering police or vigilante (Zimmerman was not a police officer, but he deputized himself as part of a neighborhood watch program) used the stereotype of young Black men as the face of crime to justify their killings.
Hayes's murder occurred a day before Multnomah County Circuit Judge Thomas Ryan found Michael Strickland guilty of ten counts of unlawful use of a weapon, ten counts of menacing, and one count of second degree disorderly conduct. The charges against Strickland, who filmed various activist events and doctored the footage to fit his white supremacist agenda, stemmed from a Black Lives Matter rally and march last July when Strickland, claiming he felt his life was in danger, pulled his weapon and swept some people in the crowd with it. Photos clearly showed Strickland's life was not in danger, and after he was talked down and led away, he was arrested. Strickland is white, had a real gun, and was a clear threat to the safety of numerous people, potentially many more than just the ten at whom he pointed his weapon, since in his pockets he had over 120 bullets.
Strickland is still alive.
Portland has seen its share of vigils for young Black people murdered by its police. Along with Hayes and Otis, police have also killed Aaron Campbell, Kendra James, and Deontae Keller. A scathing 2012 Department of Justice report found that Portland police "engaged in an unconstitutional pattern or practice of excessive force against people with mental illness," and mentioned the "often tense relationship between PPB (Portland Police Bureau) and the African American Community." The report led the City and police to adopt new practices and convene community input meetings with community input that were supposed to lead to reform. These meetings came across as little more than a dog and pony show, and it is hard to see Hayes's murder as anything but another predictable failure.
When police opened fire with tear gas and rubber bullets on people protesting Donald Trump's inauguration on January 20, they did so with Wheeler's approval. Right off the bat, the new mayor appeared to haves given the police a checkered flag to use violence. Now, not surprisingly, Wheeler is asking Portland's Black community to remain calm and be patient until the investigation into Hayes's murder is complete. It is a familiar script wherein Wheeler goes on to ignore–and thus buttress–the glaring travesty of a police attempt to justify murder by focusing on the putative sins of the victim.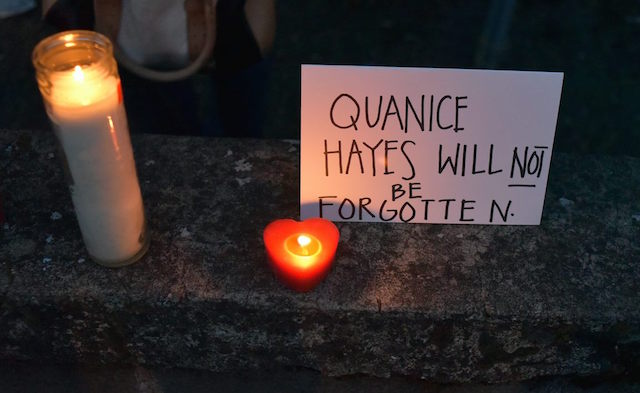 Even if the gun was real, even if Hayes robbed the man outside the hotel and even if he was breaking into a car, Hayes' actions do not in themselves constitute an excuse for killing him.
As so often, in the face of tragedy there is resilience. There is the stubborn refusal of memory as well as an equally firm demand for justice. Between the unsurprising executive order from Donald Trump granting greater powers to police, and Mayor Wheeler, perhaps with an eye on the governor's mansion burnishing his law and order credentials, that resilience and the expanding number of those bearing it while insisting that Black lives matter has become all the more necessary.
Don't Shoot Portland will be hosting a rally and march at 11 AM on Monday February 20, beginning at the Federal Building on 1220 SW Third Avenue.