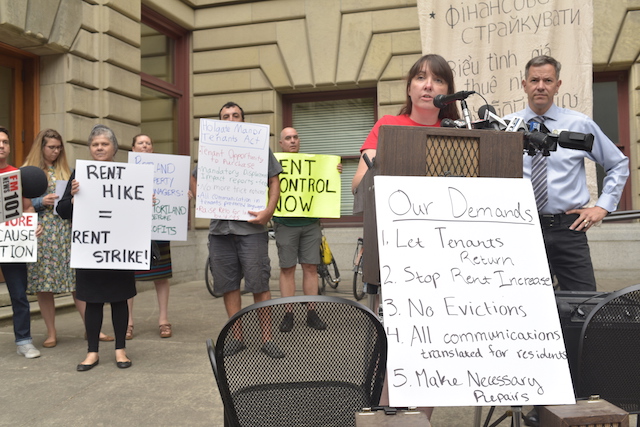 Story and photos by Pete Shaw
Tenants of Holgate Manor launched a rent strike on August 1 in an effort to preserve the affordable housing at the apartment complex located around the 3500 block of Southeast Mall Street.
For over 40 years, Holgate Manor has been a sanctuary for a wide-ranging mix of immigrants, refugees, and low-income Portlanders. Since the 1960s Holgate Manor was owned by the Newsom family, who valued the tenants at Holgate Manor not solely as a source of profit, but also as a community. On October 5, 2017, the Newsoms announced they were selling the complex to California landlord Erik Kleinbuk (note: this was an error. His name is Fred Kleinbub). The Newsoms promised Kleinbub's  "intention to keep things as they are at Holgate Manor."
However since Kleinbub bought the 82-unit complex in early January, he has engaged in what Holgate Manor tenants describe as an ongoing attempt to displace them through misleading letters, rent increases, and evictions.
At a press conference on Wednesday August 1 that formally announced the rent strike, Sara Brassfield, a Holgate Manor tenant and a representative of the HMTU, explained what led her and her fellow tenants to withhold their rent. On March 1, tenants were offered "a voluntary program with options for early move-out, as well as options to transfer to recently updated units." The updated units would come with a rent increase, with some "discounts (or incentives)." Depending upon when a tenant moved out, she would receive between between $400 and $1,000 as a "signing bonus" and $2,900 to $4,500 in relocation assistance depending upon the size of her home.
However, that relocation assistance amounts to about the same amount as required by Portland law. According to the HMTU, the relocation assistance also comes with strings attached. Tenants who accept Kleinbub's and Princeton Management's offer, said the HMTU, will find the money they receive "delivered on different terms and in exchange for signing away many legal rights."
"Some of my neighbors have lived in this apartment community for 35 years, and [the landlord] said they would have to reapply and be approved to move back home," said Brassfield. "How is this legal? It is certainly not humane. Where do they expect my 91 year old Russian neighbor to go, who is on fixed income? Where do they expect any of us to go in this city that is becoming impossible to live in for working class people?"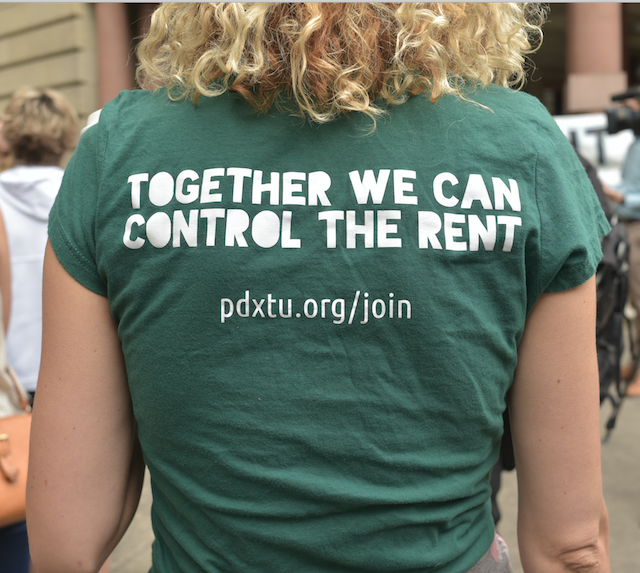 In response to Kleinbub's and Princeton Management Group's attempts to tear apart Holgate Manor's diverse community, the HMTU has demanded the City Council pass the Holgate Manor Tenants Act, which is intended to "prevent another mass displacement, such as what is being threatened at Holgate Manor, and such as happened in the Cully neighborhood with the Normandy Apartments, and the Titan Manor Apartments before that." The policies demanded in the proposal include increasing the relocation amounts for tenants of a multi-family building displaced after a sale, requiring that all no-cause and for-cause eviction notices and rent increase notices be recorded by the City, and amending Portland's relocation ordinance to eliminate the threat of notices that trick tenants out of their rights.
It would also require landlords to provide all notices and required forms in a tenant's preferred language. Among the many languages spoken by Holgate Manor tenants are Khmer, Russian, Spanish, Ukrainian, and Vietnamese. In a letter from HMTU to Kleinbub and Princeton Management March 30, 2018, the union writes, "Even when the notices are translated or explained, we are still confused by what our options are to stay in our homes."
Most importantly, the Holgate Manor Tenants Act demands the City enact a campaign launched by the community group Living Cully called the Tenant Opportunity to Purchase. The initiative would require owners to give tenants and the city ample notice of an intent to sell the property. Tenants would have the first chance to purchase the property, followed by the Portland Housing Bureau. If both choose not to buy the property, then it would be up for sale for anyone to purchase.
In 2016, Portlanders approved a $258 billion housing bond so the City could create more affordable housing. The HMTU believes the City should use some of this money to buy back their complex from Kleinbub and stop their imminent displacement. It has asked the Portland Housing Bureau to purchase Holgate Manor and convert it into permanently affordable housing.
The HMTU rent strike occurs at a time when Portland remains muddled in a housing crisis. Since the Portland City Council began searching for ways to alleviate it, the landlord lobby has constantly claimed that the problem is one of supply.
Yet on July 30, Oregonbusiness.com published a study revealing that there were approximately 16,000 to 17,000 vacant rental units in Portland. That number is only an estimate because it does not take into account new apartment construction over the past 1.5 years (the estimate was partially based on data from 2016) and does not include apartments that have been rented to a tenant who has yet to move in. Still, according to Oregonbusiness.com, "industry players" have only slight discrepancies in their approximations of the number of vacancies.
Margot Black of PTU noted that the news was met by the readership with a flurry of Twitter messages describing it as "fantastic news." But not for the at least 4,177 people whom Multnomah County believes on any given night are without housing. And not for the tenants of Holgate Manor.
"There is nothing fantastic about the city claiming that it can do nothing to help the Holgate Manor tenants and others like them, that it is out of their hands," said Black. "There is nothing fantastic about the fact that the mayor's Housing Bureau, charged with using the Housing Bond to purchase 'naturally affordable housing' didn't know about Holgate Manor until after it was sold."
The issue is not a lack of housing. However, one problem is believing there is a market solution to the problem of people not having housing.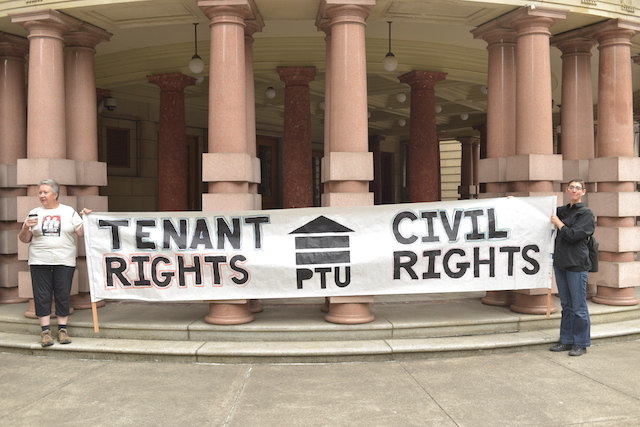 "How do we keep people from becoming homeless if their already unaffordable rent continues to climb?" asked Emily Golden-Fields, Co-Chair of the Portland branch of the Democratic Socialists of America. "Isn't it obvious that free market solutions are no solution at all, but in fact the problem we are staring at? This housing crisis continues to be an emergency, and requires emergency action be taken. We have well over 4,000 homeless people in the city, and a recent study found that there are 16 to 17,000 apartments that are vacant. This is the housing market at work, yet not working for the majority of renters who are being squeezed and forced out of the city, where the housing crisis follows them."
Another problem is a government that is not responsive to the needs of the people it supposedly serves. Black called on the City to do more.
"Portland, Mayor Wheeler, City Council: Stop making excuses. Stop dragging your heels. Stop kicking the can down the road. Do not pat yourself on the back for 16,000 empty units, punch yourself in the arm for not doing more to stop the violence at Holgate Manor. Portland Tenants United is calling on the city to treat this housing emergency like a real emergency. Pretend you're in an emergency room, where human lives are on the line. Because they are. Stop saying there's nothing to be done. Do more. And until you do, we demand that you offer unqualified support to tenants, like those at Holgate Manor who have taken the bold and courageous step to withhold their rent until their landlord starts treating them like a community, not a commodity."
To support the Holgate Manor Tenants Union, please donate to their strike fund at https://www.gofundme.com/holgate-manor-strike-fund and sign their Change.org petition. You can learn more by contacting [email protected] or texting "HOLGATE" to 444999.