…for lack of health care
Photos by K. Kendall
Doctors, nurses, and medical students rallied this morning to plant 558 crosses by the Salmon Fountain, representing the 558 people in Oregon who die each year for lack of health care.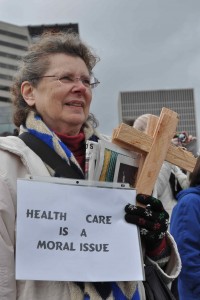 Organizers of the march for health care thank Occupy Portland for generating the energy to make this happen.
After the rally, Portlanders buried crosses by Salmon Fountain in memory of the 558 who died this year for lack of health care coverage.