This story is from the Occupied News Wire. It was originally published in the Occupied Wall Street Journal.
by Jennifer Sacks and Jed Brandt
Once again, police brought violence to a peaceful, joyous gathering, arresting demonstrators after they massed in Liberty Square on the six-month anniversary of the founding of Occupy Wall Street.
People began streaming into the park in the early afternoon, where they caught up with old friends, marking the official beginning to the American Spring. A winding march through Lower Manhattan followed, resulting in the arrest of about a dozen demonstrators. A General Assembly was convened at 7 p.m. before a crowd of 300, then 500 and growing. As the sun went down, hundreds of additional people marched to the park from the nearby Left Forum, including Michael Moore, tipping the crowd well over the 1,000-mark. At 11 p.m., a clique of French bagpipe players dropped by the park after participating in a St. Patrick's Day parade earlier in the day and began serenading the assembly.
This was apparently too much revelry for the NYPD: within 10 minutes, the bagpipers had been arrested. At this, the crowd grew understandably tense. Police had already been massing on Broadway in preparation for yet another raid – this one clearly illegal, as a court order allowed occupiers back into Liberty Square on November 15, 2011, albeit without tents.
A commander then announced that the park was closed. Demonstrators reminded officers of the November court order that allowed them to stay, but they were threatened with trespassing. The familiar onslaught began: cops flushed people from the park and illegally forced them from public sidewalks nearby.
The activist Cecily McMillan was one of the ejected demonstrators: after being handcuffed and pushed to the ground by cops, who then kicked her and cracked her ribs, she began having a seizure. Luke Rudkowski of We Are Change filmed the police as they surrounded her on the ground while she seized, refusing to remove her zip-tie handcuffs. Eventually two ambulances arrived, and she was taken to a hospital – where police refused her a phone call, according to a friend at her bedside.
By midnight, the park was cleared and the barricades were back up. Civil rights groups had filed a complaint with the city's buildings department in January, stating that the barricades were a violation of city zoning law because they restricted public access to the space, and Brookfield Properties, the park's owner, had them taken down. No matter: "trespassers" were arrested and placed on a commandeered city bus, something the MTA reportedly does not like:
Tim Pool
, the independent videographer, reported during his livestream that the transportation authority threatened to sue the city after buses were commandeered to house the hundreds arrested during the interrupted
October 1 Brooklyn Bridge march
.
A march then began in earnest, setting the stage for more police intimidation and violence. On Crosby Street, an OWS medic named Jose was detained by multiple officers, who smashed his semi-bald head into a fortified glass window, cracking it. (3:46) When a fellow demonstrator asked why such brutality was necessary, an officer replied, "No reason." Friends later said Jose was not the type to provoke police.
Stanley Rogouski, a photographer who has captured the Occupy Movement since its infancy, said the violence was not coming from young, relatively inexperienced cadets, but rather the NYPD's top brass:
"It was absolutely not the cadets who were stirring up the trouble. Thinking so couldn't be more wrong. It was the white shirts (senior officers almost all in their 40s) who were ratcheting up the tension again and again and again. The blueshirts and younger cops were standing around looking confused. This wasn't only a police riot, it was a riot of the top brass. I've never seen so many middle-aged white guys picking fights with college-age kids in my life."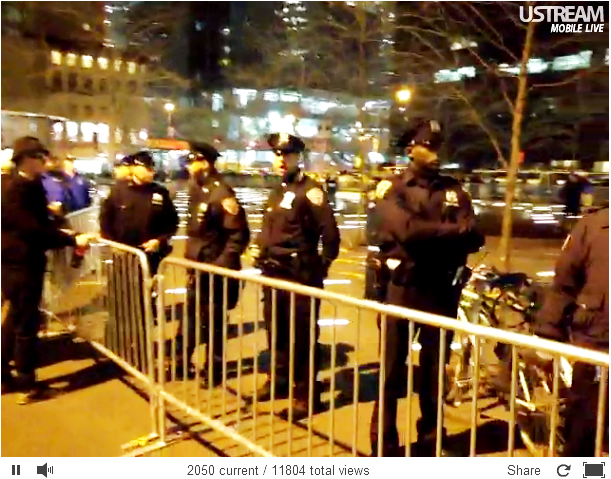 Rogouski pointed to the presence of Chief Joseph Esposito, the highest-ranking uniformed member of the NYPD. Edward Winski, the commanding officer of the 1st precinct who replaced the famous pepper-spraying cop Anthony Bologna, "was acting like a 12-year-old playground bully the entire day," Rogouski reported. Winski later followed Rogouski through Liberty Square after he photographed a man holding a funny sign who had been standing in front of NYPD brass, taunting the activist about his arrest last December.
"Yeah, you're laughing now, but you were crying when you got arrested," Winski shouted at Rogouski.
"This was about fortyish white guys, senior NYPD officers ratcheting up the tension in a very calibrated, very well thought out manner," Rogouski repeated for emphasis.
Meg Robertson has Storified last night's reports of police brutality.
Various outlets reported the night as it happened: Daily Kos, The New York Times, The Village Voice. But no news report was as sobering as the summation offered by Alexander Wickline, a veteran who'd participated in the six-month anniversary celebration before police turned it violent:
@WicklineAlex: I served in war to protect American liberty. Hearing a woman was nearly killed tonight by police for protesting makes my stomach turn.
A candlelight vigil has been called for 8 p.m. in Union Square Park in solidarity with those arrested and brutalized.
Here are some photos from the six-month anniversary celebration of Occupy Wall Street and its violent aftermath courtesy of the New York Police Department.