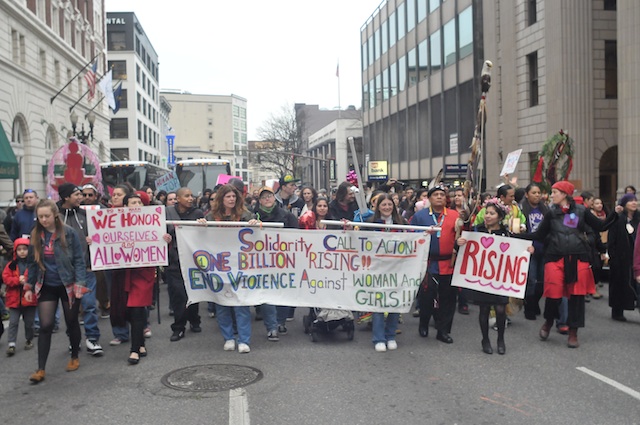 Story and photos by Pete Shaw
Only Alaska has more dismal state statistics regarding women and sexual violence: Fifty-five percent of Oregon women will be the victims of sexual or domestic violence and 27% will be raped. With numbers this mind-numbing, it would have been heartening to see thousands flooding the streets in protest. Still, the February 14 Portland action for One Billion Rising is a beginning.
In pinks ranging from big to hot, over 600 people demonstrated for an end to violence against women and girls. The Portland action was one of many One Billion Rising V-Day rallies and marches taking place in over 200 countries, each a profound statement in the face of a recent United Nations report that estimates one in three women worldwide is at risk of being beaten, raped, or murdered.
The event began in Director's Park with a group of Indigenous women performing a dance that eventually got the rest of the crowd moving. Many of the Indigenous people were affiliated with Idle No More, the movement originating among Aboriginal peoples in Canada in protest of Canadian government's further intrusion upon their sovereignty.
Here in the US, Congress again has failed to reauthorize the Violence Against Women Act (VAWA). One of VAWA's points of contention is a passage allowing Native Americans to prosecute non-Native Americans for crimes committed on reservations. (Sixty-seven percent of Native rape victims report that their assailants were non-Native, and Native American and Native Alaskan women rape statistics hover around 34%.)
After the dancing some women bravely stepped forward to tell stories of violence suffered at the hands of boyfriends, husbands and a generally abusive culture in which their voices are too often written off as "shrill" or "hysterical." Their stories stand in stark counterpoint to the myth so often implicitly peddled in the corporate media that female victims – either through provocative dress or behavior – are somehow "asking for it".
Every so often, if you are lucky, you find yourself immersed in a story that can startle you awake. The elements have been there all along – depressing statistics; the personal and horrifying stories of friends and strangers; bizarre narratives spun in prominent corners of our culture. Last year, a female legislator was banned from the Michigan state house for saying "vagina" and a recent firestorm accompanied rape remarks by Missouri Representative and 2012 Senate candidate Todd Akin. (Akin went so far as to repeat the old saw that a woman who is raped will shutdown to prevent pregnancy.) Not long after, Indiana Senate candidate Richard Mourdock suggested that a woman who conceives a child out of rape is simply fulfilling god's plan.  Abroad, a shocking gang rape in India last month appears to have galvanized an entire nation.
Of course, women have been denied a right to privacy and control over their bodies for millennia, most recently in the spate of proposed state legislation surrounding the restriction of abortion and the mandating of vaginal probes and other bodily intrusions, the equivalence of which one cannot imagine a male legislator would willingly endure.
At the end of the rally, an unpermitted march wound through downtown Portland and ended in Pioneer Square with more dancing – some bodies moving to the beats emanating from a portable sound system, others swaying to their own internal grooves.
The organizers of One Billion Rising called for dancing to be the heart of the day's action. The freely gyrating arms, legs and torsos of the women on the streets of Portland – a small tendril of the millions of women dancing across the globe – was a demonstration of choice. It was a choice being made to claim what already should be the inherent right of all humans: a life free of violence.
While the pieces may have been there all along, sometimes it takes a collective action to zing together the elements of understanding with atomic clarity. We can hope that February 14 marks the beginning of essential change. We can hope, or we can rise.
Get involved: onebillionrising.org.