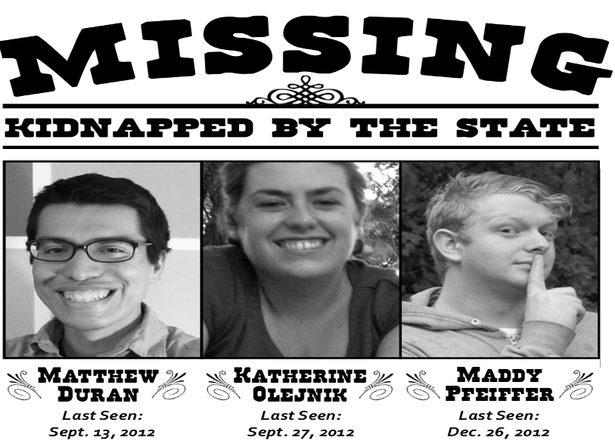 By Pete Shaw
Matt Duran and Katherine "Kteeo" Olejnik, the two grand jury resisters who were imprisoned in September 2012 after refusing to testify about the anarchist movement, were released from the Sea-Tac Federal Detention Center on February 28. Maddy Pfeiffer, who also was found in civil contempt, remains in prison.
United States District Court Judge Richard Jones ordered the release of Duran and Olejnik, because, while the putative purpose of imprisoning the pair was to coerce their testimony, it was clear to Jones from their statements that they were not going to testify and thus their confinement had become "purely punitive." Jones wrote that imprisonment for the sake of punishment "falls within the realm of criminal law" and as "the Government has not charged either Ms. Olejnik or Mr. Duran with criminal contempt," he found imprisonment had violated their right to due process.
During their sentence, Duran and Olejnik spent over two months in solitary confinement. According to Jones's order, Duran and Olejnik's "physical health has deteriorated sharply and their mental health has also suffered from the effects of solitary confinement. Their confinement has cost them; they have suffered the loss of jobs, income, and important personal relationships…For these witnesses, however, their resolve appears to increase as their confinement continues." Judge Jones noted that the government "has not provided any evidence that continued confinement is likely to coerce testimony" and added that Duran and Olejnik's resolve stands in opposition to the government's "generalized notion that lengthier confinement is likely to coerce testimony."
In the Summer of 2012, the FBI began raiding houses of anarchists suspected to have been involved in acts of vandalism in Seattle on May Day, 2012. While a spokesperson for the FBI said the raids were part of an "ongoing violent crime" investigation, the warrants served by the FBI specifically mentioned items such as anarchist literature as evidence to be seized. The FBI also took black clothing, flags, and computers. The raids and seizures, as well as the resulting grand jury, have seemed more intent on punishing activists and propagating fear in activist communities than engaging in legitimate investigative needs.
The Committee Against Political Repression (CAPR) has helped organize support for Duran, Oljenik, and Pfeiffer, and for the past five months supporters across the country have continually pressured Judge Jones and District Attorney Jenny Durkan to release them. "We're glad the courts have finally seen fit to stop torturing Matt and Kteeo in an effort to make them talk," said Chris of CAPR. "But of course they should never have been there to begin with, and Maddy Pfeiffer remains in prison for their refusal to cooperate with this political witch-hunt."
"They made an enormous sacrifice in resisting the grand jury," said Jenn Kaplan, Olejnik's lawyer, commenting on the "incredible resilience" of the pair. "They have both been separated from their communities for five months, lost their home, and for over two months, suffered the worst conditions deemed legal in the prison system: solitary confinement. The fear and isolation that being in the hole engenders are difficult to articulate to someone who has never experienced them. They are kept in a cramped cell and allowed a bare minimum of contact with other people–none with other inmates and little with staff–one fifteen-minute phone call a month, and difficulty accessing writing implements for letters. Aside from legal visits, Kteeo's only in-person contact with the outside world was a single visit from her parents. She had restricted access to reading materials, little space to exercise, no television, and generally little mental stimulation. Maintaining the fortitude of your commitments under such conditions is an act of will, and they had to access reserves of strength they probably didn't know they had. They deserve the utmost respect from their community for submitting to such treachery in furtherance of solidarity."
For more information on supporting Maddy Pfeiffer as well as finding out more about grand jury resistance, see CAPR's website at http://nopoliticalrepression.wordpress.com/.