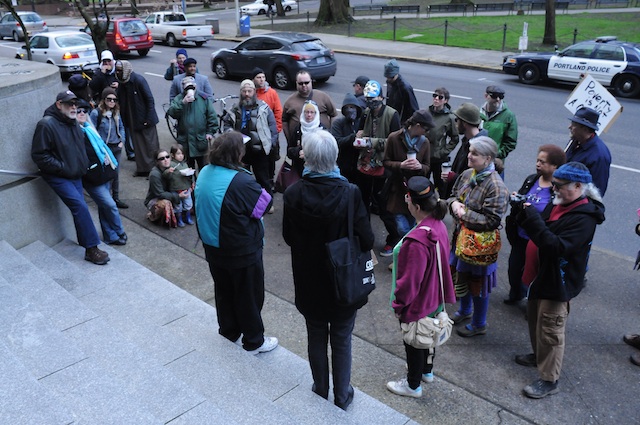 Story and photos by Pete Shaw
Ibrahim Mubarak, co-founder of Right 2 Dream Too (R2DToo), the rest area serving people without housing, has had his court appearance rescheduled for April 4 at 9 AM. Mubarak was arrested on February 28 for trespassing and interfering with a police officer as he spoke with people without housing sleeping under the Burnside Bridge. Those people were sleeping on the sidewalk, but Mubarak was walking in the abutting parking lot, which is private property. He was arrested when he refused to obey a police order to walk on the sidewalk, saying he would not step on and over the people sleeping there.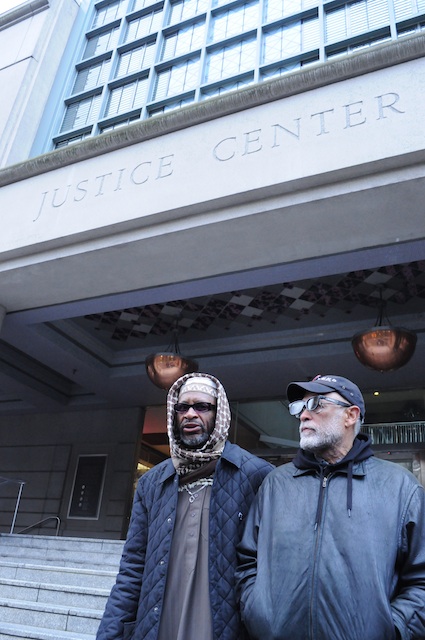 When Mubarak arrived at the Justice Center on Monday March 10, he was greeted by a crowd of 20 people standing in solidarity with him as well as all people without housing. Most of the crowd wore sunglasses, as Mubarak often does.
Speaking to the rally, Mubarak said he was arrested while "trying to make people as comfortable as possible while sleeping on wet concrete" and said he was going to plead not guilty because "the only thing I'm guilty of is showing compassion."
That's less than can be said for Mayor Charlie Hales who oversees a police force that has been conducting sweeps of encampments of people without housing. Amber Dunks, Board Secretary of R2DToo, noted that the day after Mubarak was arrested, a person without housing who has stayed at R2DToo was arrested for "not appreciating the police treating people like garbage". When she was roused from her sleep in the morning, she told the officer he was not treating people with respect and was charged with interfering with a police officer. Like many people who are victims of police sweeps, her property was confiscated. Among that property was medication she needs to prevent seizures. Faced with the choice of attending her court date or getting her medications on the following Monday, she chose the latter, and now may have a warrant out for her arrest.
Dik Weed, who stays at R2DToo, was with Mubarak when he was arrested. He noted that he and four others were standing within 10 feet of Mubarak, in the parking lot, but only Mubarak was arrested. Weed said he found it interesting that among the six of them, Mubarak was the only non-white.
While Mubarak has recently become a focal point in the City's crackdown on people without housing, he and the people rallying on Monday morning understood where their focus lay. "They tried to silence us by arresting us," said Dunks. "That didn't work. We need to show solidarity with Ibrahim. But this is bigger than Ibrahim, and we need to stand in solidarity with all people who need housing."