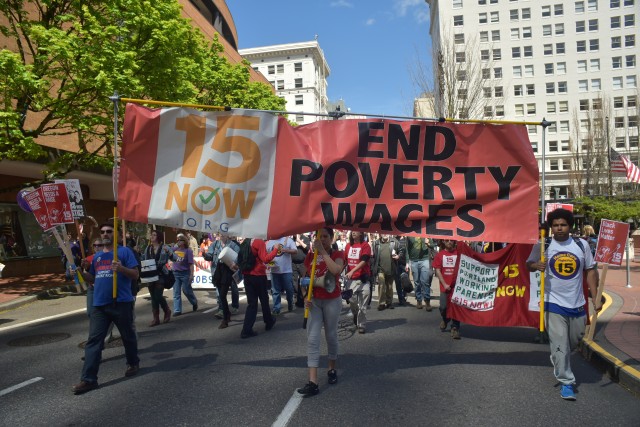 Story and photos by Pete Shaw
Over 300 Portland workers rallied on April 15  in solidarity with workers from 230 cities who took to the streets in a day of awareness, action, and strikes in support of increasing the minimum wage to $15 and fighting for the right to form a union. The event followed on the heels of Monday's packed minimum wage hearing at the Oregon State House where 15 Now Oregon announced that it would be filing a ballot measure for a statewide $15 per hour minimum wage by 2019.  That ballot measure was filed with the State Elections Division on Friday April 17.
"This movement is growing, and it's spreading, and before we know it, we're gonna have 15 in 50, all across the country," Justin Norton-Kertson told the crowd that had assembled in Bryant Park.
The combination of both raising the minimum wage and organizing a union is crucial to making sure workers' gains–both in terms of wages and benefits, as well as safety and dignity on the job–do not stop after the wage floor is raised. Tim Combs, a part-time hazardous materials worker at Metro, talked about how permanent workers were getting twice as much pay for doing the same work as he and his fellow part-timers. He credited the American Federation of State, County, and Municipal Employees (AFSCME) and pressure from the community for helping him get a 30% raise. "We get what we deserve," Combs said. "Workers in Oregon deserve a fair shot. 15 now, more later!"
Leaving the park, the crowd marched on the Pittock Building where management has switched to a low paying, non-union janitorial company. Storming through the doors, people flooded the lobby, chanting, "What's outrageous? Poverty wages!" Accompanied by at least three people beating on 5 gallon plastic buckets with drumsticks, the din reverberated throughout the hall.
Mark Medina, a local janitor and member of SEIU Local 49 said, "We're standing together, in Portland and across the country, as part of our 'Raise America' campaign for a fair minimum wage. Workers in our community can't wait. The landlord doesn't wait and the electric company doesn't wait, so neither can we. That's why janitors are coming together and joining other workers across the country to fight for $15 and a union."
Soon security turned off the lights–someone yelled that they were "turning out the lights on justice"–and not long after, the group exited the building. It then wound its way through downtown to City Hall, sometimes taking to the street along the way, bringing out security officers to guard the doors at various buildings. At City Hall Norton-Kertson reminded people that the City Council's February resolution had left out about 1,800 Parks and Recreation workers who work for the City. One of those employees, Sarah Kowaleski, spoke about her experience receiving a poverty wage as a nominal part-time worker who does the same work as full-time employees.
Kowaleski said her job includes booking "our community's important life events–weddings, birthdays, anniversaries." She described herself as "a seasonal employee who works year round without union protections, generous benefits, or a fair wage–as many of our full-time employees enjoy."
"I am a City employee and a public servant," said Kowaleski. "I'm not interested in compromising for 11, 12, or 13 because I'm making 13 and living in poverty. I'm prepared to fight for 15."
She added, "It's not just major corporations paying poverty wages, but City bureaus. Instead of paying a fair wage to employees, the City is externalizing the cost of low wages to the state and federal governments. Indeed, I am paid by the City, but then must turn around and depend on the Oregon Health Plan from the state and food stamps from the federal government."
To Kowaleski, not only is the fight for an increased minimum wage important for low wage workers, but for all people. "It is not only irrational policy, but imprudent use of the public's money. We all have a stake in how our public's money is spent, and as a public servant I can't live with that. Do you want your tax dollars to subsidize poverty wages, or do you you want them paying for a living wage?"
The crowd then entered City Hall, marched around the rotunda, and then just like at the Pittock Building, made a quick exit.
Then it was on to the cafeteria at Portland State University (PSU) where low-wage workers, many of them students, have an impossible task of making ends meet. The cafeteria is run by Aramark. Nicole Stroup, who cooks in the cafeteria and is also president of AFSCME Local 1336 which organizes the service employees at PSU, told those in the dining hall, "Portland State University Aramark workers are joining the $15 minimum wage fight. Workers are struggling to make ends meet even with two or three jobs to pay for tuition, books, parking, rent, and daycare. By raising the minimum wage, hardworking families have a fair shot at getting ahead. We urge PSU and Aramark to do the right thing."
Alyssa Pagan of the PSU Student Union linked the struggle to raise the minimum wage to the difficulties students face after graduating, burdened by debt due to loans taken out to complete their education. She noted how while wages for student employees are low, tuition is increasing, forcing many students to limit their options at the expense of their ideals upon graduation as they face the pressure of paying off their student loans.
Pagan urged people to look around and recognize the power they have when they work together, recognizing that the fight is not solely about raising the minimum wage, but fighting a capitalist system that values profits over people. "When we feel powerless, we are slaves to the system," she spoke from atop a chair. "So we have to fight it. This is not a Portland problem. This is a capitalist problem."
Sonya Friedman, an anthropology major who is from Russia, talked about her struggles. Because she is not a United States citizen, Friedman cannot work off-campus and thus must work a minimum wage job at PSU. "I can't pay my rent and have to ask my mother for money," she said.
Friedman also talked about the inverted priorities of the university, resulting in increased tuition that went hand in hand with outrageous administrative salaries. "They say we have to balance the budget. What the fuck does that mean? (University) President (Wim) Wiewel makes $620,000 a year."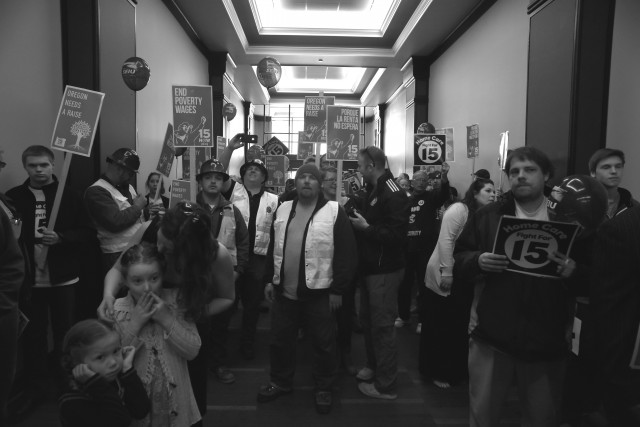 After exiting the cafeteria, the crowd marched to PSU's daycare center. Up to that point, the crowd had been loud and boisterous. It's chants had echoed in buildings, and its drums provided a steady backbeat as it paraded through the streets. But about two blocks from the center, the march went quiet. After all, children may have been taking naps. After standing silently for a few minutes, people crossed the street to an open field where the rally soon wound to a close.
Christine Palmer, an associate teacher at the Helen Gordon Child Development Center at PSU, helped tie together much of what the 15 Now movement is about–not limited to individual gains, but rather the benefit of many. "For the past eighteen years I provided holistic care and education to children in the most critical years of their development. I earned a Montessori teaching certificate from the Montessori Institute of America, as well as a Child and Family Studies BA from Portland State University. After working hard for two decades teaching and advocating as an early childhood educator, I earn $13.82 an hour. I am a professional in a vital field, unfortunately early childhood educators are some of the lowest paid, albeit hard working and talented individuals out there. A living wage for early childhood educators is not radical, it is sensible. Paying early educators a living wage does not only improve life for young children it would ensure that a historically undervalued workforce made up of mostly women would have a chance to support their own families without being forced to be dependent upon spouses or public services."
Friday's ballot measure filing was a result of the lack of progress being made in the state legislature.  Two bills in the legislature for raising the minimum wage to $15 per hour–House Bill 2009 and Senate Bill 610–have attracted massive grassroots support and media attention over the last few months, but political leaders such as President of the Senate, Democrat Peter Courtney have indicated that the legislature will not raise the minimum wage in this session.
"Working people are becoming increasingly impatient with legislators' inability to act," said 15 Now Oregon member and chief petitioner Jamie Partridge. "If the legislature won't do the right thing, then we'll take $15 to a vote of the people."
This most recent campaign for a living wage began with fast food workers in New York City going out on strike in November 2012, igniting a movement that quickly spread across the country. A year ago, 15 Now PDX presented its demands during an event at City Hall marking Equal Pay Day, demands that were largely ignored. By December, the intense organizing paid its first major dividend with Multnomah County raising the minimum wage for all its employees to $15 an hour. Then in February of this year the Portland City Council unanimously approved a resolution that set the minimum wage for over 100 janitors, security guards, parking attendants, concessions workers, and some others who work for companies that contract with the City.
While that is an inadequate number of workers, such a victory in so short a time showed the power of organizing and solidarity, of people demanding their elected leaders understand that they work for them. Wednesday's gathering was not so much a show of force as a display of presence–a note to those opposed to raising the minimum wage. Bringing together 300 people at lunchtime on a Wednesday is no small feat and reflective of the work that has gone into the 15 Now campaign in Portland. The rally also put businesses and the City Council on notice that, if necessary, far greater numbers could be called upon to take more militant and disruptive actions.
Join the fight to raise Oregon's minimum wage to $15 per hour.  For more information visit: www.15noworegon.org and www.15nowpdx.org