Story and photos by Pete Shaw
Building janitors, City workers, and supporters held two coordinated rallies in downtown Portland on June 17 demanding a raise in the minimum wage to $15 an hour and greater respect for workers' rights to unionize. The rallies marked the most recent of many local actions and were also part of numerous nationwide actions that took place as part of the janitors' Raise America campaign.
The initial demonstration at City Hall drew over 100 people from a wide swath of community groups and labor unions such as 15 Now PDX, Jobs with Justice, the Service Employees International Union, the Laborers Union, the Ironworkers, the Industrial Workers of the World, Climate Jobs PDX, and Healthcare for All Oregon. "We want 15 bucks for everybody in this city," said Chris Ferlazzo of Jobs with Justice, "whether you work at Parks and Recreation, City Hall, New Seasons, or Wal-Mart."
On February 18, the council approved a $15 an hour minimum wage for City workers, but that wage increase only applied to about 100 workers. Despite the fact that they may do the same kind of work as full time employees, many of Portland's park and community center workers continue to make less than $15 an hour merely because of their part-time status.
During the February 18 council meeting numerous City employees talked about their difficulties in making ends meet on their current wages, and while the council resolution was extremely limited in its scope–it left out over 1,800 part-time workers–it was a huge victory for the 15 Now campaign which has garnered the support of various labor and labor affiliated groups, as well as from citizens who have seen the gains from the "economic recovery" go largely into the hands of the already wealthy.
"Do the workers in this rapidly gentrifying city deserve 15?" asked Laurie King of Jobs with Justice and the Portland Campaign For 15. Her question was answered with a resounding yes.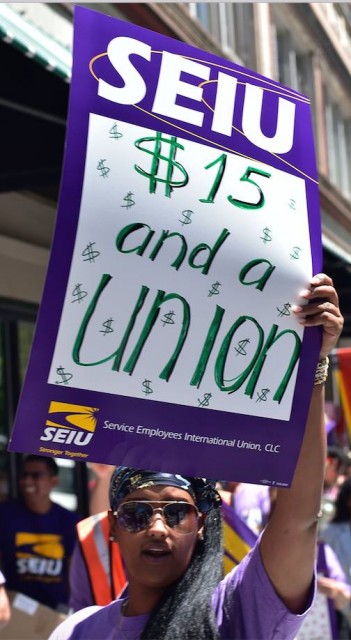 King, as well as Nick Caleb–who is running for Steve Novick's city council seat–tied the minimum wage to other issues affecting Portland's working class. King noted the importance of a "unified class struggle for all workers" and said that the Portland Campaign For 15 was also focusing on full health care and fair scheduling for all workers, as well as a "21st century jobs program" that would create "clean jobs" rather than those based on a petroleum economy.
Caleb told the crowd that something was clearly wrong when wages are stagnant, but rents are rising while "big developers and big corporations in this city are not struggling." Caleb, a law professor at Concordia University who works two part time jobs, stated that a living wage in Portland would be $16 an hour, and that between low wages and skyrocketing housing costs, Portland was trading its character for profits.
"We're building Portlandia," said Caleb in reference to the popular television show, "while the real context and fiber of the city goes somewhere else. There's money to be found when developers need money, but not working people."
Like King, Caleb sees the minimum wage issue as part of many other issues that need to be addressed in order for a city to work for all of its people, not just the business community. "Fifteen dollars is just scratching the surface," he said. "This is just the beginning of a workers' movement."
Support for the campaign to raise the minimum wage to $15 an hour in Portland  has continued to gather steam since its introduction 16 months ago. The power of the movement can also be seen at the state level. When Democrats–who hold majorities in both houses of the state legislature–balked at taking up the increase, 15 Now Oregon and its supporters announced in April they would file a ballot initiative instead of waiting for the putative party of working people to get up to speed on the issue. Under continuing pressure, House Speaker Tina Kotek recently proposed a $13 an hour minimum wage which is being presented as a compromise. (When Caleb mentioned Kotek's proposal, the crowd loudly chanted, "15 Now!")
While that may be a political compromise, it bears no relationship to reality. According to a 2014 report by the National Low Income Housing Coalition, a single mother earning the minimum wage in Portland would have to work 78 hours a week in order to afford a two bedroom apartment to adequately house herself and her children. She would need to earn as much as $17.73 an hour in a normal 40-hour work week in order pay for the same apartment. If the minimum wage had kept up with inflation, it would be about $22 an hour today. Since Oregon's minimum wage is $9.25 an hour, it turns out that a $15 minimum wage would actually amount to a compromise and a conservative one at that.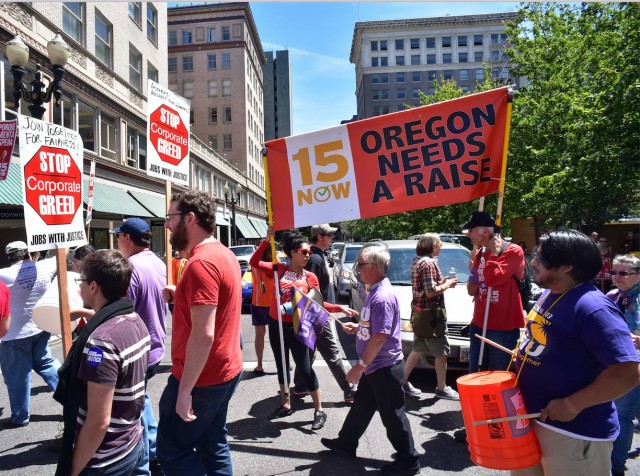 After the rally at City Hall, people marched to O'Bryant Square to meet up with the janitors who are part of the Raise America campaign that aims for better working conditions and higher pay. At an April rally that kicked off the Portland campaign, over 300 people briefly occupied the Pittock Building whose management has switched to a low wage, non-union janitorial company. This time, ralliers bypassed that building and began marching in the crosswalks at the intersection of SW 10th and Washington, banging on various forms of percussion, waving signs and chanting slogans before returning to O'Bryant Square.
As Kotek's plan shows, political leaders are now trying to catch up to the momentum of the 15 now movement, which has caught fire in a world of economic inequity, Familiar as they are with doing the bidding of the 1% while paying lip service to the struggling, our politicians are now faced with well organized resistance-a resistance that could result in their being turned out of office should they ignore their constituents. However tepid Kotek's proposal may be, it demonstrates the power of effective organizing.
Greater success–and more lasting victories–will be the product of further organizing that gives politicians no place to hide. "We need to continue to build a movement," said Caleb. "We need to be everywhere all the time. We need to be loud."
Want to get involved?  Go to www.15nowpdx.org and www.facebook.com/15NowOregon.