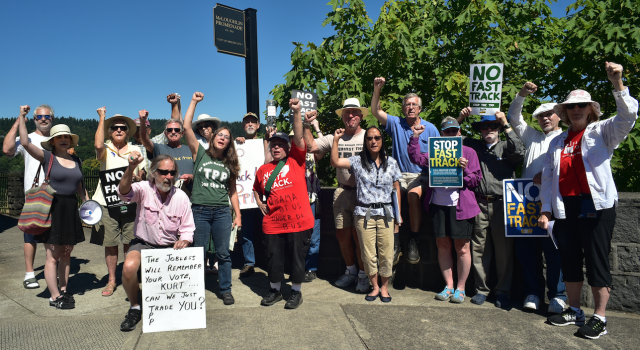 Story and photos by Pete Shaw
While Congress has given President Obama Fast Track authority for negotiating trade laws, the fight against the Trans Pacific Partnership (TPP) continues with a tighter focus. Prior to Fast Track's approval, opponents were concentrating on both it and the TPP, understanding that Fast Track was the linchpin since it greases the skids for trade arrangements by limiting congressional debate and not allowing amendments. That is, Fast Track limits the amount of input the public can have in crafting trade rules that value profits over people; however Fast Track in and of itself does not guarantee that the TPP (or any other so-called free trade agreement) will pass.
Continuing with the same vigor brought to bear in fighting Fast Track, 20 people gathered outside Representative Kurt Schrader's Oregon City office on June 30 to demand he oppose the TPP. The demonstrators bore a jar full of screws.
"How many of you have gone to the fair and seen the game where you guess how many marbles are in the jar?" asked Elizabeth Swager of the Oregon Fair Trade Campaign (ORFTC). "Well, we're gonna play that game today. But instead of marbles, we have screws to represent the number of people Congressman Schrader screwed over by voting to fast track the secret TPP."
If approved, the TPP would be composed of 12 countries that make up over 40% of the global economy. As the sections of the TPP leaked to Wikileaks have shown, the TPP is similar to NAFTA, which Public Citizen's Lori Wallach said has resulted in a net loss of one million job, lower wages, greater inequality, and environmental degradation and destruction.
Two years ago Schrader signed a letter to President Obama saying he would oppose any trade agreement that did not contain provisions against currency manipulation, warning that if those provisions were not included in Fast Track or the TPP, local jobs would be at risk. That made sense since in 2013 Japan's currency manipulation resulted in 1,400 people in Schrader's district losing their jobs. Overall 9,400 jobs were lost in Oregon and nearly 1 million nationwide.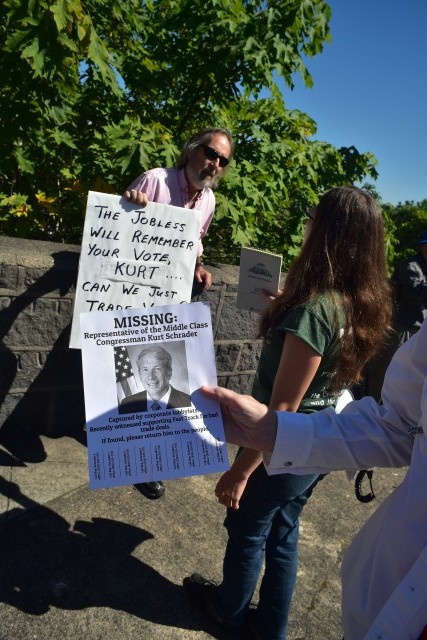 A recent report from the Economic Policy Institute (EPI) found that "ending currency manipulation could significantly reduce US trade deficits and create millions of US jobs, with job gains in every state and most or all US congressional districts." EPI estimates that after 3 years of implementing rules against currency manipulation, between 2.3 and 5.8 million jobs would created. In Oregon, that would mean anywhere between 31,300 and 78,600 jobs, and the people represented by Schraeder would see a gain of 5,900 the 13,900 jobs.
Yet, according to the EPI report, US Trade Representative Michael Froman "has testified that currency manipulation has not been discussed in the TPP negotiations." Knowing this, Representative Schrader still voted to give President Obama Fast Track authority in negotiating and passing the TPP.
"Just last week," said Swager, "the Senate passed the awful Fast Track bill that would rush the massive TPP through Congress without currency safeguards. And unbelievably, Representative Schrader wholeheartedly supported it with a complete disregard for the many constituents he would be screwing over. He said he would not support trade policy that does not address currency manipulation. Somebody forgot what he stood for. He knew currency manipulation would mean job loss. Shame on him for turning his back on Oregon's working families to fast track the corporate TPP."
Demonstrators also bore witness to the number of people who would get screwed by other aspects of the TPP. One noted that 300 million people worldwide would lose their jobs and 800 million people would be denied access to affordable medications. Another said that by handing over its constitutional power and responsibility to oversee trade, Congress was screwing democracy.
The crowd then entered Representative Schrader's office and presented one of his staff with the jar of screws, with many of them expressing their opposition to the TPP. Cliff Goldman of Health Care For All Oregon, after explaining how the TPP would hurt working people in Schrader's district, as well as throughout Oregon and the US, asked the staff member, "Why do we have his name in the Democrats of Multnomah County's window?"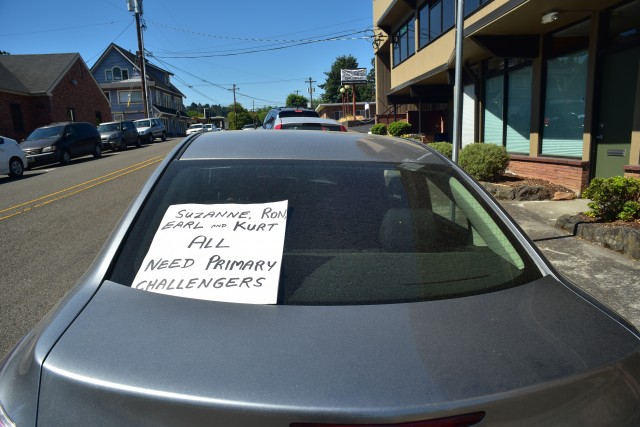 After the demonstration, people began posting fliers and talking to people about the TPP. In all, it was a strong reminder of the work it will take to defeat the TPP. That work, despite not defeating Fast Track, has made incredible strides in fighting it which bode well for combatting the TPP. Despite the enormous amount of time and resources spent by corporations, Fast Track–which was also supported by Oregon House Democrats Earl Blumenauer and Suzanne Bonamici (as well as Democratic Senator Ron Wyden)–only passed in the House of Representatives by one vote.
The ORFTC has been organizing against the TPP for over 3 years. Its work–along with that of the various labor, environmental, and immigrant justice groups that have joined together in solidarity to fight the TPP–was instrumental in holding off Fast Track for 18 months. Those 18 months bought time for people both in the US and in the other Pacific Rim countries whose governments are part of the TPP negotiations time to organize. It also brought any vote on the TPP closer to the 2016 elections. Considering how unpopular the TPP is–polls showed that people opposed giving President Obama fast track authority by a 2-1 margin–politicians may not be too keen on heading into a contest being tagged as a supporter of another environmentally devastating, job-killing trade agreement.
Want to get involved?  Visit the Oregon Fair Trade Campaign's website at: http://www.citizenstrade.org/ctc/oregon/ and their Facebook page at: https://www.facebook.com/oregonfairtrade