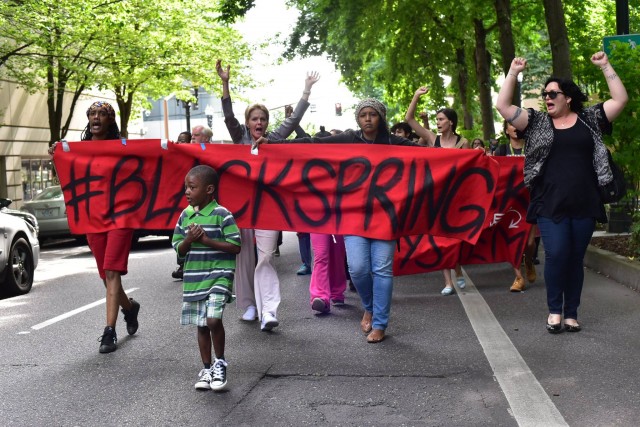 Story and photos by Pete Shaw
"They think we're stupid and we're just going to accept community court and stop struggling."
Don't Shoot Portland organizer Teressa Raiford uttered these words a few minutes after pleading not guilty to two misdemeanor charges stemming from her August 9 arrest after a rally marking one year since Michael Brown's murder by Ferguson, Missouri police officer Darren Wilson. Diane M. Chavez, who was filming the event, was also arrested. She too pleaded not guilty.
Their appearance before Judge Steven Evans on August 11 was scheduled for 9:30. Their names were called and their pleas entered, promptly. By 9:40, the 25 people who had come to support Chavez and Raiford were in the second floor hallway of the Justice Center, chanting and making plans for ways to further aid them.
Near the steps of the Justice Center, some supporters emerged with banners, and by 10 am most of those 25 advocates in the Justice Center–along with Raiford and Chavez–were marching down the street, again demanding justice for the victims of police violence, particularly the Black people who are being murdered by police and police-types at the rate of one every 28 hours.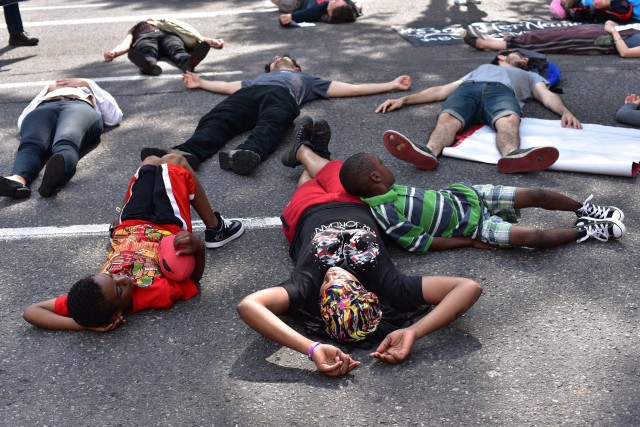 (The rally also coincided with the 50th anniversary of the beginning of the Watts Uprising, a 5-day rebellion ignited by Black people fed up with the systemic racial injustices they were forced to to endure.)
At the head of the march was Glenn Waco, the young Black man arrested in May at Last Thursday on Alberta Street after helping a man who was shot. The marchers circled the block around the Justice Center and then made their way up Madison Street, taking one lane as they went. After turning onto 4th Avenue, they stopped in front of City Hall, chanting, "What was his name? Michael Brown! What do we do? Shut shit down!"
Raiford then called for four and a half minutes of silence in memory of the four and a half hours Brown's dead body had been left lying in the street. Many people laid down, simulating corpses. People unloading equipment from a truck in front of City Hall paused to take in the scene, perhaps perplexed, but certainly intrigued.
By the end of the short vigil, two police cars had blocked off 4th at Jefferson. One officer warned protesters that they were being filmed. Following the announcement, many at the rally amusedly wondered out loud how much footage the police already had of them..
But Raiford–wearing a shirt reading "Go Like Hell"–and her fellow protestors were not to be intimidated. The group conferred and decided that a more appropriate memory of Michael Brown would be to continue occupying the street until four and a half hours had passed.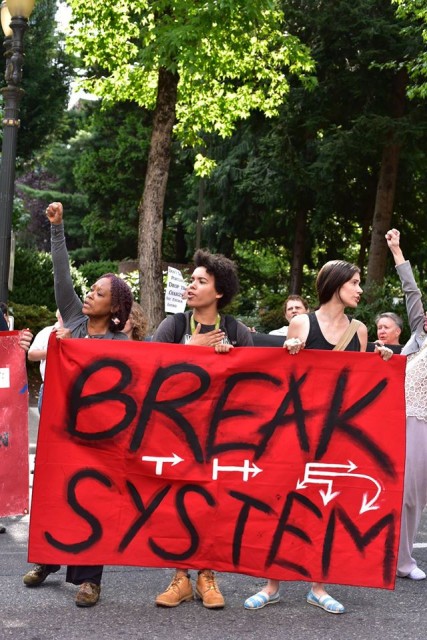 It soon became clear that the City wanted no part in creating a scene. Dana Haynes, spokesman for Mayor Charlie Hales, who was out of town, watched the die-in from the sidewalk in front of City Hall and remained for the entire rally, reportedly saying later that he supported it and stayed out of respect, which is certainly plausible. He even intervened to help one woman who seemed insistent that she be able to break through the line of protesters and drive down 4th Avenue. After a few minutes standoff, Haynes helped convince the woman to back up and even guided her back on to Jefferson.
At the same time, Haynes' job is to manage perception. While there currently is a dearth of candidates readying to challenge Hales in next year's election, he is vulnerable. Haynes surely has his ear to the ground, processing the many rumblings of disaffection with City Hall, as seen with Hales' acquiescence to Shell Oil's insistence to drill for oil in the Arctic despite Portland claiming to be a leader in the fight against climate change.
As it relates to the Black Lives Matter and Don't Shoot Portland movements, Hales is in a politically tight spot. On the one hand, the Department of Justice found what many people already knew: the Portland police have a habit of using excessive violence. With the focus the Black Lives Matter movement has brought upon this excessive violence these are not good times for city leaders to be seen as having no control over their police forces.
On the other hand, no mayor–especially a man like Hales who appears to regularly bow to the will of the Portland Business Alliance–wants to be seen as allowing disorder. And for those whose lives are guided by a commercial compass, rather than an ethical one, it is unacceptable to allow people to take over streets.
However one calculates the equation, it was quite clear on Tuesday that the police were not going to get involved. At 10:50 they brought out and placed cones to block off 4th Avenue at Jefferson, and then at 11:30 they extended the closure to Columbia. Protesters then turned their banners 90 degrees to block traffic coming up Jefferson, forcing the police to shut Jefferson to traffic at 3rd at 11:40.
Not long thereafter, the police opened up 4th. Once again the banners pivoted, and this time protesters made sure no motor vehicles would get through on either 4th or Jefferson. One man coming up Jefferson on a motorcycle tried to break through the line, but after a brief altercation, he was turned away. The back of his helmet bore a Confederate flag sticker reading, "You wear your X, I'll wear mine." It was unclear how he got through the police barricade on 3rd Avenue.
During the demonstration, people chanted the names of some of those the police have murdered, both in Portland and throughout the country. Kendra James. Keaton Otis. Tony Stevenson. Eric Garner. Deontae Keller. Sandra Bland. John Crawford. Tamir Rice. The names kept coming, their memories kept alive.
One of the banners at the rally–held at one end by a Black woman and her young daughter–read "Kendra James". James was the 21 year old Black woman murdered by the Portland police on May 5, 2003. Her mother is featured in the film Arresting Power, a woman whose sadness is understandably enduring and palpable all these years later. The sight was at once terrifying and uplifting–one that brought into deep focus what this movement is about–namely the urgent need to create a world in which this mother will not find her daughter's name on a sign in fifteen year's time.
In the middle of the names being chanted a man who had been filming the demonstration and hobnobbing with the police about these strange people taking up street space, thanked a police officer for keeping it civil. "You're welcome," she replied. It was an exchange that seemed more fixated on the superficialities of this precise time and space, rather than the power of the history being evoked.
The crowd of protesters grew during the lunch hour, reaching about 30 and four people on drums helped amplify the energy of the chanting. About 15 people unaffiliated with the event gathered around the corner of 4th and Jefferson in Terry Schrunk Plaza to eat their lunch. While many seemed to understand the point of the rally, they did not understand why tactics such as shutting down the street needed to be used. One woman asked a man expressing this point of view if he would be out here today had the street not been closed. He admitted he would not have.
One bizarre moment came when conservative radio personality Lars Larson showed up, putatively to engage in discussion about the demonstration. As is par for the course for most commercial talk radio, Larson did not care one bit for discussion, but rather was looking for some point scoring moments for his program. He asked one demonstrator if she had ever assaulted a police officer, following that by saying Michael Brown had done so. Aside from the fact that numerous eyewitnesses say Wilson and his fellow officers lied about Brown assaulting Wilson (and now thanks to cell phone technology and brave people using it, there is a plethora of evidence showing that police routinely lie to cover up their crimes), Larson seemed to believe that had Brown assaulted the officer, Wilson then had every right to kill him.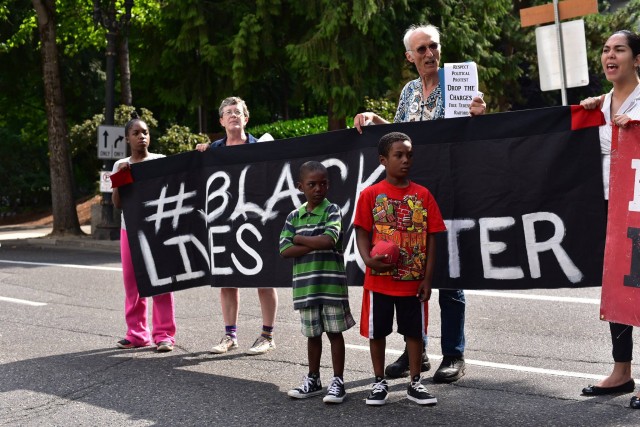 Organizers, particularly Waco, began placing themselves between Larson and people he was trying to bait. Larson approached Navy veteran Sarah Hobbs and insisted upon speaking to her, despite her telling him twice, "I don't engage trolls." When Waco jumped between them, bumping Hobbs, Larson said Waco had assaulted her. Hobbs had a different perspective. "He kept shoving the cell phone in my face," said Hobbs. "I had my hands up going 'I do not talk to trolls, I do not talk to trolls,' and it took Glenn to jump in between. He said Glenn assaulted me, but I feel it was him (Larson) who assaulted me. I look on Glenn as a son."
The contrast between Larson's self-aggrandizement and the grim determination of the Black Lives Matter and Don't Shoot PDX movements is stark. Larson's buffoonery–and at times, cruelty–serves himself, his show, and his ratings. On the other hand, there is the "we" to which Raiford continually refers. Raiford, Chavez, Waco, and other activists continually put themselves in harm's way from the very police they are seeking to abolish or reform who have wrung so much blood out of Black people. They do so because they know, as was chanted at Tuesday's demonstration, that "We are not the problem!" but rather the social, economic, and political system founded on white supremacy that is at fault
After four and a half hours had passed, the crowd dispersed. Four and a half hours is a long time to leave a young man's dead body in the street. But it is also a long enough time to let people know how determinedly you will continue fighting until you gain justice.
Resistance abounds. There is the free breakfast program sponsored by the All-African Peoples Revolutionary Party at Columbia International Cup coffee shop in North Portland.  There is the now 5 year old monthly vigil in memory of Keaton Otis, his father Fred Bryant, and all victims of police violence held at 6 PM on the 12th of every month at the corner of NE 6th and Halsey. While each is a reminder of racial injustice in this purportedly post-racial United States, each is also an uplifting illustration among many other examples of people working in solidarity to craft a system free from that inequity.