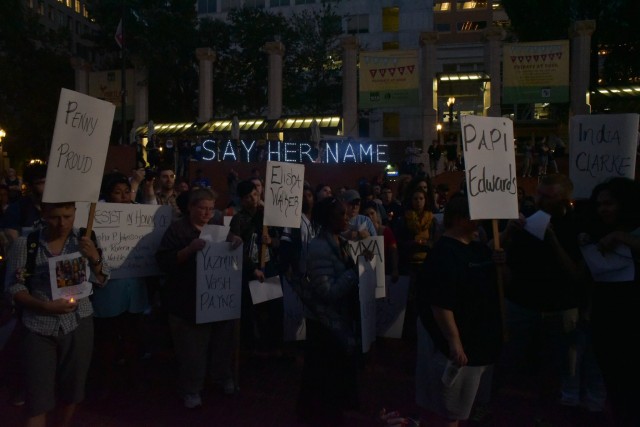 Story and photos by Pete Shaw
Say their names.
Lamia Beard. Keyshia Blige. Kandis Capri.
Say their names because their lives mattered.
London Chanel. India Clarke. Taja DeJesus. Tamara Dominguez.
Say their names for their memories and for their friends, families, and lovers.
Papi Edwards. K.C. Haggard. Mya Hall. Amber Monroe.
Say their names because they were humans.
Yazmin Vash Payne. Penny Proud. Kristina Gomez Reinwald. Shade Schuler.
Say their names because they matter.
Ty Underwood. Elisha Walker. Mercedes Williamson.
Those 18 names belong to the 18 transgender women who have been murdered this year in the United States. On Thursday August 20, as the sun's last rays receded from Pioneer Square, over 300 people began saying their names and lighting candles in their honor, insistently demanding that those women be remembered and that no more names be added to that list.
Organized by Portland Trans Unity and Don't Shoot Portland, the feelings at the vigil were myriad. Grief. Anger. Sadness. Fear. And ultimately, defiance and optimism. The vigil came after a particularly violent period against transgender women. On August 14 two young transgender women of color–Amber Monroe and Ashton O'Hara–were murdered, while the body of Elisha Walker was found after she was reported missing in October 2014.
"Eighteen of my sisters have been murdered in cold blood in this country. We're in a state of emergency," said Alyssa Pagan, a self-described 'badass Black, Puerto Rican trans woman' who led the saying of names.
Those names were accompanied by brief descriptions of the slain. Lamia Beard loved to sing. London Chanel had an infectious laugh. Mya Hall was a sweet jokester. Kristina Gomez Reinwald had a passion for flamenco music and also mentored young transgender people who had left or been rejected by their families. Mercedes Williamson enjoyed spending time outdoors.
Some of those names also came with descriptions of death. Tamara Dominguez was run over by a truck "again and again and again." K.C. Haggard was stabbed and remained on the street for 20 minutes before someone called for a paramedic. Amber Monroe was shot and killed in a park. She had survived two prior shootings. And Elisha Walker–who always kept a smile on her face regardless of how she felt–was missing for a year before her body was found in a crude grave.
These murders are hardly irregular. A 2014 report from the National Coalition of Anti-Violence Programs (NCAVP) found that in 2013 72% of anti-LGBTQ and HIV-affected homicide victims in 2013 were transgender women, with two-thirds of those murdered being transgender women of color.
Pagan, quoting from bell hooks, connected violence against transgender women to an "'imperialist white supremacist capitalist patriarchy' that expects all of us to be cis." As Patrick McAleenan recently wrote in The Telegraph, "Masculinity, as our culture defines it, is highly valued; as a man you are expected to cultivate, maintain, and celebrate it. The existence of transgender women poses a threat to this concept of masculinity. If something so highly valued and prized can be cast aside, then it suggests that thing might not be so great after all."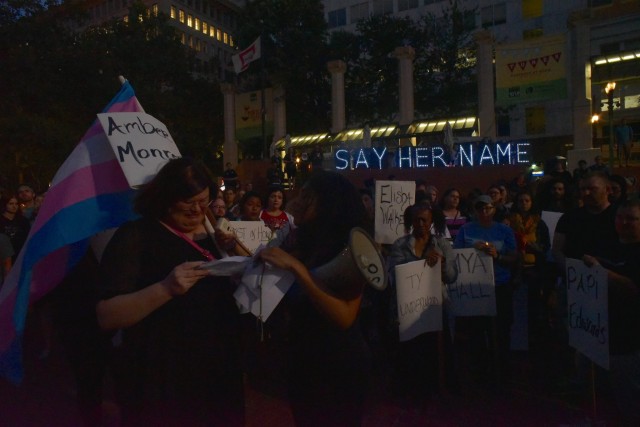 It is not just the inordinate number of killings of transgender women of color that led to the vigil, but the ways with which these deaths are dealt. "It's not acceptable that these deaths are ignored or routinely glossed over," said Taryn Yum, who noted that crimes against transgender women are often not investigated. To add further injury, according to a report by the Human Rights Campaign (HRC) and the Trans People of Color Coalition (TPCC), "In the vast majority of these cases, local media reports misgendered the victims and used their birth names. The local media also further stigmatized some of these women by highlighting arrest records and using mugshots instead of personal photos."
A report on the finding of the remains of Elisha Walker, used male pronouns and quoted deputies as saying that Walker was "reported to live an alternative lifestyle of a non-heterosexual male," though noting that "multiple Charlotte-area media outlets refer to Walker as a woman."
For the living, the picture is often bleak. The NCAVP report also showed that transgender women survivors of violence are four times more likely to experience police violence and six times more likely to experience physical violence when interacting with the police compared to overall survivors of police violence. Also, transgender women were twice more likely to experience discrimination and 1.8 times more likely to experience harassment compared to overall survivors of discrimination and harassment, and 1.5 times more likely to experience threats and intimidation compared to overall survivors of threats and intimidation. Transgender women are 1.8 times more likely to experience sexual violence when compared to overall survivors of sexual violence.
According to a report from the Movement Advancement Project and the Center for American Progress, transgender people are almost four times more likely than non-transgender people to have a yearly household income below $10,000. The rate is even higher for transgender people of color.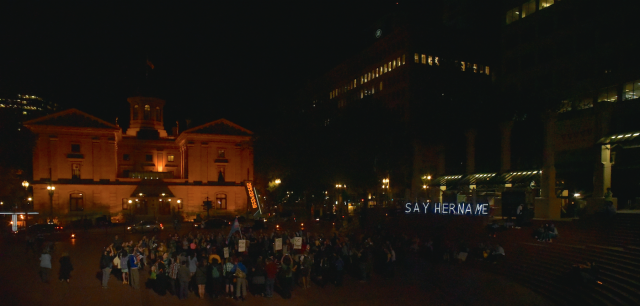 It stands to reason that for transgender women of color who must navigate their lives at the intersection of racism and transphobia, those numbers are more dismal and make them more prone to being victims of violence.
Following the reading of names–which took over 16 minutes–people offered their own words to the crowd. Russell Brass urged people to "Try being weak. Try being vulnerable. Try caring about other people so that we have to honor fewer of these lives."
Ana Hurwitz said, "I wonder every day if today will be the day. If it is my day, will it be painless or painful?" Despite those horrifying words, Hurwitz urged people to fight back. "If you love the oppressed, you need to join a group struggling for the oppressed. This violent society must be changed."
The vigil also brought a measure of joy and optimism. Many people were happily surprised that so many people had shown up. "I never thought in a million years anyone would remember who they are or that they even existed," Tequilah said.
Memory is an important step–maybe the fundamental step–toward achieving justice. Saying the names of these women and reminding people of their humanity and the roles they played in people's lives and communities was a powerful demonstration of solidarity, a demand that people stop being persecuted for living their lives. It also conferred dignity, love, and respect to the living who had gathered to bear witness to those lives.
While acknowledging that there is still much work to do, Pagan told the crowd, "With my sisters being honored by all of you, it feels like a brand new day."