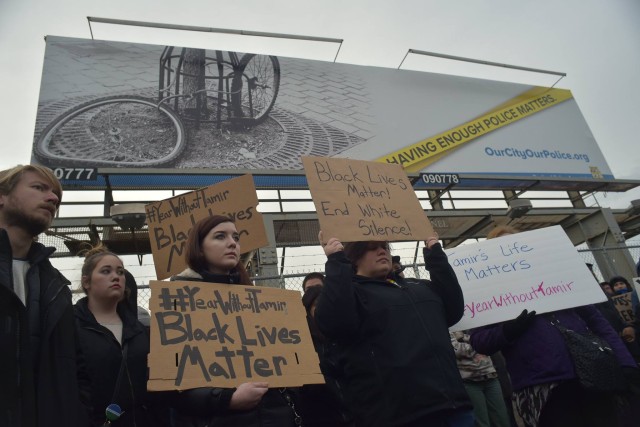 Story and photos by Pete Shaw
The late, great Townes Van Zandt once said, "Aloneness is a state of being whereas loneliness is a feeling. It's like being broke and being poor." Thanksgiving is a day that begins a six or so week stretch that reminds many of their aloneness more painfully than usual. So my better 99% and I celebrate Thanksgiving not with Pilgrim buckle hats, pretensions of the goodness behind manifest destiny, or prayers for the continued blessings of imperialism and racism. We have a stragglers' feast for those who may be stuck in town with nowhere to go, with no one with whom to be. The crowd has greatly ranged over the years, but whether 3 or 23, it is always a good time.
Because there are many things for which to be thankful, and because I find it important to keep these things in mind, heart, and spirit, I celebrate Thanksgiving as an antidote to the myths surrounding the day. So in no particular order, and with apologies to those whom I neglect…
The Black Lives Matter Portland and Don't Shoot PDX organizations have so courageously stood up in the face of the police institutions that throughout the history of this country have declared open season on Black people. Through creative and aggressive actions, based on tireless organizing, they have brought out into the open the rotten barrel that is the Portland police bureau as well as the white supremacy that undergirds Portland, Oregon, and the United States. They keep pressing for the change that is so desperately needed. Because of their work, one day all lives will truly matter. Thank you.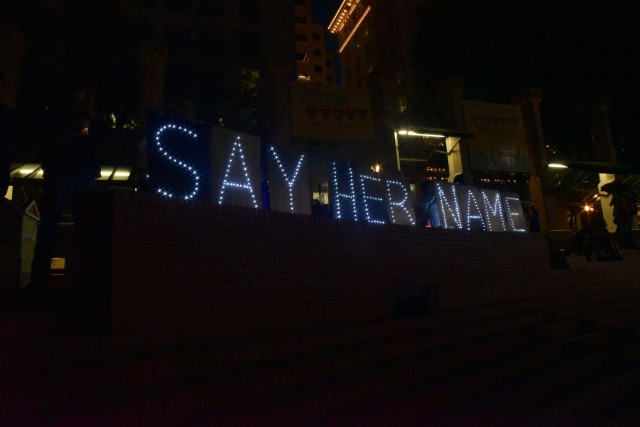 In August there was a vigil in memory of transgender women who have been killed this year. It was sobering in a very disturbing way. I knew just about nothing about the challenges these people face, challenges sometimes as base as being acknowledged as people. To stand in the middle of Pioneer Square, shouting into the night the names of the 18 transgender women who had been killed up to that point in 2015, and then telling their stories–of heartbreak and hurt of a depth and breadth I will never know, but also of resilience, defiance, triumph, and hope–was one of the most beautiful and inspiring things I have ever witnessed. Thank you.
About a year and a half ago a few folks spoke at a City council meeting about the need to raise the minimum wage to $15. They were ignored. But in February of this year, the council approved a $15 an hour minimum wage for some City workers. In 2016 Oregonians will vote on an initiative to raise the state minimum wage to $15 an hour. It's competition comes not from people opposed to raising the wage, but people opposed to raising it so high. The fact remains that a $15 minimum wage is still paltry–a virtually impossible wage upon which to make ends meet in Portland–but a wide, strong wage justice foundation composed of many different groups has been created. Thank you.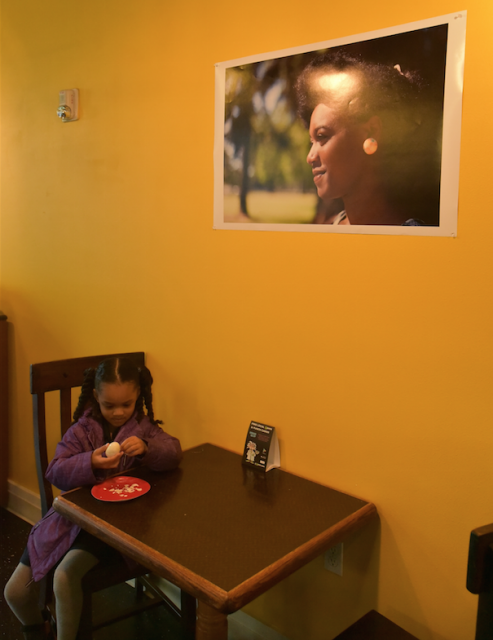 At Columbia International Cup in New Columbia in North Portland, the All-African People's Revolutionary Party (A-APRP) started up a free breakfast program, making sure that on Mondays and Fridays students get a healthy alternative to the fat and sugar laden meals served in their schools. The program–open to all people–also feeds minds, educating people about African culture and history. It has also provided a vital model of how to organize and provide for people's needs within the community. Thank you.
Right 2 Dream Too celebrated 4 years of providing a rest area on the corner of West Burnside and 4th for people without housing. Despite opposition from the Portland Business Alliance, some people in the Pearl District, and some members of the City Council, it endures and provides a model for how cities can truly help people without housing. That model has expanded across the Willamette to Hazelnut Grove, on Greeley Avenue, again providing people without housing a safe space. Thank you.
For 48 hours in July, kayaktivists by water and Greenpeace rapellers by air set up a blockade that kept the Shell icebreaking boat Fennica in port. The boat was headed for the Chukchi Sea in the arctic to explore for oil. The blockade was eventually cleared, but not before hundreds of present (and future) climate justice advocates gathered in support. It was a gorgeous two days, and I will never forget getting down to Cathedral Park, seeing the Greenpeace activists suspended from the St. John's bridge, their red and yellow flags swaying languidly in the breeze. With traffic banned from the bridge, the silence, save for the occasional ripple of those flags, was surreal and beautiful. The resolve of both the rappellers and the kayaktivists was very real, and even more gorgeous. Not many weeks after the event, Shell gave up on exploring for oil in the Chukchi Sea, at least for the moment. Thank you.
In April, a huge number of people packed the room during a meeting of the Portland Planning and Sustainability Commission, demanding the commissioners deny a zoning change that would allow the Pembina Pipeline Corporation to build a propane export terminal at the port. Despite testimony that lasted over 6 hours, and with the majority opposed to the change, the Commission approved it by a slim margin. But strong, sustained citizen pressure on Mayor Charlie Hales resulted in his decision to withdraw a scheduled vote at City Council, effectively tabling the Pembina project. Thank you.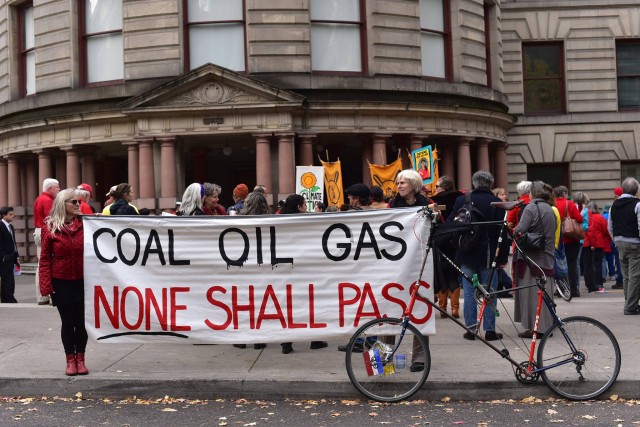 A few months after the commission's decision, Hales shocked Portland's political scene by announcing he would not run for reelection. A few weeks ago he and Councilwoman Amanda Fritz shepherded through two resolutions. The first–Fritz's–declaring an opposition to more oil trains running through the region, is an important symbolic statement, but it has little legal power due to rules surrounding interstate commerce. Hales' resolution, banning the building of infrastructure that would increase the flow of fossil fuels through Portland, has more concrete meaning. Fritz's resolution passed 4-0 (with Commissioner Dan Saltzman missing) while Hales' passed 5-0. Nick Fish, Steve Novick, and Dan Saltzman were likely dragged to their yes votes, realizing that with a stacked gallery and 3 rooms filled to overflow, they would have little chance of re-election if they withheld support. It seems that Hales too was pressured to join the environmental protection side–he had originally supported Pembina, and took an active role lending resources to break the Fennica blockade–but he now apparently has found his true voice and should be highly commended. Thank you.
I have written often about my Friend Francisco Aguirre, a man of great decency, with a lovely wife and children. I hope my writing has conveyed the fact that he is part of a larger movement demanding rights and justice for all immigrants and refugees–a movement which ties in closely with the movement to abolish private prisons–even all prisons. Many groups have coalesced around these urgent issues and the great length and strength of their solidarity is impressive and inspiring. However slowly it may be happening, it is creating change for the better. Thank you.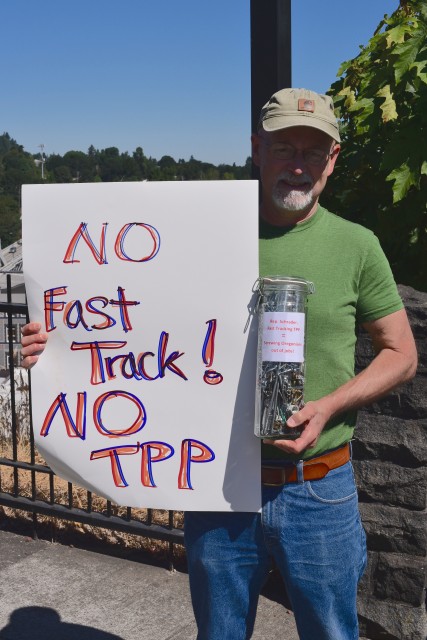 About 4 years ago the Oregon Fair Trade Campaign (ORFTC) began talking about and organizing against the Trans Pacific Partnership (TPP). Its passage was considered a given despite it being another of those so-called free trade deals that result in a loss of jobs, an erosion of democracy, and more destruction of the environment. Yet relentless educating and organizing by the ORFTC has brought things to a point where the TPP's passage is not guaranteed. It's text–finally released–proves it to be worse than thought, and now representatives and senators are worried about losing their 2016 elections if they support it. Last week Reuters reported that with the opposition the TPP is facing, it may not even come up for a vote during this congressional session. Further work will be necessary, but for now, thank you.
The Portland City Council declared a renters state of emergency in September. With skyrocketing rents and a lack of rent control, people are finding themselves kicked out of their homes for no reason, often with little time and less money to secure alternative, affordable housing–if in fact such housing exists. The Community Alliance of Tenants (CAT) has been organizing renters to demand change, and the state of emergency declaration was a good first step. In October, the council went on to approve ordinance that requires landlords to give 90 days notice for no-cause evictions and when raising rent by more than 5%. While falling short of the CAT's demands, these measures were certainly undertaken due to organizing done on the part of the CAT. Thank you.
The vigil for Keaton Otis,  a young Black man executed by the Portland police on May 10, 2010, continues to be held at 6 PM on the 10th of every month on the corner of NE Halsey and 6th. The vigil also remembers Otis' father, Fred Bryant, who passed two years ago, and all other victims of police violence too soon gone. Bryant's courageous daughter Alyssa, JoAnn Hardesty, and Walidah Imarisha have kept the fire burning since Bryant's death, and crowds at the vigil have sometimes swelled to over 100 people. This light which seeks justice for Otis, Bryant, and all victims of police violence burns bright. Thank you.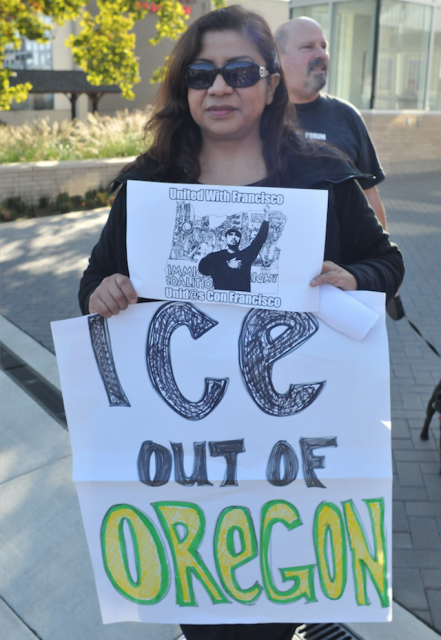 Six months after his passing my memories of Greg Margolis grow warmer by the day. He was my Friend, as well as a Friend to so many people demanding justice in an unjust world. I  remember November 17, 2011 when people were committing civil disobedience on the Steel Bridge, and things were getting really tense with the police. There also was great relief in my air as after so long The Beach Boys' SMiLE (technically, what portions of it had been recorded) had been released. I noted this to a few people, who understandably thought I was a bit out of my mind under the circumstances; however, when I told Greg, he was excited and even thumbed through the booklet that came with the CDs (no doubt after sizing up the situation on the bridge). He Understood. Greg was a person who knew how to have fun while keeping the important things important. One of the beauties of knowing such people–and I would guess that most of you reading this are such people–is that when they check out and you finally start getting your feet back under you, you realize how lucky you were to have shared in such a wonderful life. To his ex-wife and Friend for Life Barbara: he made a difference. Thank you Greg, and thank you Barbara
My editors.  You turn words to song.  Thank you.
My dad, my brother and his family, and my Friends. Thank you. There is always too much to say, so thank you again.
Finally, my aforementioned better 99%. In short–particularly over the past year–she puts up with me. If she is not perfect, she is perfect for me. Dear Jessica, I will never regret coming out of my shell and talking with you on May 22, 1992. God only knows what I'd be without you. You are my blue sky, my waterloo sunset, and after all this time I've still never known magic as crazy as this. Thank you. I Love you.