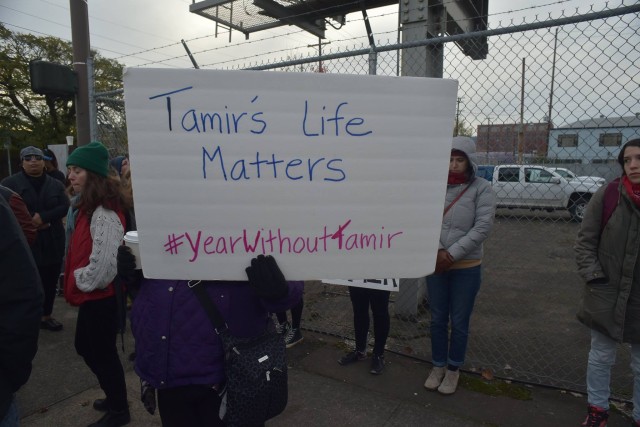 Story and photos by Pete Shaw
Exactly one year after 12 year old Tamir Rice was fatally shot by Cleveland police officer Timothy Loehmann in a public playground on November 22, 2014, 50 people gathered in Portland near the corner of SE Madison and 11th for a vigil in Rice's memory and to demand justice for his killer. The vigil was organized by Black Lives Matter Portland and took place at almost the exact time–3:30 PM–that Loehmann shot Rice.
After shooting Rice, neither Loehmann nor his partner, Officer Frank Garmback, administered first aid. Rice died from his wound on November 23.
"We know there's no safe space for Black people in America," said Benny. "We know there's no safe space for people of color in America." A father of "four beautiful children," Benny talked about the fears he has for his children in a world where police violence against people of color–particularly Black people–has seemingly become routine, and where still so many people excuse that violence.
In June, Cleveland Municipal Court Judge Ronald Adrine reviewed the case and found probable cause to charge Loehmann with manslaughter, murder, negligent homicide and reckless homicide. Adrine also found probable cause to prosecute Garmback for negligent homicide. Yet Cuyahoga County Prosecutor Timothy J. McGinty has yet to present evidence to a grand jury. On October 10, McGinty released the reports of two outside investigators. One of them, retired FBI Supervisory Special Agent Kimberly A. Crawford, concluded that "Officer Loehmann's use of deadly force falls within the realm of reasonableness." The other investigator, S. Lamar Sims–a prosecutor from Colorado–described Loehmann's shooting of Rice as "objectively reasonable."
"What is objectively reasonable about murdering a 12 year old with a toy gun?" Benny asked the crowd. "Nothing."
Following release of the reports, Tamir's mother Samaria requested that McGinty recuse himself from the case and turn it over to a special prosecutor. McGinty refused and at a later press conference referred to the Rice family's "economic motives" in asking him to step aside.  
As has so often been stated at the various gatherings in remembrance of those Black lives that clearly did not matter to police, the bullets that take one life go on to do more damage. Simone told the crowd about how Samaria, whose home overlooked the park in which her son was shot, went without housing for two months because she could not bear to live in a place within view of his murder.
"Tamir was a child like your brother, sister, son, or daughter," Simone told the crowd. "This was a place where she (Rice's mother) thought her son could be safe–a park she could see from her window."
Simone knows what it is like to lose a loved one to police violence. Her cousin, Gary A. Hopkins, Jr., was murdered by the Prince George, Maryland police on November 27, 1999. Hopkins' killer, officer Brian C. Catlett, was indicted for manslaughter, but a Circuit Court judge found him not guilty.
Because it took about 9 minutes for paramedics to arrive and take Tamir to a hospital, vigil attendees observed a 9 minute moment of silence, during which the sun moved discernibly closer to the West Hills, and the traffic light at 11th and Madison cycled 8 times. It was a long time.
The vigil took place during a time of increased overt racist activity in Portland. On November 17, an anonymous Lewis & Clark College student posted racist comments–including threats–on the social media site Yik Yak. Those comments included "I just want to hang you ignorant black people" and "#bringbackslavery."
Then on the night of November 20, three white men assaulted a Black Lewis & Clark student after saying racial epithets at him. (The next night a transgender student at Lewis & Clark was assaulted.) Residents in Gresham, Oregon City, and West Linn have recently received fliers inviting them to join the Ku Klux Klan. It appears from investigative work conducted by Rose City Antifa that the invitations are the work of one white male in his mid-20s. While he may have been acting alone, his online activity uncovered by Rose City Antifa does show him having connections to other Klan groups throughout the US.
Prior to the Tamir Rice vigil, about 60 people had gathered at the site of the Lents Farmers Market at SE Foster and 92nd to inform people about the organizing being done by the Ku Klux Klan and other white supremacist groups, as well as the history of white supremacist groups in Portland and throughout Oregon. Many of those attending this event later made their way to the Rice vigil.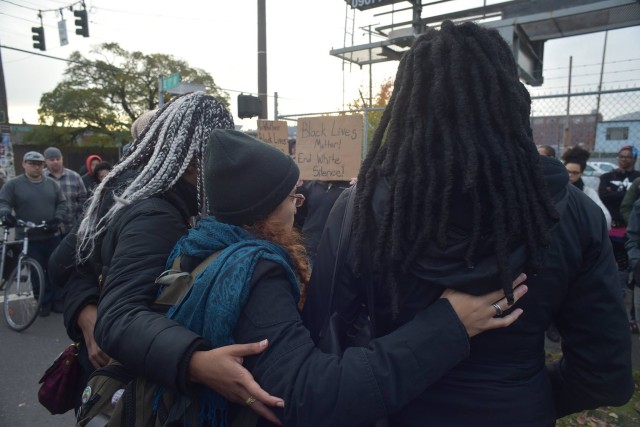 An interesting moment occurred in the early moments of the vigil, one that provided a small template of how white people can serve the needs of Black led groups such as Black Lives Matter. An onlooker had notified police of the event. When that information got back to the vigil's organizers, Simone asked white people in the crowd to form a barrier between non-white people and the police who might soon arrive.
"This is a teaching moment," said Simone. "This is literally how you use your bodies."
One police cruiser eventually arrived, and a police officer conferred with the onlooker. Not long thereafter, the cruiser moved on, never coming within 50 yards of the vigil. If there was any tension among those in the crowd, they did not show it.
The vigil was held under one of the many billboards in the city advertising the Portland Police Bureau's campaign to have more officers put on the force. Those signs have stolen the language of the Black Lives Matter movement, reading "Having more police matters." In light of Rice's killing, a downtown billboard that featured an empty swing set casting a shadow of the swing with a child on it, seems to fall somewhere between callous disregard and gross ignorance on the part of the police .
"If you bring more police into Black communities," Adrienne of Black Lives Matter Portland told the crowd, "more people will die. Fuck this billboard."