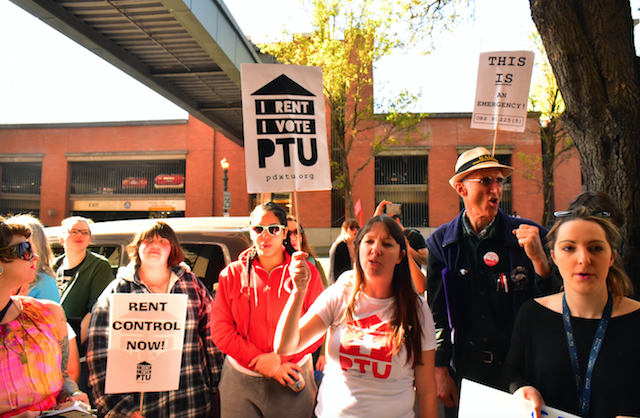 Story and photos by Pete Shaw
Over 100 tenant rights activists gathered in front of the Multnomah County building on Thursday April 7 to demand  the Multnomah County Commission declare an immediate one-year rent freeze and moratorium on no-cause evictions. Advocates want the county commissioners to counter the rapidly rising rents that are casting people out of their homes and tearing apart communities. The rally came six months after the Portland City Council, under pressure from organizations such as Portland Tenants United (PTU), which organized Thursday's rally, and the Community Alliance of Tenants, declared a housing state of emergency. Since then, according to PTU, the housing disaster has only worsened, with city and statewide eviction notice periods failing to prevent record rent increases or hundreds of no-cause evictions.
"These notice periods do nothing to resolve the housing crisis," said PTU organizer Margot Black. "Now we have 90 days to deal with the inevitable trauma of being forced from our homes, instead of 30."
Oregon law bans local rent control measures, but also allows for taking emergency action. In particular, the relevant statute–ORS 91.225(5)–states "Cities, counties, and state agencies may impose temporary rent controls when a natural or man-made disaster that materially eliminates a significant portion of the rental housing supply occurs, but must remove the controls when the rental housing supply is restored to substantially normal levels."
That language is vague, but for people who have lost their homes or are living on the edge of making the rent, the reality of a disaster is clear. During the rally, numerous tenants argued that the housing crisis is a disaster–one clearly man-made–and thus the County has the authority and moral responsibility to enact rent control and eviction protections.
Gabriel Erbs, spokesperson for PTU said, "The County has a clear mandate in the law to enact rent and eviction control if they declare a housing disaster. So really, the question is: do Jules Bailey, Deborah Kafoury, and the rest of the Commission believe Portland's housed and houseless are experiencing a disaster or not?"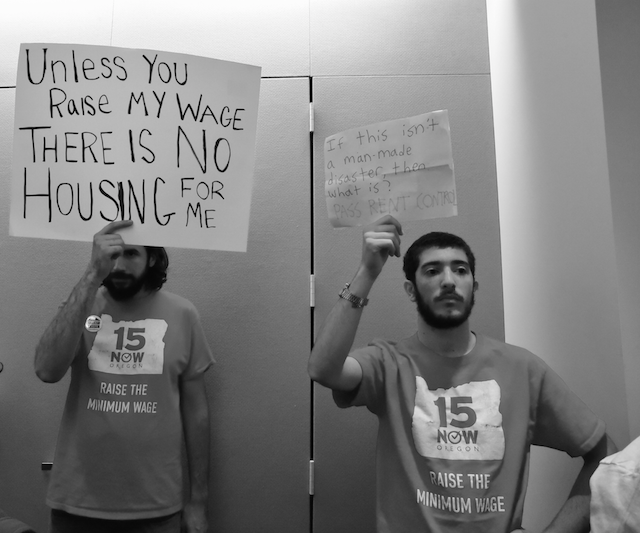 "This is a disaster," said Sammy Black of the PTU. "It's a man made disaster. There's a natural loss of housing stock. There needs to be an immediate freeze on rent and moratorium on no-cause evictions until the sever lack of housing that people can afford is remedied and the legislature in Salem takes up a new law. People are being tossed out into the streets."
There have been some changes enacted that have benefitted tenants. In October, the Portland City Council required landlords to give tenants 90 days written notice prior to raising their rent more than five percent or when issuing a no-cause eviction. And in March, Governor Kate Brown signed into law legislation banning rent increases in the first year of month-to-month leases. The same law also requires landlords give those tenants 90 days notice for rent increases after one year.
But at least for those present at Thursday's rally, those changes are a band-aid across a severed artery, ultimately and predictably doomed to failure. Margot Black told the crowd, "We demand a rent freeze, a moratorium on no-cause evictions. And to hell with 90 days. We need these things in place until this crisis either fixes itself and all that magical supply comes online when the developers build themselves into a supply glut–which by the way won't happen, because, Economics 101–or until a more sustainable solution is in place, and that's a sustainable solution that's going to involve removing screening barriers, getting people into housing, lowering security deposits, mandating landlord licensure and education, tenant education, and tenant rights."
For the PTU, as well as many other tenants and advocates for increased tenant rights, housing is a human right, not a commodity to be exploited for obscene profit. Meanwhile, the laws clearly favor the landlord class and follow the capitalist rubric of commodification. The end result is the usual: profits take precedence over people. The results range from constant, nagging fear of losing one's home–through landlord or economic eviction; to children having to be uprooted from their schools; and to once stable communities being ripped asunder.
"The climate of apathy and disregard of fellow neighbors and renters in this city now is intolerable and totally unacceptable," Marsha Breuer, whose rent was recently increased $365 a month. "What is happening to so many of us being displaced is not only about being kicked out of our longstanding neighborhoods–which is a horror in itself–but a larger issue: a systemic greed disease. Our homes have become commodities to be bought and sold to the highest bidder. The rug is being pulled out from under us as our lives are disrupted and traumatized. We are thrown out, our rents doubled or tripled. How do we even find another place to live? Affordable housing is almost non-existent now."
The housing crisis is just one of many issues–including making enough money to pay the exorbitant and rising rents–facing working people. Teressa Raiford, who is perhaps most prominent as an activist for Don't Shoot Portland, urged people to see the relationship between policies meant to funnel money upward and the results of those policies. "We have to look at this greedy practice. If you live in poverty, they don't want you in Multnomah County. They don't want you in this liberal city. The poverty that exists is systemic. They're pushing us into prisons. They're pushing us into mass incarceration. They're pushing people out of the city. It's business as usual, and they can't accommodate us anymore."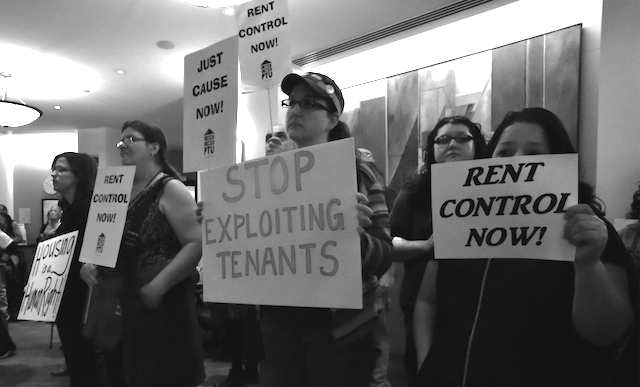 Raiford then called upon people to use their power at the ballot box. "Where are our leaders?" she asked the crowd. "They're gonna ask us to vote for them. We have the voice. We have the vote. We keep electing people who leave us behind. We can't do that in 2016."
It was a point that received applause, but whether it will be heeded and acted upon is another story. It should be. For those people whose lives have been upended by huge rent increases or evictions, action and amelioration have been tepid and have not come quickly enough. But the numbers are there to force serious change if tenants can organize on a mass scale. Sammy Black noted, "Tenants make up about 50% of voting age people in Portland, and that is expected to rise to 60% by 2020. The power balance between tenants and landlords is very skewed. We're going to change that."
Voting is not an end, of course, but as part of a movement, it can be an effective tactic. That movement must also include other tactics that can bring politicians pushing your goals into power or force those in power to concede to your demands. Tenants, particularly of the numbers Sammy Black mentioned, have many potent tools at their disposal. Margot Black pointed to one of the most powerful as she finished speaking.  "We need safe housing," she said. "We need secure housing. We need stable housing. We need it for us. We need it for our communities. We need it for our schools. We need it for our local business leaders who can't raise wages enough to keep us in our communities. If the landlords keep moving the goalposts, we'll always need more money. The wages won't get high enough. Rent freeze, eviction moratorium, and if they don't give it to us, then we start talking about rent strike."