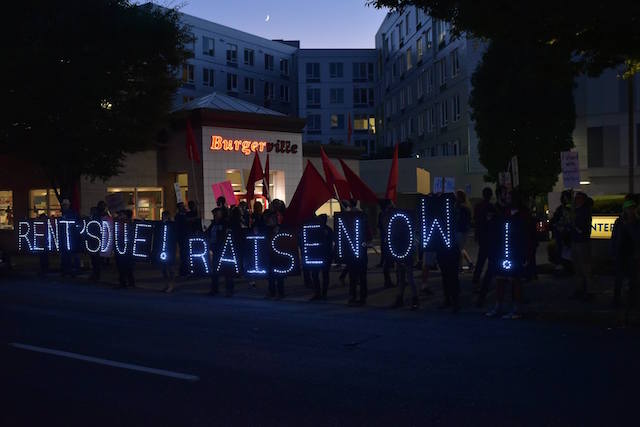 Story and photos by Pete Shaw
There are some combinations that seem so natural, it is hard to imagine a world without them. Pizza and beer, burgers and fries, Lennon and McCartney, and Donald Trump and Nazis quickly come to mind. Now you can add to the list, Burgerville workers and the Community Alliance of Tenants (CAT).
"Today we're here all gathered together–renters, workers–and what we want is the same thing," said Coya of CAT. "What we want is fair wages to support our families."
One might think at Burgerville, which advertises itself as a "fresh, local, and sustainable" alternative to larger fast food chains such as McDonald's and Burger King, those values would translate into sustainable wages for its workers. For over a year now, the Burgerville Workers Union (BWVU), a chapter of the Portland Industrial Workers of the World, has been organizing the front line employees in Burgerville's stores in an effort to gain benefits and wages that truly reflect the corporate propaganda. The union has steadily been gaining membership, and it has been reaching out to allies such as the Carpenters and the Longshoremen, both of whom who have provided support for the Burgerville workers.
With the continuing rent crisis in Portland, it only seems right that the BWVU and CAT should find common struggle. As of July 1, the minimum wage in Portland became $11.25 per hour, which before taxes are taken out, comes to $1,800 a month if you work 40 hours a week. The average monthly rent for an apartment in Portland in August of this year was $1,652 (https://www.rentjungle.com/average-rent-in-portland-or-rent-trends/). In short, if you have a full time job at Burgerville–the company that has helped build its business on its image of local and sustainable values–you need to take other steps to make ends meet.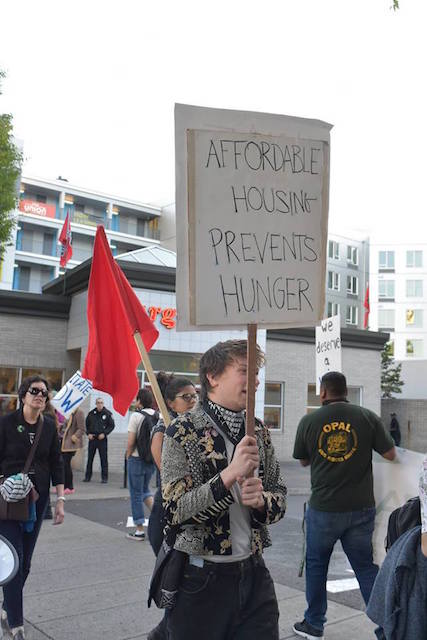 "As a worker making $11.50, I can tell you right now it's not easy to rent," said Mark Medina, who is a member of the BVWU and works at the Burgerville on SE Powell and 92nd. "I have two roommates. Rent is gonna go up in a couple of months at our place. I know a lot of workers in my shop are facing the same thing. The incredibly frustrating thing that happens every time I go to work and try to talk to workers about that union and about what we are trying to do and to come to these actions is the frustration of their living situations. I have known co-workers who have slept in their cars at night to go to work tomorrow morning at Burgerville. I know workers who have four or five roommates squatting together to make enough to survive. I have had co-workers who have come to work crying because they don't know how they are gonna feed their families, they don't know how they are gonna make their month's rent."
So on the evening of September 23 when members of the BWVU and CAT gathered together to form a moving picket line outside the Burgerville store on Northeast Martin Luther King, Jr. Boulevard, you would be forgiven for asking, "What took so long?"
Well, better late than never, and better now than later. According to the National Low Income Housing Coalition's (NLIHC) report Out of Reach, released earlier this year, a person living in Portland working 40 hours a week every week of the year, needs to make $23.88 an hour to afford living in a two bedroom apartment in the Portland metropolitan area–which includes Hillsboro and Vancouver, Washington–and still have money left over for food, medicine, doctor visits, transit, and other basic necessities. At the minimum wage, to achieve those paltry standards, a person living in Portland would need to work 2.3 jobs.
Prior to the picket, which along with CAT and the BVWU was supported by Jobs with Justice and OPAL, there was a short rally outside the Oregon Convention Center. Marih Alyn-Claire of CAT, talked about how the current minimum wage could not maintain a standard of living in 2017. Calling upon her life's experience, Alyn-Claire noted that the purchasing power of today's minimum wage is nearly the same as it was 40 years ago.
"These are 1980s wages. These were the same wages I was getting back when I was a young mother, divorced, with a child, and they were laying people off right and left and so to supplement my income with the layoffs, I had to work two jobs."
Alyn-Claire continued by noting the crucial difference between then and now was that back then "we didn't have the accelerated rent crisis." She alternated referring to $11.25 per hour as a minimal wage and a starvation wage.
There are ways to compensate, but those come at a cost. Alyn-Claire talked about how she supplemented her income by working two jobs. But this meant that she hardly saw her son, and eventually, her health "fell apart." She had to stop working in 1990 and go on disability because "there wasn't much left."
In 2017, people and their lives are just as disposable–quite the opposite of sustainable–perhaps even more so.
"What we're doing," said Alyn-Claire, "is we're working around the clock, we're adding jobs, we're moving back in with parents, we're moving in with relatives and friends, and some of us are homeless, sleeping in cars or homeless camps. Seniors are dying out in the cold in the winter. And children are going to school homeless, living in shelters–that's if their parents are fortunate enough to get into one."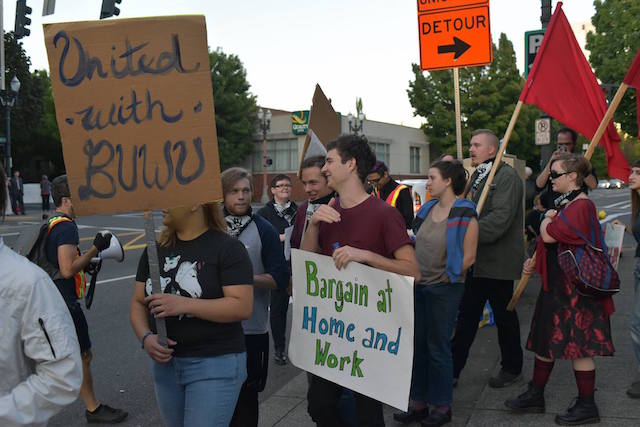 The picket line was a success. About 75 BVWU and CAT members effectively shut down business during what should have been the dinnertime rush. When the picket began at 6:45, there were about 25 patrons in the restaurant. By 7:00 there were no customers, and it was an odd sight at this time when one would expect the place to be bustling with business.
Over the next hour, only three people crossed the picket line, while at least the same amount, after being handed literature by picketers, chose to spend their money elsewhere. Numerous cars passed by with drivers honking horns in support.
The picket was part of the Oregon Renter Week of Action that was one of many Renters Week of Action and Assemblies gatherings across the country. All such meetings and actions were demanding an end to this rent crisis that is devastating so many people. And of course, the ability to pay the rent is for most people directly linked to wages. As picketers chanted Saturday night, "Wage too low, rent to high, Burgerville wages bleed us dry!"
These two groups–people who earn the minimum wage and people who rent–who granted probably overlap to a significant degree, have the potential to be a formidable opposition, both in the electoral politics arena and beyond. According to the NLIHC, renters in Oregon make up 39% of households in Oregon, and 40% of households in Portland, Vancouver, and Hillsboro. As noted above, the BVWU has already found some strong allies, and CAT has found success in some of its pushes, including the election of Portland City Commissioner Chloe Eudaly.
Solidarity often gets the goods, and there is so much more to demand from both bosses and landlords.
Alyn-Claire brought these two together. "We are running from one, two, three part time jobs with 1980s wages, neglecting our health, not able to be home raising our children, ruining our relationships with partners and spouses, stressing and arguing under deep financial strain and mounting pressures. We're struggling to support ourselves and our families…So today going forward, we are all thrust into this 21st century wages and housing rights movement. It's about our right to live in safe homes we can afford. It's about our right to living wages and work hours that sustain our lives. Now, are we willing to do whatever it takes to get the job done? It's not gonna be easy, and we need all sectors of our population engaged in restoring humanity and livability to our people."
"We are no longer going to tolerate the intolerable."
Want to get involved?  Visit the Burgerville Workers Union at: http://www.burgervilleworkersunion.org and the Community Alliance of Tenants at: http://oregoncat.org.