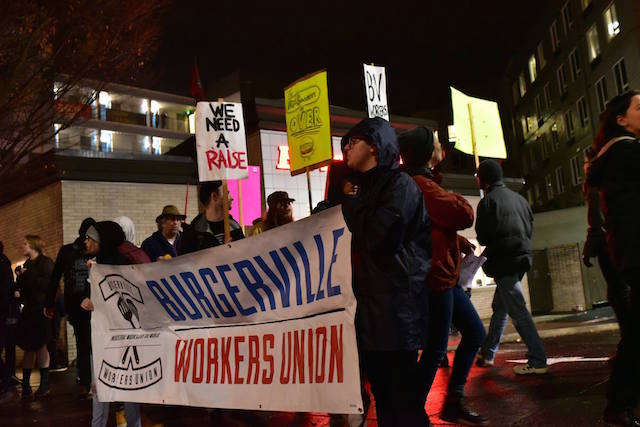 Story and photos by Pete Shaw
The commerce surrounding the Winter holidays seems to begin a little earlier every year. When I was growing up in the 1970s, it commenced sometime after Thanksgiving, although without the madness now associated with the day after. However, about a month ago I was in a big chain hardware store, and Christmas decorations were competing for space with ones for Halloween. As if the gloom of the Pacific Northwest's rainy season was not enough. But when the bastards bring you down, rise up singing. A good song can cut through any darkness, no matter how thick.
And so, on Friday November 10 at 5:30 PM, on the corner of Northeast Multnomah Street and Martin Luther King, Junior Boulevard, just outside of the Oregon Convention Center, Grace Schoenlank of the local band The Wildflowers and Ryan Gaughan stood in front of a crowd of 50 members and supporters of the Burgerville Workers Union (BVWU), leading them through a practice run of songs that a few minutes later they would perform at the Burgerville store a block away. Their voices clear–and surprisingly for such a large crowd, in sync and key–the crowd readied for yet another action demanding Burgerville's management negotiate with the union, which so far it has refused to do.
The BVWU, organized with the support of the Industrial Workers of the World, is now a year and half old. Through diligent outreach and education–as well as creative actions that keep the energy flowing and draw in more people, both as union members and community supporters–the BWVU has slowly but surely been gathering steam. Its core demand of management remains simple: respect us. The more concrete forms of this include a $5.00 an hour raise for all hourly workers; affordable, quality healthcare; a safe and healthy workplace; fair and consistent scheduling; and paid maternity and paternity leave.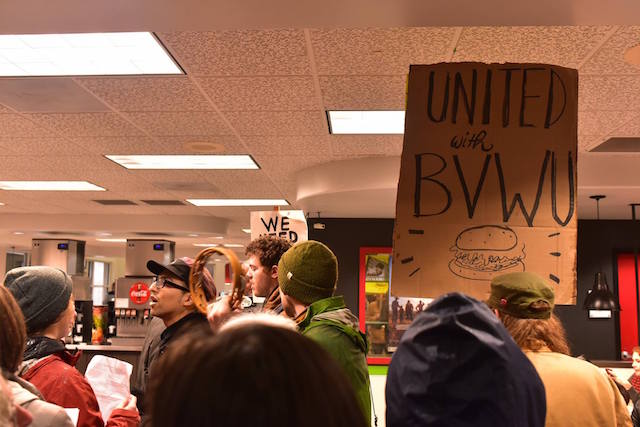 It's not as if Burgerville cannot afford these. It is a multi-million dollar industry–the most recent data available shows that in 2010 it took in about $75 million in revenue, and since then it has expanded from 39 stores throughout Oregon and Washington to 47. But despite its professed adherence to local, homegrown, sustainable, and whatever other manner of current buzzword-values designed to bring customers to its burgers, fries, and shakes, when it comes to how Burgerville treats its workers, it bears a far greater resemblance to McDonald's and Burger King, just another corporation maximizing profits by any means necessary, including trodding upon ignoring workers' dignity, particularly when attempts to achieve that come in the form of a union. It is difficult to understand how these values–which theoretically is summed up in its declared mission to "serve with love"–square with how Burgerville's management regards its employees.
"We have been fighting and organizing as a union at Burgerville for a year and half now and the company has completely and totally ignored us," said Chris Merkel, who works at the Convention Center Burgerville on NE Martin Luther King, Junior Boulevard. "I have worked there for two years, and I have never gotten a raise that was not associated with a minimum wage increase. We are here demanding higher wages now. We're demanding better working conditions. And we're demanding they come to the table and negotiate with all us workers who have been organizing."
Friday nights are always good for Burgerville pickets. The stores tend to be crowded, at least when the union and its supporters begin their actions. On this Friday evening, as the union and its supporters descended upon the restaurant, it was packed close to capacity, many of the customers apparently Trailblazers fans readying for their team's contest against the Brooklyn Nets. It was standing room only. The crowd inside quickly swelled further when, as a small BVWU contingent was denied entry by three security agents at the sidewalk doorway, the rest of the crowd walked into the store through the other one adjacent to the parking lot.
Singing traditional union songs side-by-side with ones tailor-made for the BWVU ("All Jeff Harvey wants is profit/Workers' lives he'll ruin/But don't let the bosses get you down/You always got the union" sung to the melody of "Yankee Doodle"), the singing clearly grabbed the attention of diners, as well as another management security agent who, like those at the other entrance, began filming the crooners. During the few minutes they sang in the store, only a few diners seemed disturbed, with one woman leaving hurriedly with two children in tow.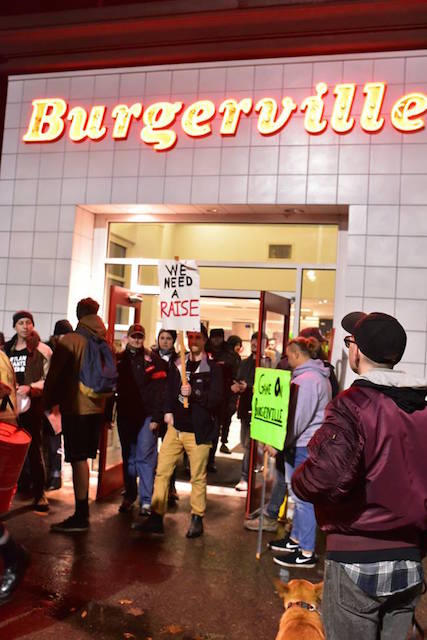 Exiting to the chorus They Might Be Giants' "Boss of Me," the BVWU and its supporters then set up two picket lines across the store's parking lot entrances. Although not as successful in terms of raw numbers as prior actions, there quickly emerged a large number of bare tables and empty chairs.
By 6 PM, an hour before game tipoff nearby, the crowd inside had at least been halved to 26. At 6:20 there were only 5 cars in the parking lot, where 12 spaces earlier had been full, and at least 7 vehicles drove on after union members told them why they were picketing. A few times cars crossed the picket line, going into the drive-thru. One of those cars was driven by an undercover police officer who in attempting to gain entrance turned on his red and blue flashing lights.
It was 6:30 when that officer ordered his meal. The crowds of Trailblazers fans coming down Multnomah on the sidewalk opposite Burgerville were getting larger. On most game nights, they would have been joined by fans crossing the street from the restaurant. But not this night. By then there were few, if any, game-bound fans eating there, and the crosswalk connecting Burgerville to the crowd that normally would have been seeing lively foot traffic, was bare for nearly all of the picket.
Prior to the rally, Merkel had warned the crowd that game night customers had a strong desire to get their Burgerville fix. What he, his fellow union members, and their supporters likely did not foresee was how belligerently the management's security guards would react.
Merkel was part of the small group that attempted to go into the store through the sidewalk doors. Two security guards denied him and the two or three other people with Merkel entry into the restaurant, while another security agent reportedly pushed him. In a statement released on the BWVU Facebook page, Merkel stated, "One of these big burly men ran back behind me and bumped me really hard, and I stumbled forward."
BWVU member Mark Medina, who works at the Burgerville on SE 92nd and Powell, had entered the store through the parking lot doors. Medina stated that just after the workers and their supporters went inside, one of the security guards "started walking aggressively toward us…and immediately started pushing us back," including elbowing Medina and shoving another picketer.
BWVU supporter Laurie King witnessed the security guard's hostility.  "I saw a large hired strongman very aggressively shove a picketer–who was not at all physically intimidating–a few times," said King. "It's bad enough when Burgerville exploits workers and ignores their collective voice. That physical intimidation is unacceptable and won't work."
Outside, the security guards continued their aggressive behavior. When one car attempted to enter the parking lot from Multnomah Street, one of the security guards exited the Burgerville property and went on to the sidewalk and, according to Medina, "literally pushed people aside" to let the car through. Burgerville worker Nikki Thompson, who works with Medina, said the security guard's action resulted in "people stumbling into the street" and almost getting hit by oncoming traffic.
In that same statement on the BWVU's Facebook page, the union wrote, "Though this is not the first time Burgerville's security firm has acted threateningly, having come armed with guns to previous pickets, this marks a new, grave escalation in the company's anti-union campaign."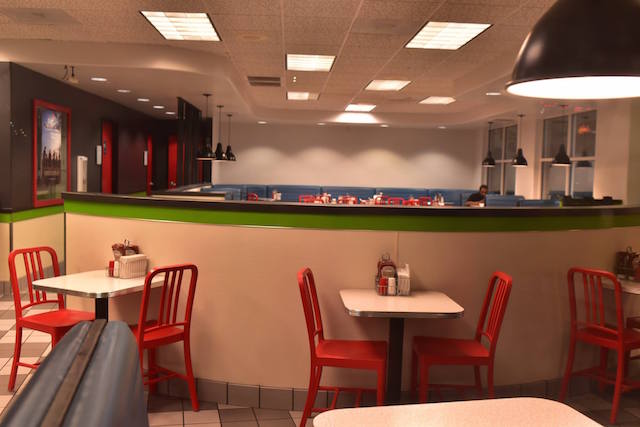 The union continues gaining members and community support. As Burgerville's management ramps up resistance to its workers' demands–and as the cold and wet weather settles in–the need for the Burgerville Workers Union becomes more and more apparent.
A September picket, organized by the BWVU and the Community Alliance of Tenants highlighted how difficult it is for an hourly worker at Burgerville to pay the rent. It is difficult at best. A worker in Portland making the minimum wage of $11.25 per hour earns $1,800 in a month, not including taxes. The average monthly rent for an apartment in Portland as of October was $1,609.
Some minimum wage workers can't make ends meet. Medina emphasized the connection between bleak realities such his fellow employees at the fast food chain preaching community values not having a stable place to live, and the union members' fight to be recognized. With the rains settling in over the region, those realities became even more grim. But they also put into greater focus the importance of this struggle, as well as all workers' battles for greater justice and dignity.
Following Friday's action, Medina said, "I joined the union and the reason why I'm so active in it is I was tired of going to work and seeing co-workers that couldn't afford to pay their rent, that couldn't afford to pay their car payments. I had workers that would come into work and sleep the night over in their cars because they had nowhere to go because they couldn't afford a place to stay. That is an intolerable situation of a corporation that makes millions and millions of dollars that we make for them. I am standing here for all my co-workers that aren't, for all my co-workers who are too afraid, who want someone to say, 'I have power too. What can we do next?" This is why I'm here. This is why I'm organizing. This is why I'm part of the union."
Want to get involved supporting the Burgerville Workers?  Visit their union's webpage at: http://www.burgervilleworkersunion.org and their Facebook page at: https://www.facebook.com/burgervilleworkersunion/.