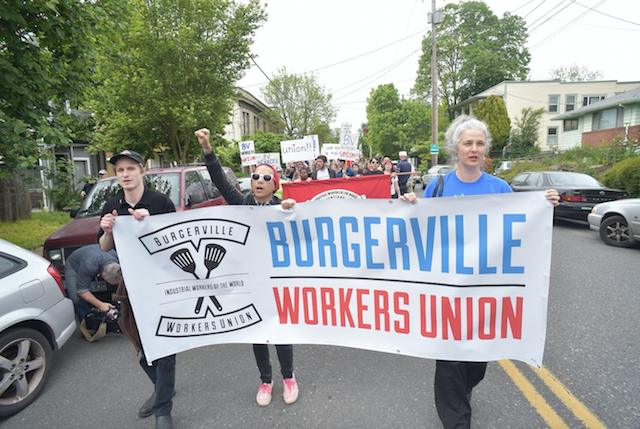 Story and photos by Pete Shaw
The locally grown Burgerville Workers Union (BVWU) now holds the distinction of being the only formally recognized fast food union in the United States. After two days of voting on Sunday and Monday overseen by the National Labor Relations Board, the workers at Burgerville's store on Southeast 92nd and Powell Boulevard approved granting themselves federally recognized union status by an 18-4 vote. As a result, Burgerville management will now have to sit down and negotiate with the union.
In a statement released on Monday night following the triumph, the BVWU wrote, "Today workers at 92nd and Powell overwhelmingly voted yes, making the Burgerville Workers Union the only formally recognized fast food union in the country. For a long time people have dismissed fast food as unorganizable, saying that turnover is too high, or the workers are too spread out. Today Burgerville workers proved them wrong."
The victory comes almost exactly two years after the BVWU debuted at a rally at the Clinton Street Theater. Between then and Monday night's tally, the union has provided a template for succeeding at that supposedly impossible task of organizing fast food workers. It is a model that it will continue to expand upon and improve as it readies to bargain with Burgerville management.
A few years ago, sometime around April 2013, Burgerville worker Luis Brennan spoke at a meeting of the Portland Central America Solidarity Committee about the fast food workers in New York City who had gone on strike for better wages, safety, and treatment on the job. In retrospect, Brennan was laying the groundwork for the solidarity that is integral to any movement for greater justice. Afterward, he told me off the record that workers at Burgerville were itching to form a union, an item I wrote on a post-it note that night. For about a year, until the mucilage wore off, that post-it was attached to the computer on which I typed these words.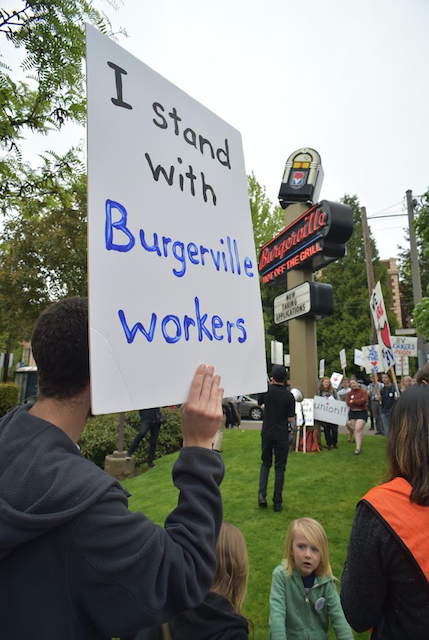 While the idea of the BVWU was never far from my mind–I am Friends with Brennan–I registered a slight note of surprise when two years ago I received a notice about the union's coming out party, which included a march down Southeast 26th Avenue to the Burgerville six blocks away on Powell. Doing things Right takes time.
It also requires deep effort. There are no shortcuts to successful organizing. The work is tedious and often boring, success is not guaranteed, and even when you do win, you are back at work the next day knowing full well how tenuous that achievement is.
Solidarity gets the goods. So does direct action, at least according to the Industrial Workers of the World, which works with the BVWU. Done thoughtfully, both certainly go a long way. Throw in the grit, tenacity, dedication, determination, and a whole pantry more of the necessary qualities that so often emerge when people demand greater justice, and you have every ingredient you need for cooking up victory.
Also, add some spice. To educate the public, form a picket line outside the Burgerville on Martin Luther King, Junior Boulevard, at dinner time, when thousands of people are walking down Multnomah Street to the Blazers game. Gladly accept the offer of the Carpenters Union to set up its own grill on the street, handing out free burgers to all, and also educating people, reminding them that we all do better when we all do better.
Bring a crowd. Make sure your sisters and brothers with the ILWU, IBEW, IATSE, the All-African People's Revolutionary Party, the Portland Solidarity Network, the Community Alliance of Tenants, the Portland Democratic Socialists, the Working Families Party, SEIU Local 49, OPAL Environmental Justice Oregon, Jobs with Justice, the Alberta and People's Food Co-ops, and the Coalition of Graduate Employees–to name some of the community organizations that have joined in solidarity with the Burgerville workers–share in that food.  While they are there, take them on a short walk with a picket sign.
It never hurts to let the crowd hear from Pastor Mark Knutson and other representatives from religious and faith groups who answer the call for justice.
Bring on the dessert–a nearly empty store that over the prior 90 minutes saw far less traffic, also known as sales, than one would expect and management would desire. On most nights during the picketing, the number of customers was reduced to the teens.
Second helpings are encouraged. When Burgerville management still refuses to negotiate with you, you then call upon your expanding number of allies to support your call for a boycott, as the BVWU did following a three day strike in February.
The story speaks for itself. Burgerville is a multimillion dollar corporation with 47 restaurants in Oregon and Washington that pays its workers paltry wages. It made approximately $75 million in revenue in 2010, the latest date for which data is available. A Burgerville employee working 40 hours a week, making Portland's minimum wage of $11.25 an hour, earns $1,800 a month prior to taxes. As of March of this year, the average rent for a one bedroom apartment is $1,434, with a two bedroom dwelling coming in at $1,708. If you have a full time job at Burgerville, you can't afford to rent an apartment.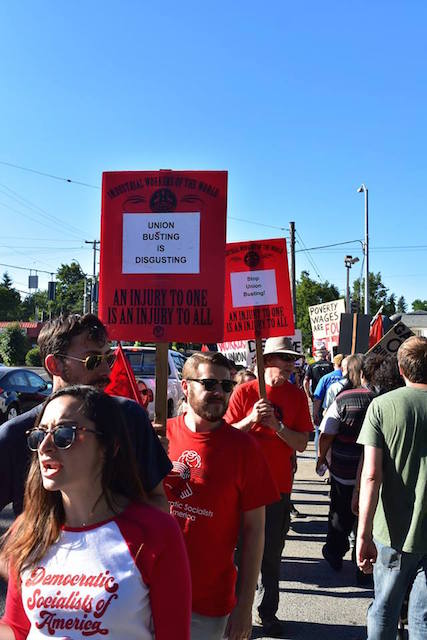 At rallies workers have talked about some of their fellow employees coming to work crying because they don't know how they are going to be able to feed their families or pay the rent. Some workers sleep in their cars. Others have four or five roommates squatting together. Not that this should be acceptable anywhere, but McDonald's, unlike Burgerville, does not base its reputation on its local values. While the golden arches felt compelled to create a fantastical world of anthropomorphic hamburgers, chattery mop heads, and a strangely compelling purple creature that loved shakes, Burgerville has crafted an earthy image, quite literally created from the bounty of the soil in Oregon and Washington. But as the BVWU has highlighted over the past two years, Burgerville's propaganda is no less fantastical than that of McDonaldland when it comes to how the company treats its workers.
Following the vote, Burgerville management engaged in similar fabrications.  In a statement that attempted to rewrite the past two years, it listed "a history of firsts," proclaiming, "Now we once again find ourselves out in front of the pack…Every time we've been first before, our experience has helped others find new ways forward. We believe that will be the case this time as well."
The BVWU and its supporters are having none of it. In reply to Burgerville management's revision, the union stated, "Great to hear that Burgerville is proud of our work, despite fighting us tooth and nail since we went public two years ago. They've retaliated against us, refused to recognize us, and now, they take credit for the struggle of their workers."
This fight is far from over. The union is standing by its demands which include a $5.00 per hour raise for all hourly Burgerville workers; affordable, quality healthcare; a safe and healthy work environment; fair and constant scheduling; paid maternity and paternity leave; discontinuation of the anti-immigrant E-Verify program; and the establishment of a policy that requires the Immigration and Customs Enforcement Agency (ICE) to present a warrant to gain access behind the counter. What demands Burgerville's management are willing to concede will remain unknown until actual negotiations. Thus the call for a boycott will remain until the BVWU and Burgerville management work out a fair contract.
Soon, the Burgerville in Gladstone will hold an NLRB vote. I presume the BVWU wouldn't support a vote if they did not think they would win it. But regardless of outcome, the organizing will continue. For the Burgerville workers, this is not only about them. As the union wrote on its Monday night Facebook post:
                              In this moment of victory we want to celebrate, yes, but we also want to turn our attention to the
                              4.5 million other fast food workers in the United States. We want to speak to everyone else who
                              works for poverty wages, who are constantly disrespected on the job, who are told they aren't
                              educated enough, aren't experienced enough, aren't good enough for a decent life. To all of those
                              workers, to everyone like us who works rough jobs for terrible pay, we say this: Don't listen to that
                              bullshit. Burgerville workers didn't, and look at us now.
                              Because our win today isn't just about Burgerville. It's about history. It's about a movement of workers
                              who know that a better world is possible, and that together they can make that world real.
                              Today we became the only recognized fast food union in the country. But we won't be the only one for long.